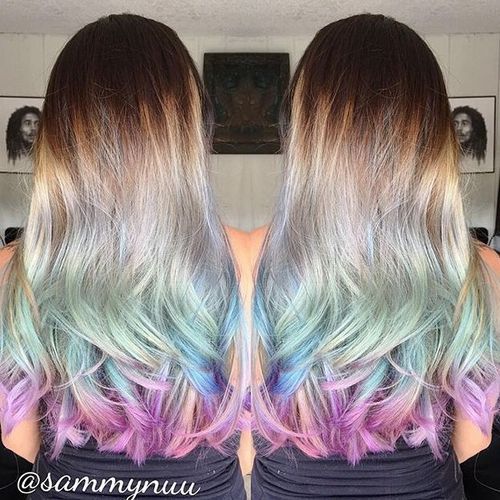 20 Stylish Striking Blue Hairstyles
Blue hair is undoubtedly one of the bingest trends right now, and you'll want to dive in to this striking color after seeing these blue hairstyles. We've got it all, whether you're looking for a mermaid-inspired hue or something a bit more dark and mysterious.
Pastel Blue and Lavender Curly Color Melt: Curly Long Hair
Being bright and fairylike is a dream many gals have, and this is an awesome way to showcase that dream! This majestic style infuses a light pastel blue shade with a few pastel lavender hues color melted inside for a very dreamy finish. Curl up your strands and leave them polished and untouched for a very striking finish.
Turquoise Pastel Curls
The turquoise to pastel ratio is on point in this light and striking number, given a glamorous effect thanks to a correlation of simply enticing curls. Very beautiful and certainly an eye-catching number that can be worn to the most high class occasions with ease.
Denim Blue Ombré
A silky shade of denim blue is the perfect match for glossy brown roots, a finish that's warm and speaking to the eye. Make it glamorous by designing your locks with some luscious loose curls.
Blue/Green Salt and Prpper Color Melt
Okay, there is a LOT of colors going on in this hairstyle, but that contrast is just oh-so-appealing! Chunky black highlights are placed strategically in the middle of this blue/green color melt, with just a pinch of white highlights to shake things up a bit. Dimensional? Absolutely.
Shades of Blue
The more the merrier, right? Especially when it comes to hair colors! There's a sweet mix of light and dark blues found inside these cozy highlights, nestled perfectly on this jet black Bob. How cool is this!?
Triple Blue Combo with Luxurious Waves: Wavy Long Hair
Long, thick hair is the perfect platform for a trio of colors, the long strands leaving plenty of room for styling. She starts off with an upcoming trend- a rich denim blue shade- followed by a rather striking indigo hue. With the ends a vast silvery-blue tint, it's a rather enchanting combination that's luxuriously enhanced by some lovely loose waves.
Darker Mermaid Trio
Lenthy locks simply means more room to color and charm! This mermaid beauty captures a series of rich hues from a denim blue tint up top to vibrant blue shades below. The combination is a darker take on the mermaid trend, as if you were a mystical beauty coming from deep beyond the oceans surface.
Purple Blue Braid
These colors may be a showstopper on their own, but the colors are free to play and blend with one another when wrapped up into a glamorous plait like this. The braid is voluminous and sophisticated, classy enough for a wedding and beautiful enough for prom night.
Mermaid Ends: Ombre, Balayage Long Hair Styles
Mermaid hair doesn't necessarily mean dousing your locks in vibrant shades. If you want to keep the bulk four locks natural, try enhancing your Bronde base with some enchanting colors below. This blue and purple combination glistens and thoroughly amplifies her mane with some beauteous mermaid coloring.
Unicorn Highlights
Fairylike unicorn colors are all the rage right now, but if you want something a bit more subtle, then simply add a few charming pastel highlights to your platinum blonde locks. Throwing on some voluminous waves ensures the color meddle together for a very enchanting result.
Mermaid Sky Blue and White: Pastel Balayage Hair Styles
On the brighter side, this intensely striking number includes a light shade of sky blue that's enhanced with white highlights for a cloud-like effect that's ultimately enchanting.
Chunky Dark Blue Highlights
Chunky highlights may be 'out' in the hair fashion world, but you can bring this trend back to life in a flash with some cool dark blue chunky highlights. They look simply fascinating on this platinum short haircut!
Purple/Teal Pixie: Pastel, Balayage Short Hiar
Pixies are adorable on their own, but you can enhance the overall daintiness of this style by tossing together a charming purple/teal mixture, with feminine ringlets curled away from the face. A hairstyle that's truly made for a fairy princess.
Blue/Sea Foam Green Ombré Waves
Waves of the ocean- definitely the best way to describe this enchanting 'do. Her ombré leads black roots down to a striking combo of blue and sea foam green, with voluminous waves to resemble the natural beauty of the ocean shores. Love this style!
Steel Violet and Deep Teal with Braids and Curls
Steel violet and deep teal may be rich colors that are bold and eye-catching, but they're quickly softened by this charming hairstyle. A side braid links back to curly tresses for a whimsical style that's suited for a fairy princess.
Mermaid Aqua Blue and Lavender
Creating a captivating style is a cinch when you combine to whimsical mermaid-inspired colors like aqua blue and neon lavender. The color combination is visually striking, but what really makes this hair a standout style is those luscious loose ringlets.
Hidden Turquoise Blue
It may be too much to drench your mane in blue, so why not play a game of peek-a-boo with this hot and trendy hue? Turquoise blue is placed beneath her sandy blonde locks, hidden away but coming out to play at all the right times.
Dark Aquatic Bob
Quirky structured bobs with fascinating angles and sharp edges require funky colors that will enhance that saucy attitude; and this deep aquatic blend hits the mark! Hues of blues and greens blend together for a standout finish that reminds us of the deepest ocean layers; so cool.
Pastel Updo
When you've doused your tresses in some charming pastel shades, you want to show them off, right?! There's no better way to showcase your striking pastel blends then with an updo. Whoever said quirky hair colors can't be elegant has certainly never laid eyes on this magnificent beauty.