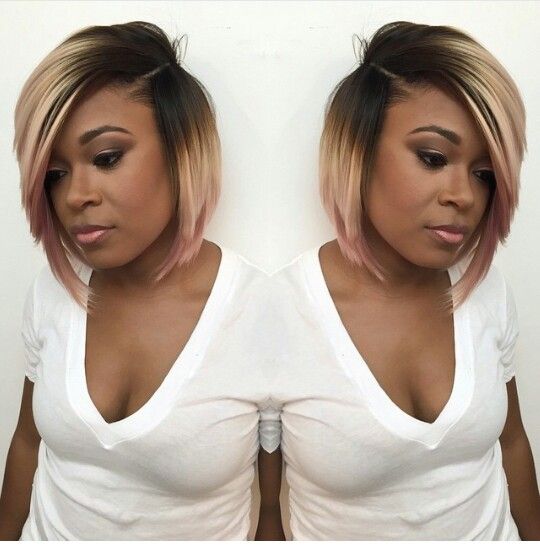 20 Stylish Bob Hairstyle Ideas for Black Women
Bob hairstyles? Gotta love them! They're bouncy and youthful, and the perfect length when you don't want to go too short with a pixie, but don't want to mess with hassling long lengths. This collection of gorgeous and stylish bob hairstyles for black women are sure to get you noticed in a crowd wherever you go.
Blue Asymmetrical Medium Length Bob
Blue hair is among one of the HOTTEST hair trends for 2016, and we have to say this deeper hue of blue with hints of purple blends with her darker complexion magnificently. Her asymmetrical cut is elegant and trendy, and her cut leaves plenty of length for styling.
Peek-A-Boo Lavender Blunt Bob
Alongside blue, purple just so happens to be another must-have trend for the year 2016. But if you want to keep things tame while indulging in this cute trend, consider a few peek-a-boo lavender highlights and a bouncy blunt bob to match.
Wispy Graduated Bob
Wispy, bouncy, and downright graceful, this adorable graduated bob is loaded with tons of layers for a very coquettish finish. We love the light brown highlights throughout her mane, brightening her complexion and making her face really stand out.
Subtle Highlights and Graduated Bob
This is a classic graduated bob hairstyle with very subtle stacking in the back for just a pinch of body. She adds some subtle highlights to her tresses as well, creating a textured and lovely hairstyle.
Bleach Blonde Asymmetrical Bob
Her look is undoubtedly flirty and cute, the perfect hairstyle idea for summertime fun when parties are an everyday occurrence. She starts with a super short bob, leaving lengthy side bangs to frame the face. With teasing in the back and bleach blonde coloring, it's a stand-out look that kills (especially with a pink pout!).
Duo-Colored Short Bob
A rather graceful little number, this lovely woman brightens up her face using some gorgeous light brown coloring, leaving the darker strands in the back for some alluring contrast. Her short bob cut is fabulous and we love how she flips her side swept bangs to the side for a little sexy attitude.
Unnatural Ombre and Flipped Bangs
While her medium length bob haircut may be casual and calm, her hair color certainly isn't! She indulges in the ombre trend with black on the top, sea foam green on the bottom, creating a charming and rather wild look you can't ignore.
Blonde Inverted Layered Bob
If you're in the market for a flirty bob that screams CHIC, this is it! She tosses her perky blonde locks into a stunning inverted bob with TONS of coy layers, flipping them back and adding just a hint of curl to her side swept bangs for a little flirty attitude.
Honey Blonde A-Line
You can't go wrong with an a-line bob; you just CAN'T! It's so utterly stylish and can be worn anywhere, a very versatile cut that's great for the office as well as the nightclub. She gives her hair a bit of edge and youthful, bright attitude with honey blonde coloring and a very sharp angle from back to front.
Lengthy Asymmetrical Cut
Polished and refined- just two of the words that quickly come to mind when we see this haircut! We're loving her lengthy asymmetrical cut, with the front sides being cut below the chin and curled inward to frame the face beautifully.
Super Straight Ombre
Straight hair is boring? Think again! If you want to rev up your slick straight locks in an instant, consider a gorgeous natural ombre like you see here: dark brown on the top, followed by a stunning auburn below.
Layered Bob with Peek-A-Boo Pink
Pink hair is totally IN. But if you're not daring enough to drench your mane in pink from root to tip, consider some peek-a-boo pink highlights like you see here. Looks great with her bouncy layered bob and super light blonde locks!
Quad-Colored Inverted Bob
Her style is rather unique, but we're LOVING everything about it. There's a charming collection of black, brown, gray, and blue coloring throughout, creating some serious dimension that turns heads. Placed on a mod inverted bob, it's a dashing style that works well with subtle makeup.
Voluminous Tight Waves
Body, body, body. This hairstyle is oozing with sensual, alluring body, and it doesn't really take TOO long to create. Don't forget to tease the sides of the hair to create some extra sexy volume, and some luscious pink lips to tie everything together.
Extra Short Inverted Bob with Flipped Fringes
Really wanting to chop those locks, huh? Well, consider a fiery cut like this! The back is cut extra short, leaving just a pinch of length around the face- a great look for round faces. Flip your fringes off to the side for a bit of flirty attitude.
Honey Blonde Curls
Sassy? Oh, yes. We're loving her incredibly intriguing yet elegant style, a great choice for prom or for date night. She lightens up her look with honey blonde tresses and gives them a sexy makeover using loose curls. Love it!
Blending Browns and Voluminous Curls
Ladies, you can never go wrong with some romantic, voluminous curls. They are downright sexy and very appealing to the eye, giving your mane some enticing body. She adds even more dimension to her locks with a unique collection of browns ranging from dark to light. So cool.
Flipped Ends
For this look, you will want to begin with a medium length bob haircut with tons of layers in all different shapes and sizes- a great choice for thick hair that doesn't need to bulk up with a blunt cut! Flip the ends just a tad for a very coquettish appeal.
Ombre Curls
This medium length cut is given a feisty and alluring makeover with a set of beautifully curled locks. The ombre coloring is brought to life with these bodacious and sultry ringlets, a great idea for fancy events.
Ombre Loose Curls
This dazzling 'do is similar to the one mentioned above, but a BIT more relaxed. Her ombre hair coloring is very appealing to the eye, brightening her complexion and softening her face instantly. The loose curls are refreshing and pretty, perfect for any occasion.
Loving all of these gorgeous bob hairstyle ideas! Pophaircuts.com which one will you try out next? Will you indulge in wild (trendy) colors, or keep things casual? Are curls your next option, or some simple flipped ends?