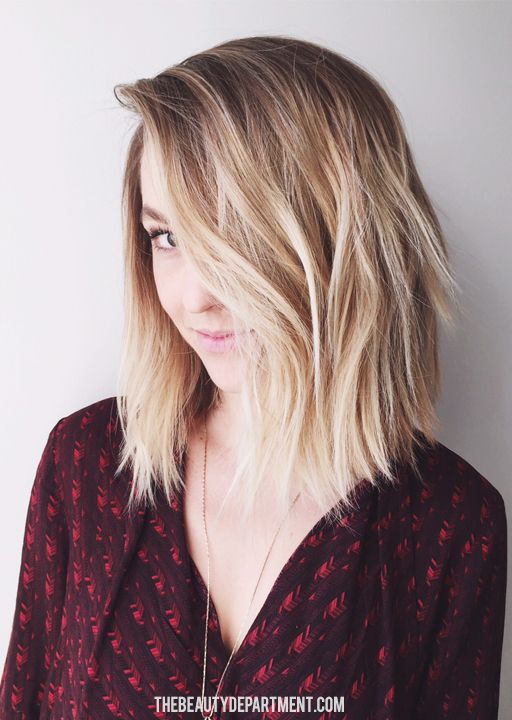 Top Ombre Hair Colors for Bob Hairstyles
Ombre is a unique hair coloring method where darker roots are led to lighter ends, a contrast that's chunky and bold yet flawless. It rose with immense popularity in 2014 and 2015, and this beloved fad will continue to be a HIT for 2016. Check out these top ombre hair colors for bob hairstyles, from vibrant and unique to subtle and classy.
Chocolate Brown to Golden Blonde: Casual Curly Hairstyle for Short Hair
A beautiful hairstyle, golden blonde tips highlight her mane beautifully and gradually against her chocolate brown roots. It's a rather sophisticated hairstyle that looks lovely paired with some glamorous curls.
Tri-Layered Brown and Blonde: Straight Short Haircut Ideas for Thick Hair
Ombre can be chunky with half and half colors, or it can be a gradual contrast like we see here. Dark brown roots are given a bright makeover with a gradual increase in lightness of blonde, finishing at platinum tips.
Dark Cinnamon to Glazed Apricot:
With dark red lips, a polka dot tee, and blunt bangs right under the eyebrow, her style screams retro fashion. And she gives it a burst of trend with a bold color contrast featuring dark cinnamon locks up top and glazed apricot blonde tresses below.
Subtle Ginger Brown to Sandy Blonde: A-line Bob Hair Cuts
We absolutely love this subtle ombre hairstyle, which gives her natural looking sunkissed tips. The light sandy blonde tips and highlights around her face really brighten her complexion.
Brown, Auburn, Blonde: Easy Bob Hairstyle for Women and Girls
Love brown hair? How about auburn locks? Blonde tresses? If you love all three, why not combine them? This look is totally hip and cool, perfect for younger girls!
Natural Chestnut with Golden Brown Tips
The natural appearance of this particular ombre hair coloring is what will draw many women in, and why wouldn't it? It's a gorgeous, all-natural style with just a touch of brightness at the tips to create some contrast.
Brown with Smokey Blonde: Short Wavy Hair Styles
Smokey blonde is such a fascinating color, with hues of gray and blonde and white throughout; and we're loving it combined with the brown and honey gold in the middle. Trendy style turns elegant with a set of loose, romantic curls.
Natural Blonde Ombre: Casual Wavy Hairstyle
With a collection of blonde highlights and lowlights throughout, this ombre hair color looks natural and divine. Who said ombre had to be wild and crazy? Consider this subtle, earthy style that's great for the beach.
Brown and Heavy Blonde
No longer are the days where we have to feel bad or awkward about our roots growing out; it's actually a style TREND! This glamorous and hot coloring features a short chunk of dark brown roots leading to a heavy blonde other half.
Dark Brown to Dark Red
A hairstyle that would work miracles in the fall and winter seasons, this luscious 'do features dark brown roots and enticing dark brown ends. Seductive? Absolutely.
Dark Chocolate with Hints of Honey and Chestnut
Dark chocolate brown hair is given life and a brighter appearance thanks to a delightful collection of honey and chestnut tones throughout. Looks gorgeous with these loose, lovely curls.
Dark Brown to Red
Want to instantly add some serious sexy attitude to your locks? Try red! If you're not daring enough to completely dye your mane to a deep red coloring, try this lovely dark brown to red ombre. Tousle it up for that extra sex appeal that is sure to turn heads.
Midnight Brown with Chunky Sandy Blonde: Blunt, A-line Long Bob Haircut
Polished and extremely fashion-forward, this enticing ombre features midnight brown roots leading to a chunky sandy blonde end. Tossed to the side and left straight, it's an alluring look that pairs well with subtle lip color and smokey eye makeup.
Chestnut Leading to Platinum: Women Short Haircut Ideas
This sultry half-n-half look has tons of lovely texture and contrast, with chestnut roots leading gradually to platinum tips. She teases up her bob for an extra perky and youthful finish.
Black to Apricot: Bob Haircut for Thick Hair
Adding just a hint of apricot to her ends, she gives her mane a burst of bright color that plays perfectly off her black roots. A touch of dark brown separates the dark from the light, making the transition easy and pleasant on the eyes.
Trendy Unique Colors
Ombre is a hot hair color trend. Want to know the other three hair color trends for 2016? Purple, gray, and blue. This ultra-trendy and obviously unique ombre style features popular blue and gray ends while the roots are left black. There's a light touch of brown between the gray and black for an extra dose of fab color.
Black and White: Medium Bob Haircuts with Bangs
Black and white- whether ombre or intermingled- is a seriously hot hair trend for 2016. We love her modern hairstyle with blunt fringes and adore her fashionable black to gray color combo.
Very Subtle Brown and Blonde: Layered Hair Styles
This ombre is incredibly subtle; it almost looks natural! For a dazzling hair color that looks like it's been kissed by the sun, consider this subtle brown and blonde combo. With a bit of beach wave throughout, it's the ideal look for summer.
Dark Cherry and Orange
Sounds like a recipe for a delicious smoothie, but it's really a cute hair color combo that's perfect for spring. Dark cherry roots lead to enticing orange tips. Unique, absolutely.
Black to Blue: Messy Short Hair Styles
This look has edgy attitude written ALL over it. Black roots lead to blue tresses of all hues, with a pinch of dark blue lowlights and plenty of light blue highlights for a daring and full-bodied look. There's even a few pieces of purple to really amplify the style!
Light Brown and Honey Blonde
Ombre isn't just a hairstyle for young girls or for students; it can be for women over 60, teachers, senators- pretty much anyone! This sophisticated hairstyle features a subtle ombre with light brown upper half and a delightful honey blonde on the bottom half.
Brown and Blonde: Easy Short Haircut
This ombre is dazzled up with tons of contrasting highlights and lowlights within the brown and blonde ombre, creating tons of texture that really amplifies those long layers. A very bouncy and fun style.
Tri-Layered Auburn, Red, and Blonde
There's a LOT of color going on in this particular mane, but we're LOVING it! If you're the type of girl who loves bursts of enticing colors and loves a trendy style, consider taking the ombre trend to the next level with multiple hues like you see here. Loving the combo of auburn, reds, and blondes!
Black, Blonde, and PINK: Stylish Hair Color Designs
What woman doesn't LOVE pink? This adorable hairstyle features black roots with some lovely light blonde in the center, finishing with some pale pink tips. The pink is subtle yet really brings her tresses to life.
Sandy and Platinum Blonde
Platinum blonde can be a bit much for some people, but if you're in love with the color, consider doing an ombre with sandy blonde roots and platinum ends. It creates contrast so you don't end up with that 'washed out' look. Great, bright look for warmer seasons.
Whether it's a bold half and half style, a delicate and gradual natural looking transition, or an ombre filled with crazycoloring, we LOVE the ombre; don't you? Pophaircuts.com which hair color combo is your favorite?