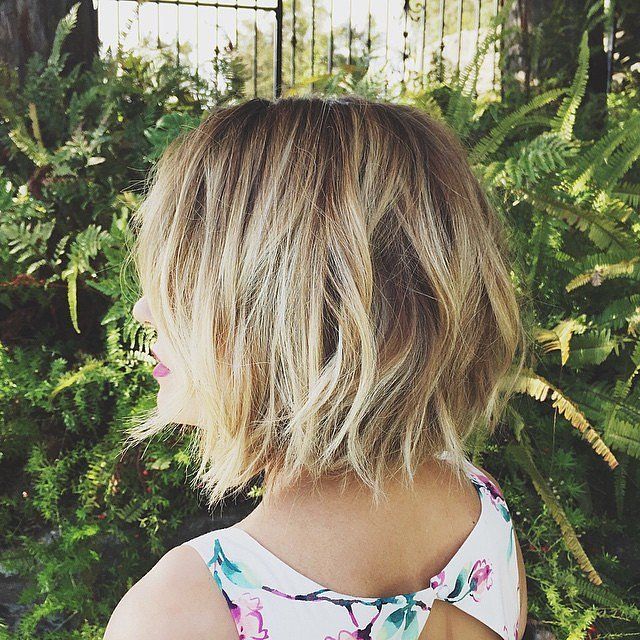 20 Glamorous Bob Hairstyles for Fine Hair: Easy Short Hair
When it comes to fine hair, shorter styles are your BEST friend. But what's the trendiest looks and best styles for fine hair? Check out these bob hairstyles for fine hair and see just what short haircuts and hairstyles have to offer you and your mane.
Choppy Layered Bob
Fine hair needs a little funk in its life, right? If that's the case, we highly recommend chopping your locks into a cool and hip layered bob like this. The contrasting lengths are wild and posh, great for younger girls.
Short Inverted Bob
Struggling with SUPER thin or SUPER fine tresses? Then cutting off your length into a simple short blunt inverted bob is your best option. This simple yet edgy style works well for anyone!
Graduated Bob
The classic graduated bob hairstyle is always an excellent choice, and to rev up this classic cut consider giving your hair some contrasting color like you see here. One of our absolute favorite bob hairstyles with bangs!
Extreme Side Part
Want to know a secret? Bleaching your hair a super bright blonde- or platinum like you see here- can instantly give your mane a bit of volume. Make your haircut appear stylish and sexy by giving it an extreme side part and tossing those fringes over to the side. Dazzle up with enticing makeup!
A-Line Bob with Side Bangs
This a-line bob hairstyle is cut right below the chin, with the ends curled inward to frame the face beautifully. She has a set of lengthy bangs that are off to the side, opening up her face and really creating a dazzling finish.
Messy Waved Bob
One quick and easy way to add volume to your tresses is to simply mess them up a bit! This lovely gal starts off with a bit of subtle wave throughout her locks, then roughs them up a bit and leaves them with that sultry and fun 'bedhead' look. One of the best messy waved bob hairstyles thin hair!
Teased Up Graduated Bob
Graduated bobs are ALWAYS in style and make for one of the top choices when it comes to bob hairstyles for fine hair and long face. The hairstyle cuts extra length of the face for a bouncy and cute finish. We're loving her ample teased up mane, creating a full-bodied look that women with fine and thin hair crave.
Side Swept Romantic Curls
Work in the morning but an exclusive party later that night? Don't worry! You won't even have to go home and fix up your hair to be ready for the whole day. This swank and refined style features some ultra glamorous loose romantic curls that are nothing short of dazzling, and they offer some serious body for thin and fine hair.
Subtle Angle
Bobs don't have to be wild and crazy to have some adorable bounce! This simple haircut features a subtle angle from front to back, with the ends tossed inward for a little bit of lively attitude.
Messy Waves
We love messy waves! Why? Because they're cute, quick, and flirty. This is one of our favorite bob hairstyles for fine hair with pictures, as it has just enough mess and just enough wave to see you through the day. So cute!
Choppy Bob
When it comes to thin and fine hair, you want to stay away from layers of contrasting lengths as much as possible. But lengthy layers with just a bit of contrasting heights is a real winner! Amp up your look and create a full-bodied finish with just a tad bit of choppy layers. Loving this as one of the top choppy bob hairstyles for fine hair!
Volume Up Front
If you're already working with a set of trendy side swept bangs, simply tease them up and out a bit to really create some bulk up front. An excellent option for round faces and this lengthy bob cut is a favorite among bob hairstyles for fine hair round face.
Blunt Bob with Ultra Loose Curls
Her platinum blonde locks scream summertime fun while her ultra loose curls are bouncy and coquettish! This intriguing look can be put together in a flash and it's an amazing everyday option for spring and summer.
Middle Part with Subtle Wave
Round faces do well sporting a middle part, as this chops extra 'roundness' and creates a more elongated look. This middle part hairstyle includes hair chopped just above the shoulders, tossed with some subtle waves for a bit of bouncy texture, together creating an excellent choice for bob hairstyles for fine hair round face.
Straight and Narrow with Side Swept Bangs
A rather simple hairstyle, she leaves her hair stick straight for a refined style that works anywhere while her side swept bangs add a bit of trend and flare. Ultra quick and easy to style, it's an excellent option for all women, and definitely one of the best bob hairstyles for fine hair over 50.
Side Body and Inward Curl
You've probably worked with teasing the top of your locks, but have you ever thought about teasing the sides for a puffed up and bouncy finish? Tease not only the tops- but the sides of your locks- for a VERY full-bodied finish. Curl the ends of your tresses inward to frame and add even more coquettish texture.
Tousled Bob
No time for waves or curls but still want a textured hairstyle? No problem! Consider this simple style. All you have to do is mess up those tresses; easy!
The Toss-Back
First of all, we're adoring her bayalage blonde tresses; so hip and trendy! But what we're really in love with is her cool and casual toss-back style. Super easy- you can do it in 60 seconds before you step out of the house.
Wrap Around Braid with Curls
If dainty and feminine are a must in your style book, then this look is for you. It's a great way to add some definitive dimension to your tresses, and let's face it- it's downright ADORABLE. Start with a wrap around braid to separate the straight upper half to an elegantly curled lower half. Flawless.
Extra Short and Extra Loose Waves
For women out there who prefer an ultra simple and easy-to-style haircut, this one is for you. Her locks are tamed to an extra short length above chin-level and she adds some texture with just a hint of wave. Great idea for summertime when days are spent by the beach!
Thin hair and fine hair doesn't have to be dull OR lifeless, as you can clearly see in this collection of bob hairstyles for fine hair with pictures! Pophaircuts.com which one is your absolute favorite bob hairstyles for fine hair 2016?