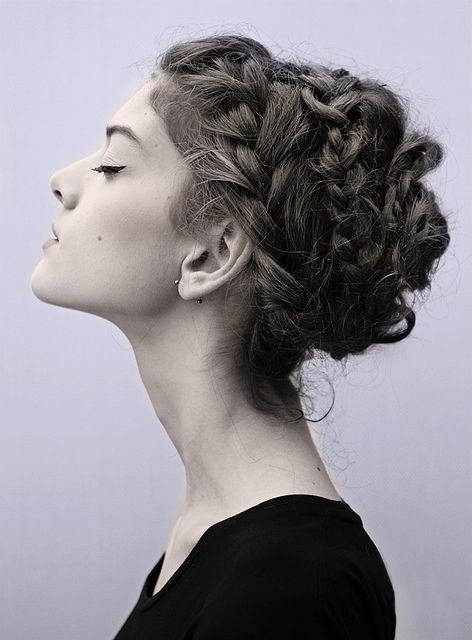 20 Pretty Braided Updo Hairstyles
If you have medium or long hair, you will have a great number of styling options. If you are fed up with your usual hairstyles, you can try out a new one. In this text, I will introduce you some updo styles for you to choose from. Up-do haircuts work excellent as formal haircuts, and also they are wonderful savers from a bad hair day. Here are the different ideas of simple braided up-dos for medium and long hair, which will help you gain instant and charming styles.
French Bun Updos
Another idea is to create a French bun. French bun is simple to create, while if you are creating for the first time then you can ask a friend for help. For French bun, the hair is rolled in such a way that it helps create a vertical charming bun, which is tied with many hair clips.
Messy Updo Hairstyles
Messy bun with small braids is quite a simple hair updos to create with medium hair, and an instant hairdo too. To style the easy up-dos for mid length hair, just brush all your hair, and then separate it if you wish, but the style still works without any separating too. So, brush the hair, and braid several small braids and then hold all the hair, and roll them to create a bun, and tie the bun close to the nape of the neck with a hair stick, if you do not have one, then a pencil will also work. To create the splendid messy look, you can pull out some strands from the sides and close to the nape of the neck, and then take out your bangs.
Hopefully, you think the ideas useful and helpful. So, do not wait any longer, just try them out….
Braided Updo Back View: Messy Hairstyles /Via
Elegant Double Braided Updo for Medium Hair /Tumblr
Prom Updo Hairstyles: Bun Updos with Crown Braid /Via
Braided Updo for Weddings /Via
Everyday Hairstyles: Braid Updos /Via
Easy Braided Updo Hairstyle /Via
Braided Updos Tutorial: Long Hair Ideas /Via
Headband Braid Hairstyle Side View /Via
Messy Yet Interesting Bun Updos: Braid Hairstyle /Via
Ballerina Bun Updos for Long Hair /Via
Casual Braid Updo Hairstyle for Everyday /Via
Waterfall, Dutch, French Braid Updo Hairstyle /Via
Triple French Braid Double Waterfall Updos /Via
Waterfall Braid Into Lace Braid Updo: Homecoming Hairstyles 2014 – 2015 /Via
Messy Boho Braided Updo /Pinterest
Chic Braided Updo Ideas /Via
Pretty Braided Hairstyles: Updo Hairstyle /Via
Heidi Klum Braided Updo /Via
Romantic Boho Lace Braid Updo Hair Style /Via
Pretty, Messy Braided Updo Hairstyle /Via