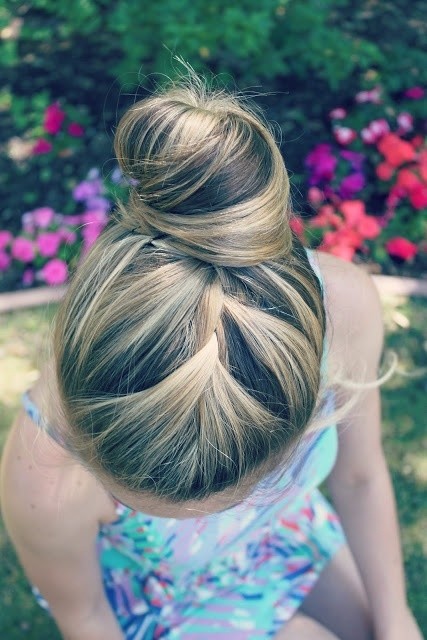 11 Everyday Hairstyles for French Braid
French braids look charming and adorable. Besides, they suit for different seasons. If you want to upgrade your usual hairstyle, you can try them out and it is believed that they can make you more luscious and impressive.
Now, let's check some splendid and admiring French braids.
Fishtail French Braid: Side Braided Hairstyles for Everyday /Via
The fishtail French braid appears adorable and appealing. The hair is braided from the top of left side and dragged the left shoulder. The loose braiding skills add much fun and casualness.
Single French Braid: Blonde Long Hairstyles Ideas /Via
This is a single French braid- wraps from the side. The long hair is created into loose braid and fixed with a hair band. It can be a cool choice for summer days.
French Braid Bangs for Long Hair: Braid Tutorial /Via
In the splendid hairstyle, bangs are created into a French braid, which looks like a cute hair band at the top. The rest hair is just left loose. It is suitable for people with smaller forehead.
Special Single French Twist Braid Back View: School Hairstyles for Girls /Tumblr
The wonderful and special single French twist braid must be an eye-catcher. The long hair is twisted and braided just like a rope. It works better on medium and long hair.
Triple French Braid Double Waterfall: Updo Hairstyles /Via
This is a triple-French-braid-double-waterfall, which looks like a piece of art on the head. The front and sides hair is created into net and the back hair is created high into an up-style. For more charm, you can add some hair accessories.
Cute French Braid Tutorial /Via
This is an absolutely easy yet charming French braid in which the hair is divided into two parts and then created into loose braids. And they are fixed about the neck level.
Holiday Hairstyles for French Braids /Via
The splendid and gorgeous French braid in back and on top with a ponytail in back can be a savior for bad hair days. The front and bottom hair is created into French braids and then the whole hair is rocked into a high ponytail.
French Braid Into Low Ponytail /Via
French Braid Bun Updos /Via
Easy Braid Pony: French Hairstyles /Via
Easy French Braid for Long Hair /Via