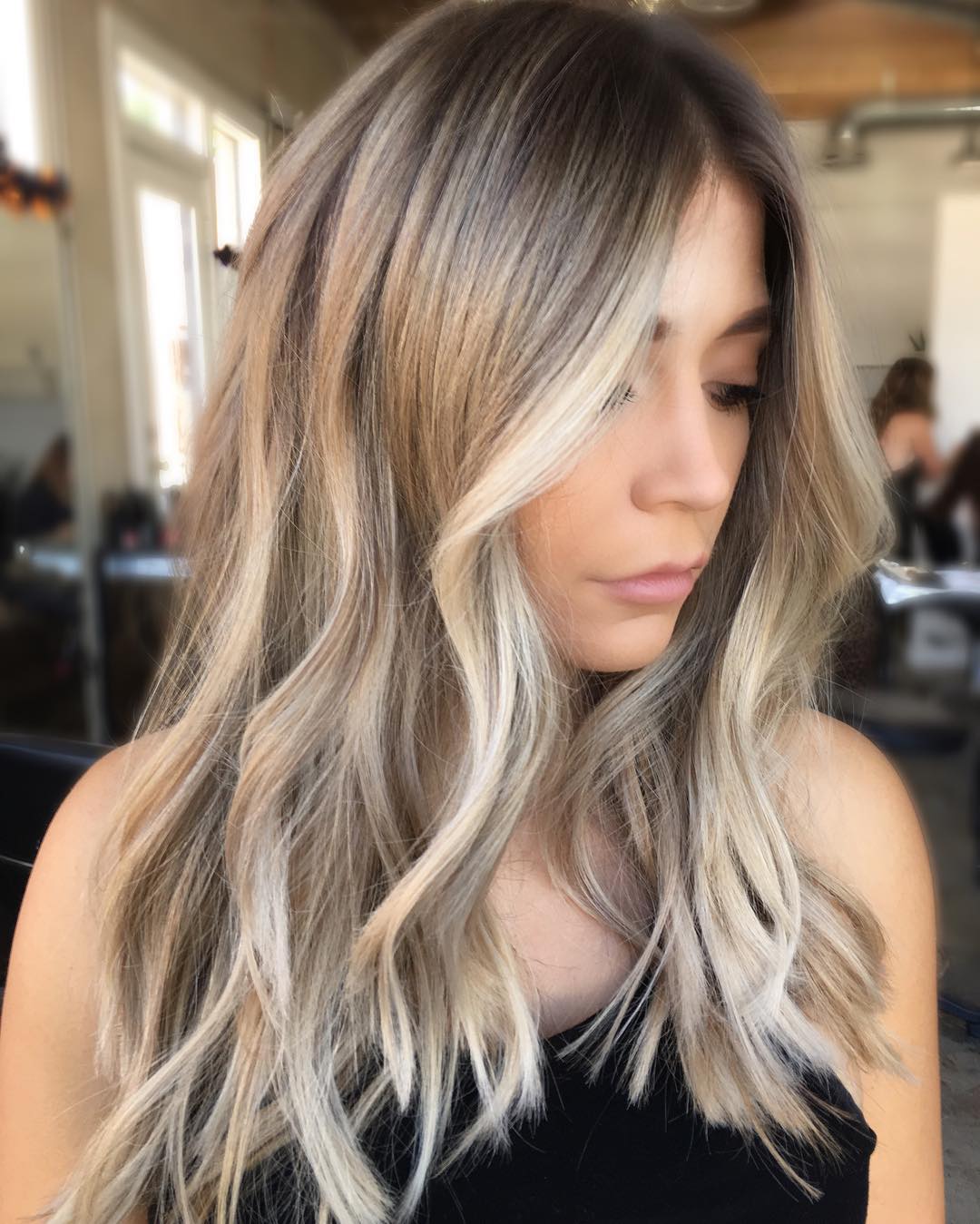 10 Ash Blonde Hairstyles For All Skin Tones
Trendy ash-blonde hairstyles vary enormously, as they must be carefully selected to suit your individual skin-tone.  The lighter ash shades suit pale complexions with a cool undertone, so if you have skin with a warm undertone you'll get a better match by including beige and neutral blonde shades.  Today's gallery includes all the trendiest beige, white, silver and ash-blonde balayage/ombré hairstyles specially chosen to match different skin-tones!
Long beige & ivory waves with choppy tips – ash-blonde hairstyles
This natural-looking neutral blonde hair color design adds a lot of 'class' to this long, blonde hairstyle!  The model has warm undertones to her skin, so neutral beige with just a hint of ash creates a flattering complementary color.  The gorgeous oat-blonde balayage reflects light onto the face and creates texture and thickness in the long, tousled waves.  Choppy texture in the tips adds a modern, edgy twist to this trendy, ash-blonde look!
Dark ash roots & pearly ombré on medium bob – ash-blonde hairstyles
Look how beautiful this pearly ash-blonde ombré look against faded denim-blue!  Taupe colored roots, fading to this lovely shade of pale beige/ash-blonde ombré are the perfect color complement to blue, green or hazel eyes.  The messy, medium bob has long layers concentrated in the last few inches of the hair.  And the straightened, spiky tips add trendy edge to a fabulous, up-to-the-minute ash-blonde hairstyle that's young and easy-care!
Silver-gray bob with hint of blue – ash-blonde hairstyles
Switching from a 'warm' beige-ash blonde color, you can see the contrast to a very cool blue, ash-blonde look!  The roots are ash-brown changing to blue-white balayage ombré and balayage.  The finish is a modern take on 'waves', using the natural movement in the hair to create random 'bends' for added texture and lively movement.  And see how the clever colorist has added blue toner half-way down to accentuate the 'bend', and the shorter layers!
3-D multi-shades & tousled white ombré – ash-blonde hairstyles
Ash-brown roots peep through the defined wavy sections of this trendy, long bob haircut with a spiffy bone-white ombré!  This length is suitable for fine hair, that's not thick enough for growing any longer and perfect for medium thick hair types.  You get the look of thicker hair with multi-toned hair color designs, including strong dark to light color contrasts for a 3-D effect.  It's a boho version of long, blonde hair with a feminine touch in defined waves and edgy white tips!
Slick bob in pewter on ash-brown for fine hair
This metallic shade of ash-blonde is darker than silver, and looks like a medium, ash-gray metallic hair color.  It's actually the same as the metal 'pewter', and was extremely popular in the 60's when ash-blonde and gray hair were first introduced.  Pewter ash-blonde is the perfect shade for brunettes who want a chic, eye-catching look, without over-bleaching naturally brown hair.  The slickly cut bob above is easy-care and adjustable to most face shapes for a very modern ash-blonde hairstyle!
Stunning ash-brown to light gray ombré on long hair
Here's a very high-fashion hair color design that accentuates the great condition of long, straight hair.  It's a simple, less-is-more look that fits in with a 'no-frills', fashion wardrobe and the current big trend in taupe and neutral shades for home décor.  Some warmth is included in medium-beige, vertical highlights mixed in with dual ash-blonde ombré, to break up the gray and add texture.  This hair color would look fantastic against outfits in strong plain colors, like midnight-blue, purple, burgundy-red, hot-pink and sea-green!
Delicate pale-gold pearl inverted bob with ash-blonde balayage
This fashionable inverted bob haircut is suitable for medium and fine hair, as the pearlized ash-blonde shades are perfect for shiny, silky hair types.  Taupe (ash-brown) roots combine both brown and gray, so the dainty golden-beige and trendy purple toned balayage blend in really well.  This edgy, inverted bob also has touches of white blonde in the tips.  And as you can see,  expertly applied multi-blonde highlights create lots of interesting texture in simple haircuts!
Glam-up with romantic beige & silvery ash-blonde balayage
I love the softer look of light-brown roots in this long, wavy ash-blonde hairstyle that combines glamour and romance in a totally new way!  The hair is cut in a cute, V-shade at the back with casual, loose waves tumbling down to a point. And this new hair-color design adds fabulous high-fashion style, with pale pearly beige and gray balayage gleaming amongst ash- and white-blonde balayage!
Sexy silver white-blonde over taupe roots
Get edgy with this super, sexy long blonde hairstyle that will never pass unnoticed!  The simple, long bob haircut has soft waves lightly defined so the light-brown roots add color depth.  And the silver, ash-blonde ombré is a great background color that won't clash with your multi-color tattoos.  Silver ash-blonde hairstyles worn with cool fashion colors or a 'little black (or purple) dress', make fab high-fashion impact as winter-party hairstyles!
Cute caramel long layered cut with ash-blonde balayage
If you have a skin tone with warm undertones, ash-blonde hairstyles may not be the right choice for you.  However, that doesn't mean you can't incorporate some trendy ash-blonde balayage to jazz up your look!  This model's light-brown hair has a modern, shaggy look from tousled long layers and sharply textured tips.  But it's the subtle white, beige and ash balayage that really lifts it to be a snazzy, up-to-the-minute look!