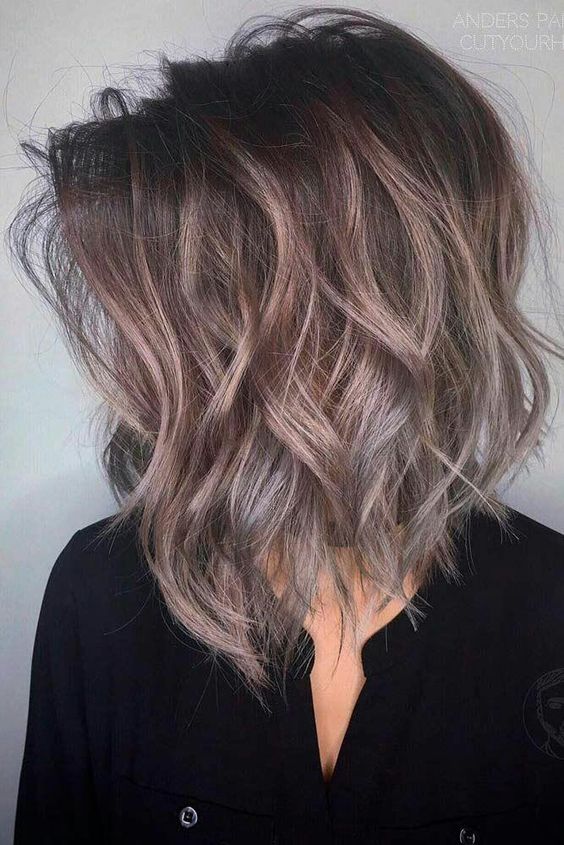 10 Trendy Medium Hairstyles & Top Color Designs
The long, angled bob has turned out to be one of the most popular, trendy medium hairstyles ever.  It's a real, 'Goldilocks' choice – because it's not too long, nor too short.  It's not too curly, nor too straight. And it suits all hair types, too.  So with one of these top color designs, you'll easily find a trendy hairstyle that's just right for you!
Pale cocoa & pearly gray two-tone – trendy medium hairstyles
This fabulous hair color is so new I'm struggling to describe the shades!  The defined waves are tinted 'light-cocoa' and the delicate highlights in pearly-blonde really add loads of density and style!  And that's only half the story, because light reflecting from the strands underneath creates a warm-gray/silvery blurred outline to a super-trendy medium hairstyles' option!
Natural blonde shades – Nordic trendy medium hairstyles
This season's cool blonde hair designs are some of the most natural and flattering we've ever seen.  So cast off your urban black roots and platinum blonde, and switch to this sophisticated angled wavy bob.  The base is a lovely new shade of ash-beige, which changes gradually to a fashionable neutral blonde ombré.  The blending is fabulous and defined wavy sections over darker underlayers creates more density.  So this is a great choice for medium and fine hair!
Soft gold & neutral beige-blonde – trendy medium hairstyles
This is another fabulous example of how to create the look of thicker hair on medium or fine hair.  The palette is a range of closely matched beige and golden-blonde hair colors, with a few lowlights in cocoa-brown peeping through.  The cut is a medium bob, just brushing the shoulders in same-length layers.  This is a great option for fine hair, as the twisty defined waves and 'messy' finish add volume and thickness.
Flattering medium golden blonde – naturally trendy medium hairstyles
Clever 3-D blonde & brown come together in a shaggy, angled medium bob to create a light copper look.  This color design is perfect for jazzing-up mousey-brown or dark-blonde hair to a fairly natural color. It won't need any more attention than finger styling for a fashionably tousled, everyday style.  It's also long enough to create fancy upstyles for special events. And this warm caramel color's very flattering to medium skin with warm undertones!
Dark & light multi-toned angled bob for fine hair
This is the right length for fine hair, to avoid it appearing long and thin.  And this chic and casual, medium angled bob haircut has a softly tapered outline from lightly textured tips.  The blend of colors creates lots of color-depth from coffee-brown at the nape to a few white-blonde highlights at the sides.  But this contrast is beautifully softened by the lovely light-beige and pale gold shades in between!
Gorgeous shaggy long/medium hairstyles – blended blonde & ash-brown
And this is a super-duper shaggy haircut for those with thick hair!  The fantastic wavy movement starts at the roots on top and wiggles down in long layers to the strongly textured tips.  The long and lovely wave-pattern is gently broken up by the lively blend of dark and light balayage.  The shades are pale gold, darkening to a natural caramel-beige with cocoa-brown at the nape.  These colors suit medium skin with warm undertones beautifully!
Plum roots with trendy ash-blonde waved bob
This is one our fave cut and colors this week for lots of reasons!  The 'vintage' ash-blonde has pale, pearl-beige highlights expertly placed to highlight the bend of the waves.  And the plum-blonde roots above look chic and contemporary.  This hair color design reminds us how important it is to select colors that will match our clothes.  And you can see that the colorist chose this shade to complement the model's fashion outfits perfectly!  Just co-ordinate lip and nail colors for a totally 'well-groomed' finish.
Pearly light-brown shaggy bob with multi-balayage
This very clever colorist has used silver, gold and ash tones to create a pearlized effect on a light-brown base!  We've never seen that before! And the result is a very sophisticated look for long hair!  The more you look at this fabulous color design, the more you marvel at the blended colors.  There's a lovely touch of warm, copper-brown on top – yet the tips are cool shades of dark ash-blonde.  This inspired mix of warm and cool shades brings amazing movement and texture to the long layers of this very trendy (and classy) lob!
Edgy shaggy angled bob with razor-cut tips
If you want to draw attention to a cute face, try a choppy highly textured bob with spiky tips!  The contrast between straight lines and choppy hair, will emphasise the soft curves in your face in a very chic way.  This razored angled bob is perfect for thick hair with enough density to take stacked layers around the nape.  Vertical blonde highlights in a range of caramel and white-blonde shades accentuate the strong lines.  And the messy finish adds a casual vibe to a precisely cut urban-chic look!
Glam Brigitte Bardot blonde waves
This glamorous wavy blonde hairstyle is another tribute to the famous 60's actress, Brigitte Bardot!  You may have seen 'off-the-shoulder' 'Bardot' summer tops this year, which the sexy, French film-star made popular.  And if you combine this updated tousled blonde B.B. hairstyle with a Bardot blouse – Ooh la la! – instant man-magnet!  We love the soft medium-beige shade forming the basis of this gorgeous color design.  It adds a sophistication that lifts the look away from a 'footballer's wives and girlfriends' over-bleached look.  And the result is a gentler, classier blonde hairstyle!