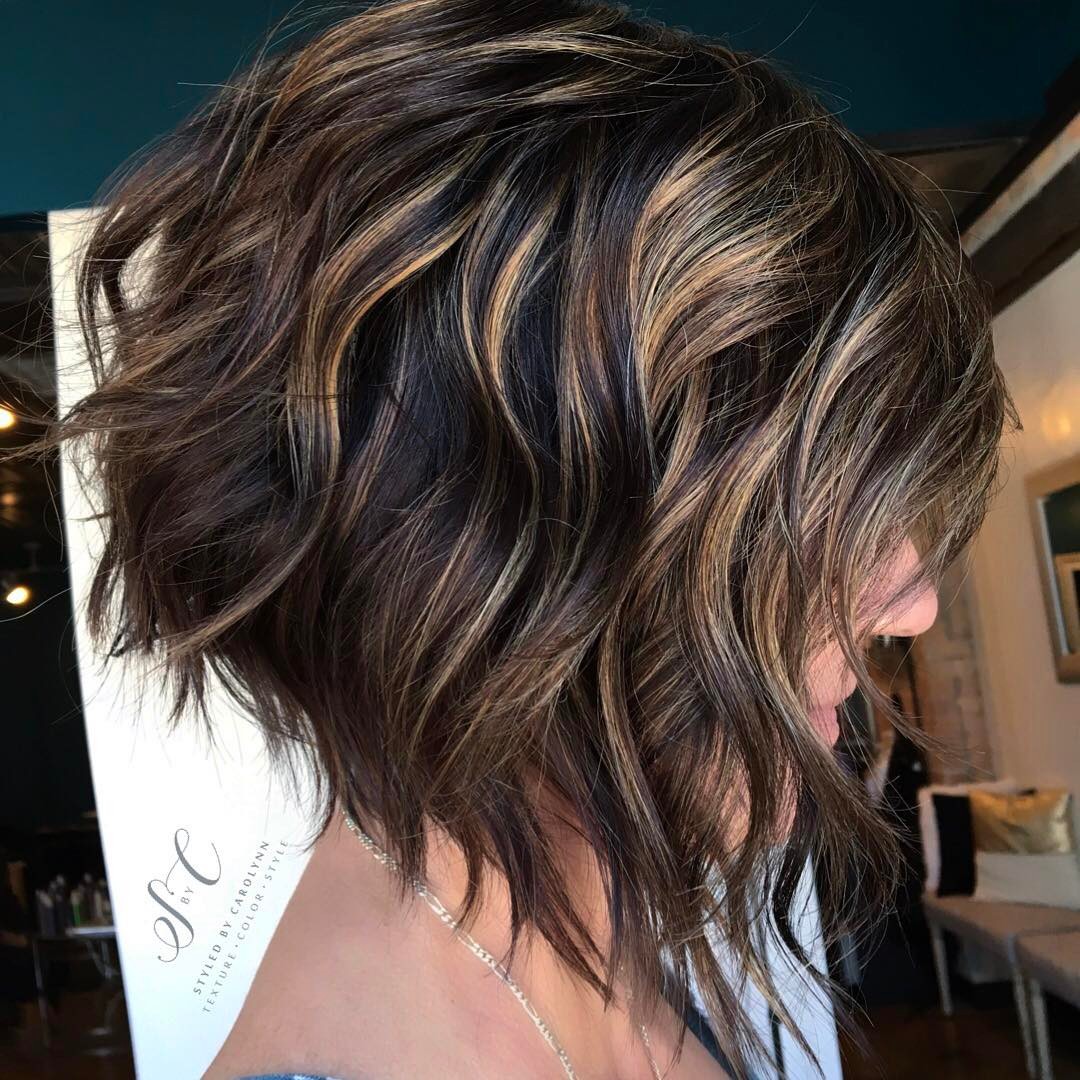 10 Latest Inverted Bob Haircuts – High-Fashion Looks
Get a load of these hot looks from the latest inverted bob haircuts, 'cos I guarantee you're gonna love these edgy cut-and-colors!  Whilst many inverted bob haircuts look best on medium to thick hair, if you have fine hair you can add 'body' with a wavy perm.  And as most of today's trendy inverted bob haircuts feature blonde balayage, fine hair can also be 'thickened' by adding highlights.  So the attractive, edgy wave patterns in this gallery of the latest inverted bob haircuts, can be achieved on all hair types!
Antique gold balayage on deep brown hair – latest inverted bob haircuts
If ever there was a real, 'dynamic-duo', it's this partnership between deep brunette and mid-golden blonde!  I've seen these contrasting, but complementary colors come and go in hair fashions several times over the years.  But this is my favorite version by far!  I've always preferred artistic balayage highlights over vertical line highlighting.  It's just what dark hair needs to really accentuate wavy movement!  Cut with defined tips and disconnected layering at the sides breaks the strong line in this very feminine inverted bob!
Gorgeous messy bob in pearl & beige – latest inverted bob haircuts
Fair hair often loses its color vitality and yesterday's natural baby-blonde, can become today's unattractive 'dirty blonde'.  But these little details don't matter when you can perk up your inner blondeness with the latest pearlized blonde colors!  And this very fresh-looking inverted bob has exciting new features like the flipped-out tapered tips.  It's cut in sliced layers so you get lovely vertical texture and finished off with cute flat waves on the surface!
Flattering mid-blonde with yellow-gold bob – latest inverted bob haircuts
For a blonde shade that won't make you look 'washed-out', you can't beat the medium-blonde shades!  They suit a wider range of skin tones than the Nordic blondes, and are especially flattering to women over 35.  This style relies on plenty of thickness to achieve a wonderfully bouffant puff at the back, tapering in to hug the nape.   Disconnected layers add texture and movement at the sides.   The 'waves' decorating the surface in this style are straighter random 'twists' for an edgy, modern look.  And look how the clever stylist/colorist has created twists that show antique gold and the brown layers beneath on the top!
Futuristic multi-balayage bob – latest inverted bob haircuts
This stunning inverted bob hairstyle contains lots of super-modern details, pointing the way to future hair-trends!  The back has the exaggerated round volume that's the trademark of the popular inverted bob.  But large flat waves decorating the surface are chopped-off to create an edgy, highly textured look! There's a cute little point at the nape and messy disconnected layers at the sides have straight, light ash-blonde tips.  Soft beige roots are contrasted with ash-blonde and purple balayage in a fabulously trendy bob cut!
Deep cocoa-brown long inverted bob for medium/fine hair
And from cool ash shades, let's take a look at the latest warm colors for brunettes.  This deep, rich mahogany brown is as warm as a jug of cocoa on a frosty night!  It's one of the medium-long inverted bobs and you can wear this hairstyle on medium and fine hair.  The layers are long with heavily textured layers just above the ends, creating a shaggy look.  The twist waves are easy to get on fine/medium hair and will add tons of attractive texture, movement and volume!
Sophisticated graphite gray with purple balayage bob
Here's a superb, sophisticated inverted bob that's eye-catching for all the right reasons!  The base color is somewhere between coffee-brown and graphite gray, so one of the 'taupe' colors.  'Taupe', which just means 'mole' is extremely popular this season for everything from fashion clothes to classy interior decor fabrics.  This style does need thick hair to achieve the lovely volume and steep graduation down to the front.  Trendy disconnected layers are accentuated with a flipped-out finish, highlighted in a gorgeous shade of purple!
Chic beige blonde with pearly balayage inverted bob
This brunette and blonde bob can be achieved on thick, medium or fine hair and it's perfect for wearing to a prom, party or other social event!  The cut is quite daring and shows a stylist with a talent for creating new asymmetrical shapes.  One side of the back has a short blonde layer above the brunette nape, and the other side has long blonde layers arranged in curves.  There's the latest nape-point, but placed in an asymmetrical position, on a back view that's full of texture and movement.  Add a shell-pink disconnected wavy layer around the face and get ready for the compliments!
Easy-care & edgy short black bob hairstyles
The inverted bob is a classic look for thick, coarse hair types and it always looks 'modern'!  This year's version contrasts the curved back volume with stick-straight disconnected layers at the sides.  The sides have an uneven texture in the tips, which breaks up the strong line and emphasizes the edgy finish.  It's an easy-care bob hairstyle that's always effortlessly chic!
Romantic rose-gold & beige bob with pearly shimmer
And now for the most romantic short hairstyle I've seen for ages!  If you like to look trendy, but in an ultra-feminine way, this wonderful hair and color design is just what you need!  The cut has the same features as most of the latest inverted bob haircuts, i.e. disconnected layers, back curve, brunette nape and defined waves.  But what a difference the pearlized blonde shades of beige, pale raspberry and palest white-pearl make!  This is another one to wear for weddings and the coming party season!
Striking 3-D hi-fashion messy bob in gold-brown
This spectacular messy bob is all about extreme fashion flair!  The layers are cut in 'sliced' sections, which reduces the bulk at the ends and creates a fabulous, sculpted shape.  And the tips are heavily textured to produce trendy flipped-out volume in the disconnected layers.  There's extreme contrast in the colors, too.  But the colors are all from the golden-brown range, which creates a harmonious design.  The contrast between dark and light colors creates a 3-D effect making the hair appear even thicker!