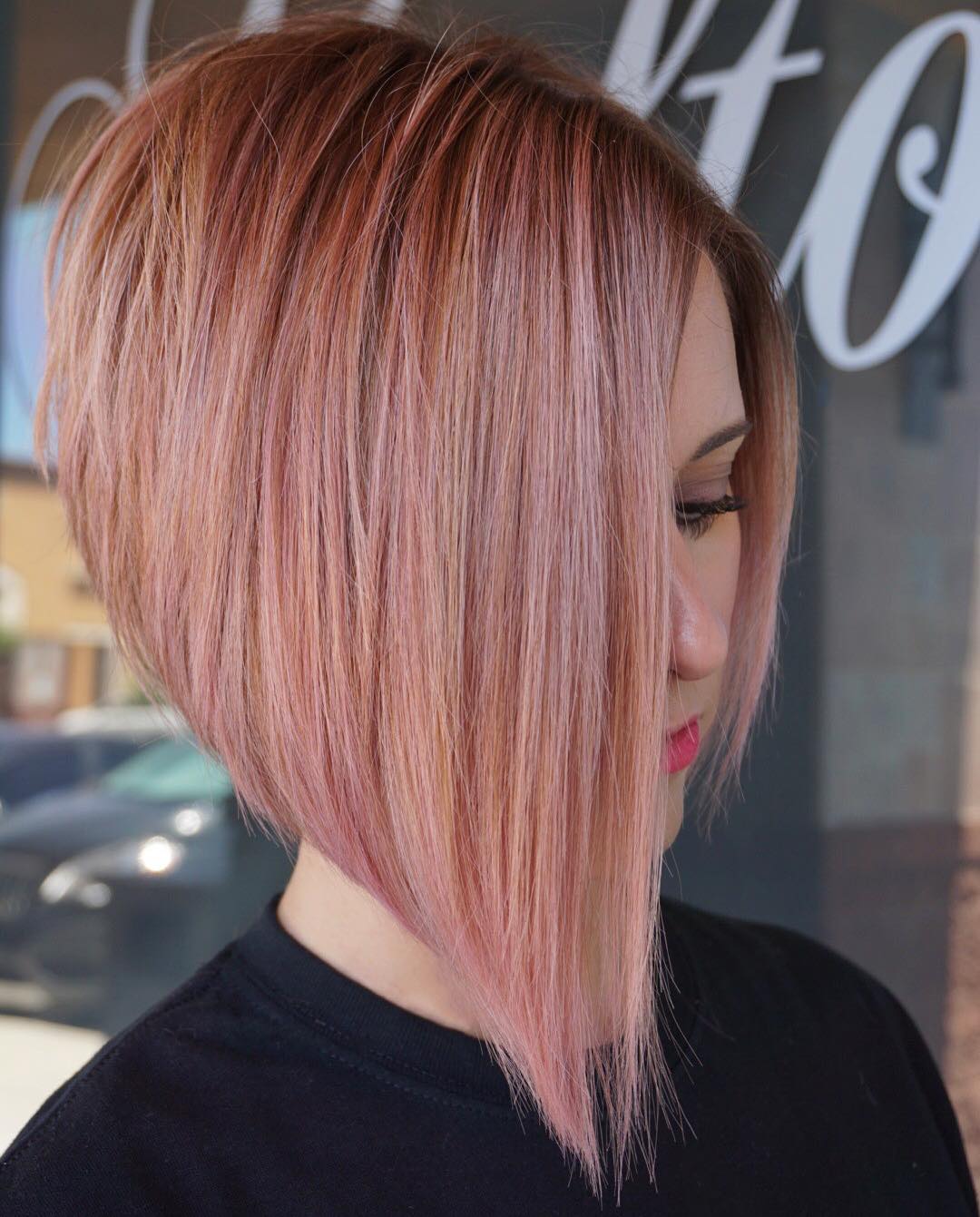 10 Hi-Fashion Short Haircut for Thick Hair Ideas & Color Options
This gallery of high-fashion short haircut for thick hair ideas is bursting with fresh and creative hairstyle inspiration.  There are new styling tips and lots of hot details you can copy to bring you right up-to-date! And that includes two of the major fashion trends for roots – soft-copper and its close companion, russet.  We have lots of honey, caramel and beige balayage options, plus gray and ash-blonde looks.  It's interesting to see how the rainbow colors popular for summer funstyles have been toned down into very chic, faded shades. Muted coral-pink shades are great for adding warmth to a beige balayage and look fabulous with faded pink jeans and jackets! And if quirky, but stylish, is your thing, check out the gorgeous indigo and ash-blue bob below.  It's all here – from natural brunettes to a fabulous, futurist gray, beige and ash 'power-look'!
Cute copper roots on faded pink bob – short haircut for thick hair idea
It's never completely out of fashion because of this 'magical' property.  However, there's no mistaking that this funky faded pink version comes from the new season's latest cut-and-color options.  It's a fusion color design and the first hairstyle we've seen with contemporary copper roots, so a genuinely new short haircut idea!  The rest of the hair is expertly balayaged in approximately four more colors, based on coral-, shell-pink, beige and light orange.  This colorist has applied different shades of color, all within one tone of each other.  And that's how to get a highly textured look, but without the appearance of 'stripes'!
Hi-fashion indigo-blue textured short haircut for thick hair
Love the gorgeously rich, indigo base on this quirky short haircut for thick hair!  It's a fashion color that's popular in trendy clothing, bed linen, kitchenware and crockery in my local Mall, right now!  So this hair-color fits right in with a very strong color trend.  Like many, new, short haircuts, there's a balayage pattern from darker roots, to a couple of inches of ash-blonde mid-way along defined sections. This creates the impression of tons of reflected light and 3-D color depth, before the steel-blue blonde of the final inches.  Add a few half-waves and flicked-out, textured tips for a short haircut packed with lively movement!
Vertical highlights in honey-beige & caramel on short haircut for thick hair
This season's popular angled bob haircut has moved away from last year's 'must-have' stacked-back. The line is longer right now, with long layers at the back cut in a strong line across the nape.  The layers are long with a little concave shaping in the bottom couple of inches.  This haircut with dark roots and an ombré created from triple-blonde vertical highlights looks lovely, but fairly conventional at first glance.  Look again, ladies!  This short bob has disconnected layering tinted in ash-brown all around the bottom line – adding some very up-to-the-minute edge!
Casual chic copper-brown roots & blonde ombré – short haircut for thick hair
This relaxed look shows a modern, angled bob that really is 'effortlessly chic'!  Why is that?  The trick is to find a highly-trained colorist, who can select the perfect hair-colors to match your personal skin-tone.  Color-matching has an incredibly important rôle in creating a flattering look, so it's worth paying for the best-trained colorist.  Once you know which colors suit you, make a note, so you can go to a cheaper salon for touch-ups – if your purse prefers!  This extreme angled bob has warm-brown roots, with warm neutral-blonde balayage-ombré over muted copper-beige layers beneath.  Copper roots is a fabulous new trend that's suitable for pale skin with warm undertones and honey or brown eyes!
Cool beige & ash-blonde with gray & black roots
Here's a shorter angled bob that's also a casually trendy style for thick hair, but we've switched from warm to cool colors here.  When it comes to the cold, ash-blonde colors they really only complement skin with cool undertones and green/blue eye-color.  But if you have brown eyes and warm undertones, you can get an almost ash-blonde look with cool beige-blonde, as above.  The main impression is a fashionably faded blend of approx. three beige-blonde balayage shades, with a hint of ash-toner.  The highlights are kept within one or two tones of each other, so the hair doesn't look 'striped'.  And with the hair styled to show an ear, this is definitely a new-season look!
Gorgeous gold, russet & beige short haircut for round face
This attractive short haircut for thick hair seems to have a strong beam of light focused on the side, but is there really?  No, this is a great example of the optical illusions that clever colorists are adding to the latest short haircuts!  Basically, there are dark roots and dark tips, with a band of bright-blonde between, creating the lovely, light-reflecting look. And there's a sprinkle of gorgeous, golden-beige highlights in the top layers, too!  This well-shaped short haircut is thinned and layered to keep thick hair under control with the minimum of styling time.  With an intricate beige and brown color-design accentuating the fab shape and texture, you don't need any waves!
Loose wavy texture on long angled bob for brunette hair
For those who prefer their own natural color, here's an attractive long bob haircut that's cut and styled with the latest twists.  It's suitable for all straight hair types, including fine hair, as you don't need any natural volume to get the look.  There's an extra long, side-swept fringe draped over one side of the face from a side parting.  And the latest half-waves and half-pin-curls are arranged the create texture and movement, over smooth layers below.  The profile shows this season's signature styling twist of an uncovered ear, with a thick strand pulled down in front.  It's an easy-care style with a youthful vibe that combines fashion-flair with a natural beauty look!
Spiffy angled blonde bob for thick hair with low-lights
This 'vintage' haircut is actually from the 1960's, but there's something about the shape of all angled-bob haircuts that always looks ultra-modern!  This season's new twist on the popular short bob haircut is the move away from closely stacked back layering.  The short, shaved nape has given way to a softer bottom line, which in this hairstyle has textured tips and a feminine vibe.  The blonde top layers have finely low-lighted tips accentuating the curved ends that decorate the surface.
Power-look – gray ash-blonde pixie cut with textured detail
Here's another exciting new color design in ash-blonde, over silver-gray, with dark roots and ash-brown low-lighting – with beige balayage, too!  It's one of the radical, new color combos that instantly create a trendy, unconventional fashion style.  This asymmetrical short bob projects a very independent image and radiates self-confidence.  Why?  Well, this style says the wearer doesn't follow conventional rules, which means you can never be sure what she's going to do next!  It's great for creating an image of 'power' at work. The side-swept fringe and long side point frame and flatter the eyes, nose and lips.  And the highly original colors and half-pin-curl texture mark out a very modern thinker!
Super-cute V-back on blonde pixie with russet roots
Isn't this the cutest pixie haircut and color you've ever seen?  We think it's an adorable twist on the short haircuts for thick hair this season!  So if you're still hanging on to your brown roots, maybe this will persuade you to update to a more contemporary color.  Thick hair in sliced layers radiates from an asymmetrical point to one side of the natural crown.  And the long V-shape with a little 'tail' set symmetrically on the nape is also a great new detail to add to your pixie haircut.  But the hottest touch comes from muted coral roots on top, and russet tips at the bottom on that beautifully graduated nape!