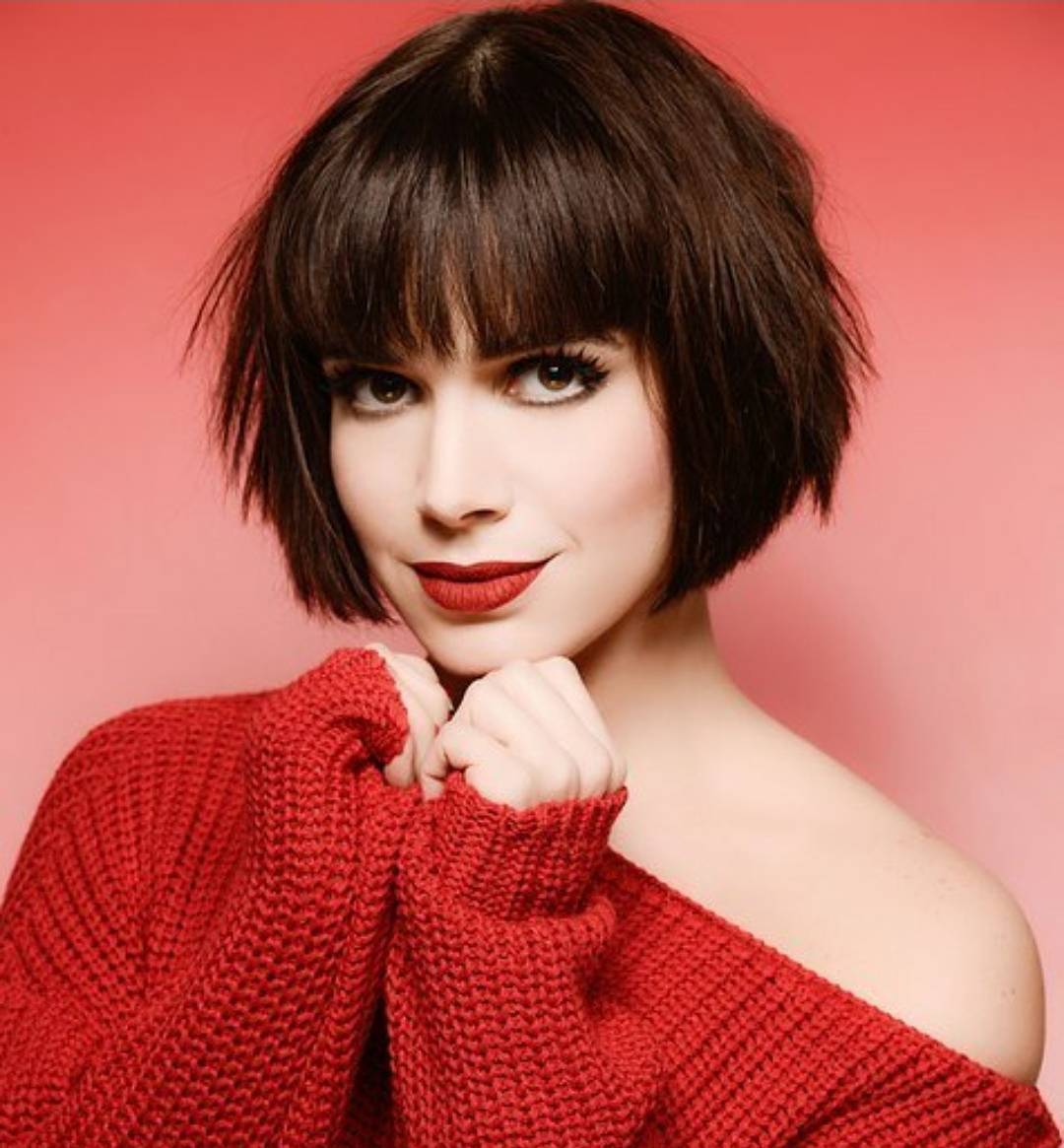 10 Stylish Short Bob Haircuts That Balance Your Face Shape! – Women Short Hair Styles
This gallery of trendy, short bob haircuts includes amazing long-to-short makeover cuts to liven up your image with a face-flattering new 'do!  Short bob haircuts are one of the best styles to suit all face-shapes, and these jaunty, easy-care looks will only need a little tweaking to highlight your best facial features. (And disguise those bits you don't like!)  In the rules of beauty, the oval face is considered most attractive, but few of us are blessed with it! So unless your current style is working 100% to bring your face closer to the oval ideal, you need to choose a new one from here!
Choppy bob & straight-across bangs – short bob haircut for long faces
Project your carefree personality in this attractive chin-length bob for medium to thick hair!  The lack of volume on top and a full, straight-across fringe are a great way 'shorten' a long or square face.  And the choppy textured side layers add tousled width, making a long face appear wider and more balanced.  On thick hair, sliced layers create a carefully sculpted shape that looks great worn smooth or 'rough-dried' and is incredibly easy to style.  The top has a center-part emphasizing the ruffled symmetry of a flattering, short bob haircut!
Cute center-part layered bob – short bob haircut for everyday wear
This center-parted layered short bob haircut has been designed for oval face shapes, because it accentuates the symmetry of an oval face.  It's a cute look and a very fashionable 'every-day' hairstyle, with long layers creating plenty of shape and movement. The casual structure is colored a rich, cocoa-brown, subtly highlighted with beige-blonde to keep the look 'natural.   Shorter layers around the face make a long, parted fringe and the profile moves down to the nape in a gentle angle, completing a relaxed, easy care bob!
Face-flattering long to short makeover – short bob haircut for round faces
The main function of any hairstyle is to present your face in a flattering way, something we may overlook at times.  For example, long hair may be the preferred style for teens – who all like to look the same – but it isn't the best look for all faces!  This successful makeover haircut shows that a center-parting doesn't suit a round or broad face, but an off-center or side parting does. The extra-long fringe cuts across the roundness with a strong diagonal line, breaking the symmetry with a modern touch.  The model's face looks slimmer and her hair looks thicker and more stylish in this flattering, short bob haircut!
Balance a long face with chic short bob haircut for thick hair
Coarse, straight black hair is one of the favorite hair textures for stylists to cut.  It can be trimmed into fabulous asymmetrical hairstyles that are virtually wash-and-wear, and shows the clean lines of a 'good cut'.  The 'before' image above shows how long, straight hair accentuates the model's long face.  But the fabulous curves, rounded back section and gorgeous asymmetry of this short bob, make a long face appear shorter and add loads of style!  And to complete the chic, modern vibe, there's a glossy, purple toner shine that looks amazing!
Trendy short bangs on classy bob haircut for Asian hair
This simple bob haircut is a classy, 'well-groomed' look when paired with perfect nails and make-up!  The straight-across fringe is short, showing the model's well-defined eye-brows and shorter side layers soften the line with a cute curve. This angled bob has been carefully layered to create natural rounded volume between the crown and nape.  And the gentle angle from back to front has carefully textured tips, which break-up any solid lines for a modern, feminine look.  There's attractive texture and movement at the sides and back, creating a pretty detail at the nape in a beautiful, classic style with a modern twist!
Neutral-blonde top on brunette angled bob
Bleaching hair to neutral-blonde all-over can damage hair, but lightening the top layer creates a fashionable, 3-D color effect.  This chin-length bob is suitable for medium and fine hair, as the bleaching process thickens hair strands, adding natural volume.  And lightening will also improve greasy hair and help avoid the bother of fine, limp locks.  So this high-fashion blonde hair-color idea could be just what you need to brighten and thicken your brunette angled short bob!
Cyber-glamor 'S-bend' waves & holograph colors
If you prefer showing-off gorgeous avant-garde haircuts way before everyone else – you'll love this angled bob idea!  It's choppy, with uneven layers and a new 'S-bend' wave pattern.  This creates a cyber-punk-glamor look that's totally fresh.  There are just a few colorists experimenting with holograph-inspired color at the moment.  But we believe it's a look that will become very popular with the ultra-mod crowd and then go mainstream.  The fab colors are expertly blended in a mix of gray, beige and white-blonde balayage – with a pearlized finish and brunette roots.  And for a groovy, sci-fi finish the hair is highlighted with 'holographic', purple and green toner!
Stylish purple-black boho one-length bob
Here's another example of the simple, yet highly-stylish short bobs you can achieve on straight, dark hair.  At chin-length, this bob will suit almost any face shape with the right parting, and works on fine/medium hair. This cut is great for fine hair, as it keeps the density intact without thinning it with layers.  The cut's the same length all around, with a trendy, uneven line adding casual 'personality'.  This version has a center part with shorter layers framing the face with a flattering curved line. Styling hair to show off your ears is a vintage touch harking back to the avant-garde 'beatniks' style – circa 1950's!  And glossy purple toner adds a superb modern twist to black hair!
Vivid purple plum & lilac on raggy ultra-mod bob
With total freedom to 'create', today's talented colorists and stylists are moving hair-dressing closer to an art-form every day!  This award-winning hair design shows how creativity is taking us further along the exciting, cyber-punk and anime fantasy route.  The perfectly balanced colors create a vivid 3-D depth with shocking-pink and purple streaks.  You get a fabulous 'neon-lights' effect with color leaping out from dark plum and black low-lights.  This skillful and imaginative cut expresses a fantastic vision of the future through avant-garde, broken waves above long, tapered disconnected layers! Like I said – a real work of art!
Versatile short bob cut disguises strong jawline
This versatile bob haircut is best achieved on thick hair with enough density to take razored layers.  The top 3 images show a smooth, high-fashion bob with an extreme angle, sliced layers and strongly tapered tips.  The long diagonal fringe, and shorter side layers on the face, really minimize the wide jawline. And see how long, tapered tips extend past the chin to add 'length' that curves inward, giving the impression of a narrower, oval face. For casual wear, a grungy, bed-head finish and the chunky line at the nape make a relaxed, modern look!