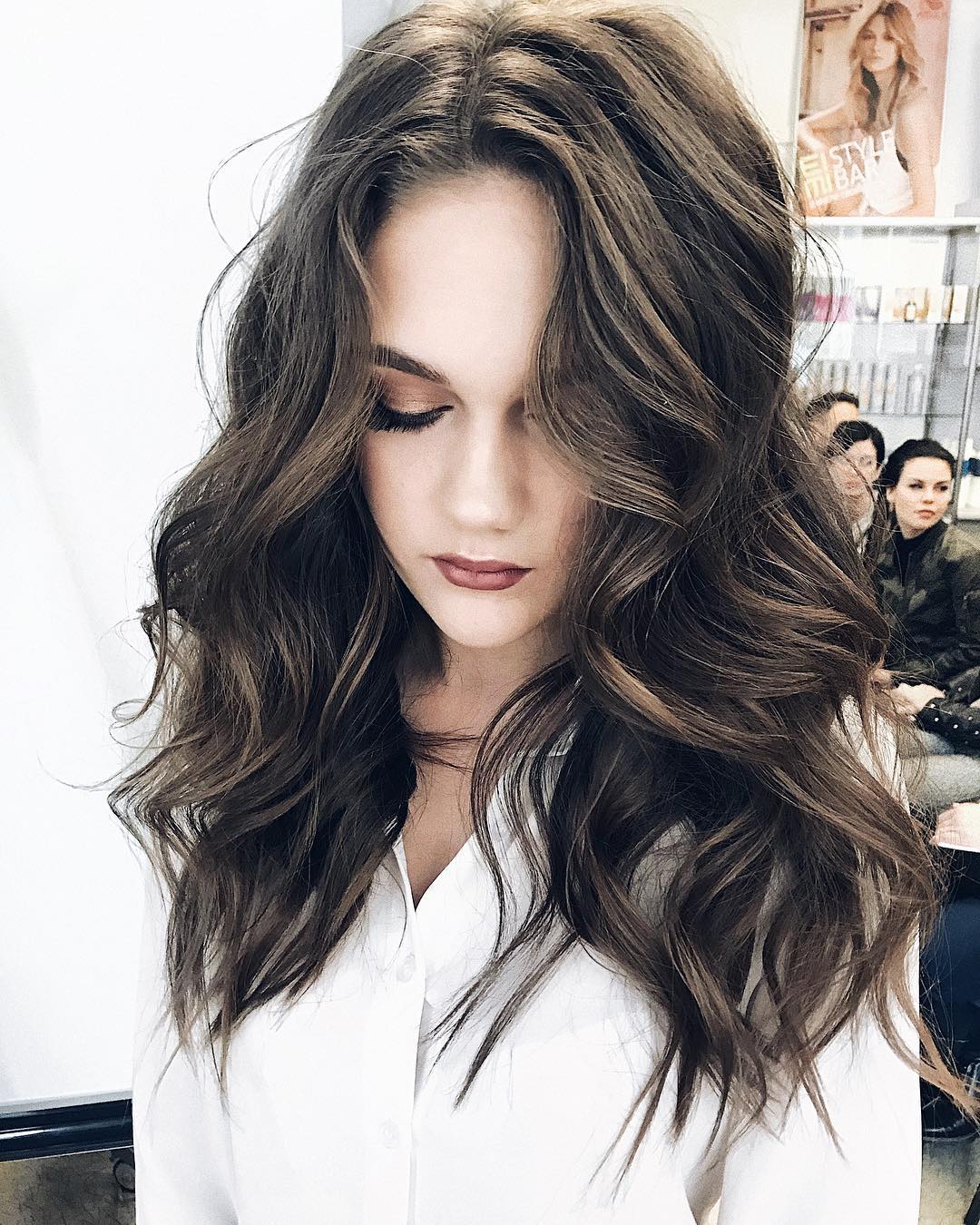 10 Gorgeous Long Wavy Perm Hairstyles
Getting a perm can be scary. They don't last forever, of course, but perms do drastically change the texture and style of your hair for up to six months. That's a long time to be stuck with a hairstyle you don't like if you end up unhappy with the perm you get.
These ten wavy perm hairstyles are designed for women with long, naturally straight hair who want to get a perm to make their locks wavier or curlier. Browse the styles in this post to find stylish, flattering wavy perm hairstyles. When you find a style you like, show the picture to your hair stylist to give them a clear idea of the look you want.
1. Brown Wavy Perm with a Middle Part
This wavy perm look is a flattering, manageable style that's ideal for casual everyday wear. Its blunt middle part creates a laid-back girl-next-door style and keeps equal volume on both sides to prevent an awkward, frizzy asymmetrical look.
The subtle blonde highlights blended into this dark brown perm gives this style a bright finish that still looks very natural.
2. Messy Bleached Wavy Perm
This curly bleached perm is breathtakingly gorgeous. Its tight curls add volume to your hair and frame your face to accentuate your features.
Its bleach-blonde tone draws instant attention to your style with its bright, striking finish. Scrunch your hair with texturizing spray and brush it back to create the trendy, messy-on-purpose hairstyle from the picture above.
3. Curly Cool Blonde Perm Updo
This curly, gray-blonde perm is elegant and breathtaking Its cool blonde coloring ultra-trendy and flattering for a wide range of skin tones. The half-up half-down style seen in the picture above is perfect for a date, party, or semi-formal event.
Recreating this updo is surprisingly easy. Tie up a small section–take hair from your front layers–with a hair ribbon in any color of your choice. Leaving a few strands of hair loose in the front, place a decorative headband at the crown of your head. Comb texturizing spray through your hair with your fingers and scrunch lightly from the ends to add volume to this style.
4. Sutble Wavy Perm with Warm-Toned Balayage
This wavy perm features loose, relaxed waves that create a subtle, natural look.
Its warm-toned balayage features shades of auburn with blended honey blonde highlights. This coloring brings out the warmth in your skin without disrupting the natural-looking finish of this style.
5. Natural Blonde Perm with Loose Waves
The waves in this perm are loose and wide, creating a natural style with tons of volume.
Its slight side part is subtle but trendy, and its warm blonde tone is light-hearted and stylish. This straightforward perm is easy to manage and makes styling quick and easy every day.
6. Tousled Wavy Perm with Highlights
This wavy perm features subtle highlights and looks impressively natural on a wide range of hair types.
Its loose, wide curls are super easy to manage and don't look too over-the-top. Smooth, blended blonde highlights juxtaposed with dark roots add a trendy edge to this perm and help it look even more natural.
7. Bright Blonde Wavy Perm Updo with Dark Roots
This formal wavy perm updo is elegant and gorgeous. Its voluminous, pulled-back style with curly loose strands in front is appropriate for a formal or semi-formal event but doesn't look too uptight.
The bright bleached tone of this perm is stylish, modern, and eye-catching. Its darker roots frame your face, drawing attention to your features and making this style more flattering for women with a wider range of skin tones.
8. Voluminous Bleached Wavy Perm with a Middle Part
This voluminous wavy perm has a trendy, bleached tone that sets it apart from similar styles.
It is also a very manageable style–it includes about an inch of darker roots that blend smoothly into cool-toned bleach blonde. This purposeful rooty coloring looks more natural and allows you to wait a little longer in between your salon appointments–saving you money, effort, and time.
9. Ombré Perm with Loose, Relaxed Waves
If you want to free yourself from the hassle of styling your hair every morning, but also don't want to risk a frizzy, poodle-style perm, try this relaxed wavy perm.
Its loose waves give this style a laid-back finish that can be dressed up or down to accommodate where you're going or what you're doing on any given day. Its graduated balayage ombré coloring fades from dark brown to bleach blonde with a warm honey tone in between. The ombré style adds a trendy, modern finish to this perm style.
10. Slicked Back Bleach Blonde Wavy Perm
Perfect for a semi-formal event when you want to look elegant but keep your hair down, this slicked back bleached perm style is both striking and professional.
Its bleached tone adds a trendy, bold edge to this style that still comes off as elegant. The bouncy waves of this perm preserve flattering volume in your hair even when it's brushed back off your face like in the picture above.