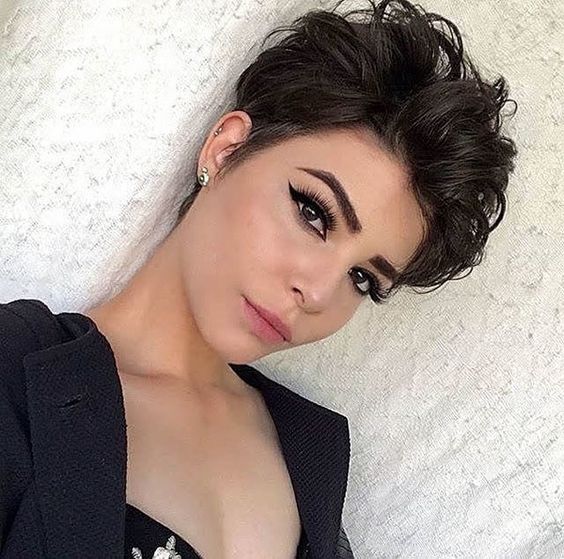 10 Stylish Pixie Haircuts for Women
Taking the plunge to get a pixie takes a lot of courage. A pixie cut is quite a commitment. If you have medium-to-long locks, it can take several years for your hair to grow out to its original length after you crop it into a pixie.
Even so, pixie cuts have remained one of the top trends in the world of women's hairstyles for years–and for good reason. They're edgy, stylish, timelessly trendy and, above all that, they're incredibly quick and easy to manage. Having a pixie cut will shave enough time off your morning routine that you'll be able to hit that snooze button a few more times when you're cozy in bed on an early morning.
If you're considering getting a pixie cut yourself, check out these 10 ultra-trendy, easy-to-manage modern pixie cuts for women. You're sure to find a cut here that flatters your unique face and can help you look and feel your best with your very own pixie cut.
1. Rich Auburn Pixie Cut with Long Side Bangs
Long layers in front frame your face and create long side bangs on one side that give this pixie cut a simultaneously feminine, bold, and slightly edgy finishing touch.
This pixie is a deep auburn-toned brown all over. However, it features slightly lighter auburn ends in front that add warmth and dimension to this cropped pixie cut without disrupting its natural look.
2. Feathered Brunette Pixie Cut with Asymmetrical Fringe
As you can see from the before and after picture above, you can rock a super short pixie cut even if you currently have straightforward long locks.
This feathery pixie cut is straight out of a fairytale. Its wispy, textured ends and asymmetrical fringe adds a dainty and feminine fairy-like finishing touch to this flattering, cropped brunette pixie cut.
3. Tousled Platinum Pixie Cut with Long Curly Side Bangs
Getting a pixie cut doesn't necessarily mean you have to give up all your favorite styling tools.
This tousled platinum pixie cut features slightly longer layers that you can straighten, scrunch, curl, and otherwise style however you please. It also includes even longer side-swept layers in front that give you even more creative freedom to style your cropped cut according to your own personal preferences.
4. Tousled Pixie Cut with Short Angled Side Bangs
Messy on purpose is a good look for a pixie cut, and this tousled pixie is no exception. Plus, its tousled style makes this pixie cut even easier to manage even on the worst bad hair days.
The short angled side bangs on this pixie cut are in line with current trends, but they are also short enough that they won't get in your way throughout the day.
5. Platinum Undercut Pixie with Shadow Root
You don't have to have super long hair to rock an undercut. Undercut pixies are stylish and easy to manage. Plus, they're currently super trendy.
An undercut back and a darker, brunette shadow root adds interest and dimension to this stylish platinum pixie cut.
6. Long Pixie with Balayage and Sideswept Bangs
Balayage isn't just for long hair. This pixie cut features longer layers with blonde balayage that adds richness, warmth, and dimension to this cropped cut.
The longer layers and long, side-swept bangs of this pixie cut give you more styling freedom, but this cut is still super easy to manage and doesn't take much time at all to style in the morning.
7. White Blonde Pixie with Sideswept Microbangs
Microbangs aren't always a fashion disaster, and this on-trend white blonde pixie cut proves it. If you're looking for one of the most manageable cuts that's still flattering, look no further than this cropped pixie cut.
Its side-swept micro bangs won't ever get in your way, but they still draw attention to your best features. Plus, its all-over white blonde color is super on-trend and will turn heads anywhere you go in the best way possible.
8. Platinum Pixie with Shaved Sides and Angled Side Bangs
Shaved sides bring this pixie cut to maximum manageability and give it a bold, edgy finishing touch.
Angled side bangs, platinum blonde ends, and a rich brunette shadow rood all contribute to the delicate balance of femininity and edginess that this cut manages to maintain.
9. Layered Undercut Platinum Pixie with Textured Ends
The textured ends of this platinum blonde pixie are very manageable and add texture and dimension to this cut.
An undercut in back and shaved sides with brunette roots draw more attention to this pixie and highlight the brightness of its longer, platinum blonde layers.
10. Curly Tousled Brunette Pixie Cut
Who says women with curly hair can't rock a pixie cut? This curly, tousled brunette pixie cut is super flattering for women with naturally wavy and curly hair types.
However, this cut is very versatile. It works for both women with naturally curly hair types and women who just want the option to style their hair with a curling rod whenever they please.