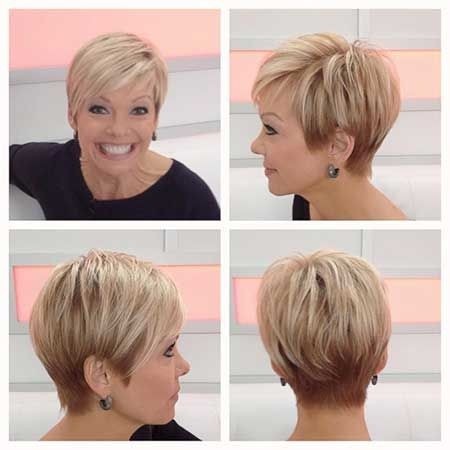 25 Easy Short Hairstyles for Older Women
Usually people think that long hairstyles look charming and elegant. As a matter of fact, short hairstyles, if properly styled can also be quite wonderful and admiring. Here some splendid and trendy short hairstyle for older women.
It is better to add some volume and layer when styling hairstyles for older women, since some of them may have thin and less hair with the aging.
Gorgeous Messy Short Hairstyle for Woman /Via
This is a cool and gorgeous short hairstyle. The front hair is combed back to contour the flawless forehead. It can be a great option for people with smaller face shape.
Daisy Curly Hairstyles for Short Hair /Via
This is a daisy curly hairstyle, with the soft curls all over the head. The bouncy curls add much volume and movement for the short hairstyle, so it works better on older people. Besides, some hairspray can help keep the charming curls in shape longer.
Luscious Short Hairstyle for Women Over 40 /Via
This is a causal yet luscious short hairstyle, with the hair ends flown outwards. The warm hair tone also light the face. It can be a cool choice for the formal and informal events.
Cute Easy Pixie Haircut for Women /Via
This hairstyle is featured by quite short length and smoothness. The sides swept bangs enhance the face charming and pair the cool short hairstyle in a flattering way. It can be an ideal option for summer.
Trendy Short Haircuts for Older Women 40, 50 /Via
The back of the short hairstyle is trimmed short and a side part is created to contour the face shape. It works greatly for older people.
Simple Short Bob Haircut /Via
The short hairstyle can be a savior for the older women since it is quite charming and simple to style. The middle part and long bangs enhance its charm and fun.
Chic Short Haircuts for Women Over 40, 50: Pixie Hairstyles /Via
This is a super short boyish hairstyle. All the hair is trimmed short, except the top section longer than other parts. It is often opted by brave women who desire to enhance their independent personality.
Straight Short Bob Haircut for Older Women
This short hairstyle with piecy bangs works f latterly on older women. It looks charming and is quite effortless to create. Besides it can hide the wrinkles.
Short Haircuts for Older Women: Kris Jenner Short Razor Haircut
Short Haircuts for Older Women: Cameron Diaz Bob Hairstyles
Short Haircuts for Older Women: Regina King Straight Pixie Hairstyle
Short Haircuts for Older Women: Helen Mirren Curly Hairstyle
Short Haircuts for Older Women: Kate Carr Blonde Short Bob Hairstyle
Short Haircuts for Older Women: Amber Valletta Layered Hairstyle with Blunt Bangs
Trendy Short Wavy Hairstyles for Older Women: Megan Mullally Red Hair
Cool Short Fauxhawk Hairstyles for Older Women: Pink Haircut
Kristin Chenoweth Short Haircut with Side Long Bangs: Older Women Short Haircuts
Layered Short Haircuts for Older Women: Emma Thompson Hair Style
Best Short Haircuts for Older Women: Jane Lynch Layered Hair Style
Blonde Short Wavy Hairstyles for Older Women: Emma Thompson Haircut
Trendy Short Pixie Haircuts for Older Women: Lisa Lampanelli Hair Style
Blonde Curly Pixie Haircuts for Older Women: Christine Ebersole Short Hairstyle
Straight Bob Hairstyles for Older Women: Linda Fargo Short Hair Cut
Short Hairstyles for Women Over 50, 60: Jane Fonda Hair Cut
Asymmetrical Short Hairstyles for Older Women: Gwen Sebastian Bob Haircut