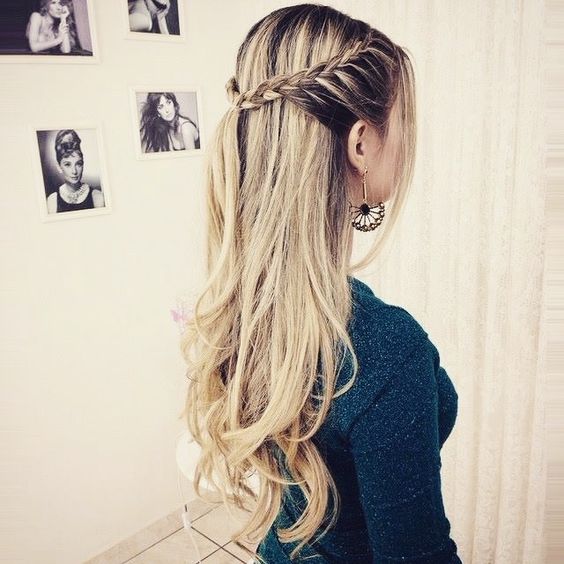 10 Trendy Braided Hairstyles in 'New' Blonde!
Today's gallery of trendy braided hairstyles includes every new idea. So that includes fancy wedding hairstyles to 'weekend' messy braids. These sophisticated, and edgy, new looks will give your image a huge boost! And you'll love this selection of natural, white, gray, silver and beige-blonde hair-color designs. So if you want to be truly amazed – dive in!
Hi fashion beige-blonde trendy braided hairstyles
The formal high top at the front is perfect for supporting a wedding veil and impressing your delighted bridegroom. This unforgettable half-formal/half-casual look is great for any special event! Swept-back hair shows off a youthful complexion and a radiant smile. And that fabulous profile, with gorgeous braided sides, leads the eye to a long, puffy pony-tail at the back. Soft, neutral-beige blonde hair color finishes off an attractive, feminine and modern bridal/special date braided hairstyle!
Stunning gray & silver chic – trendy braided hairstyles
This formal, braided hairstyle matches the giant ear-rings with an equally sophisticated look. Imagine entering the room of a formal wedding reception or dinner/dance with this gorgeous silver fish-tail braid draped over one bare shoulder! This daring high-fashion braid is a black & white hair color design, modernised with graphite gray roots and oat-white blonde. There's a touch of pink toner in there, too, to soften the overall effect.
Special event trendy braided hairstyles for medium hair
This gorgeous new braid hair design is all about texture, and 3-D color effects. The central section of the back is covered with inter-leaved rolls of hair to form a true 3-D texture. And with a beautifully applied brown and neutral-blonde hair color design, you get super optical effects. The smooth sides lead the eye back to a casual, smooth pony-tail fastened with a tasteful strand of hair. Perfect for a party, special date or wedding event!
Cute bridal half-up hairdo – trendy braided hairstyles
What a lovely, romantic and feminine vibe you get from this half-up braided hairstyle. And it's the perfect choice for a bride or her bridesmaids to look demure, but chic, on a special day. Once again, the stylist has created marvellous 3-D texture with thick twists of hair below the crown. The sides are decorated with a pretty chain braid fastened with a cute, floral hair accessory. And the final contrast comes from a smoothly styled pony-tail draped at the back.
Edgy wedding hairdo  silver broad fishtail braid
This model looks like she's ready for a relaxed beach party, but she could just as easily be preparing for her beach wedding! Whatever the occasion, you just know she's going to be the centre of attention. The hair color design has dark gray roots contrasted with cool ash-blonde and silver lower down. This creates lots of light and shade contrast along the loosely braided fish-tail draped over one side. And there's a touch of pink toner to soften the finish.
Stylish pewter-gray herring-bone messy plaited style
This pewter color is very reminiscent of the 1960's vintage craze for ash-blonde hair color. Pewter is a metal you never see these days, but it was popular for men's beer tankards in the past. And it's silvery, but with touches of light brown and ash, softening the shade.  Messy, flat braids contrast with a straight, tousled pony-tail. And the asymmetric, diagonal braid and  soft ash-beige shade go together to make a new and exciting look!
Futuristic white blonde braided half up hairstyle with ring accessories
Here's a great style for making an impression for a special date. It's elegant, feminine and futuristic – like something a Venusian ambassador would wear on a vintage Star Trek episode! The inverted plait running from forehead to crown is a lovely, eye-catching feature, along with the parallel braid decorated with gold-ring hair accessories. And the soft, sheet of white-blonde hair cascading down the back completes another exciting, young, braided hairdo!
Romantic long wavy blonde with dainty braid
This cute and romantic hairstyle is just adorable and guaranteed to attract the eye of more than one potential suitor! In pretty baby-blonde and beige shades, you get lots of flattering light reflections. And that flatters the face framed by long, soft waves. The dainty braid detail on top suits oval faces and side-waves are an excellent way to add width to a narrow face shape. Degraded, choppy tips complete this beautifully textured look.
Beach-ready beige-white pony-tail with braid details
Dirty-blonde or mousey colored hair can be transformed into a crowning glory with some modern lightening techniques. If your hair used to be blonde, return it to its former glory with a sun-bleached look that perfect for the warm weather. The contrast of natural roots with the blonde balayage-ombré keeps the look 'week-end casual'. And the mix of fine braids and wavy tresses creates lots of lively movement and texture!
Gorgeous simple braided hairdo on long hair
This is a classic, half-up hairdo created in gorgeously toned shades of brunette and soft golden blonde. There's a little added volume around the crown, accentuated by the adorable narrow braid and 3-D effect sides. The face is cutely framed by long curved loose strands that keep the look semi-formal. And all of these features are topped by the beautiful long wavy texture draped far down the model's back.
So whatever special events you have pencilled into your diary, from a wedding to a beach holiday and casual weekends of fun in between, I hope this selection of trendy braided hairstyles has inspired you!