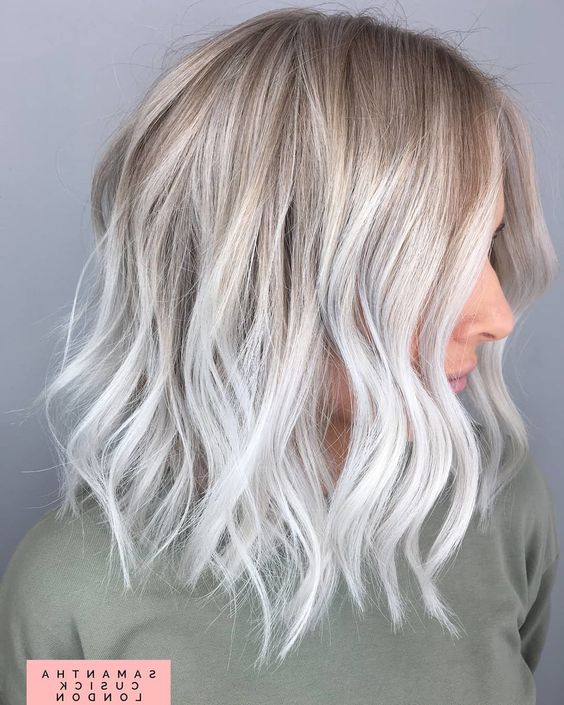 10 Trendy Blonde Balayage Hair Color Ideas
Have you tried ice-blonde balayage hair color yet? Or maybe your skin tone would look best with soft, honey-blonde tones with pale gold balayage? From ice-blue, through ash and on to romantic, beige-blonde balayage – this gallery of edgy blonde balayage hair color ideas will blow your mind!
Pearly beige-blonde with ice-blue ombré – blonde balayage hair color ideas
This is an exciting new hair-color idea from a creative colorist who really pushes the boundaries of color blending! The grown-out roots are a gorgeously soft shade of neutral-beige blonde. And this gently transitions into an edgy, ice-blue ombré that begins at brow level. The top is soft and warm, but the lower lengths are styled into cool, defined waves. This hairstyle will add volume, texture and movement to medium or fine hair!
Romantic honey-beige & pale-gold long bob – blonde balayage hair color
Wow! This cute and feminine look is guaranteed to catch the eye – and the heart – of your special date! The blonde hair color design is appealing in a soft and romantic way. And the blend of different shades will make your hair look thicker owing to the 3-D effect! The stylist has cut the hair in long layers, with tapered long tips adding a modern, uneven edge. With a centre-part and shorter layers framing the face, this flattering style blends softness with high-fashion style!
Soft & natural neutral ash-beige blonde on long waves – blonde balayage hair color
Long, blonde hair can be a bit of a cliché – if you don't keep the color totally up-to-date with the latest trends in neutral blonde shades. And you have to admit, this is a far more sophisticated look than yellow or white-blonde on really long hair. The roots are a light-brown shade, which is totally back in fashion. And this can be your natural dark-blonde/mouse-brown color. But the transition moves down to gorgeous pearl-blonde, beige and ash shades, reflecting loads of gleaming light!
Exciting white ombré with beige-blonde roots – blonde balayage hair color
This is a real bobby-dazzler of a balayage hairstyle, which combines high-fashion white blonde and beige roots, with a very fancy style. So if you're looking for a trendy, 'show-stopper' for a special date, try this! There are two or three different beige shades and a touch of gold in the roots. And this creates an exciting warm/cool color contrast with the icicle-white defined waves. This style is suitable for medium and fine hair types as the large, tousled waves create plenty of extra volume and texture!
Black roots & blonde balayage hair color on long straight bob for fine hair
You get maximum impact from this black and blonde long, straight bob! And it's designed to make your hair appear thicker, with clever 3-D beige and ice-blue tones contrasted with black. So this is a long hairstyle you can achieve on medium and fine hair types, which with a flat, all-over color might look too thin. The stylist has cut just one main layer, that falls around nape-level. And this allows the hair above to be styled in a tousled finish that adds casual volume and density!
Feminine simple beige-blonde straight bob
This simple, youthful look is just adorable and an excellent makeover style for youngsters who want a more sophisticated look than long, teenage haircuts. It's easy to care for and creates an attractive and professional image for women of any age. And the key to this hairstyle is well-conditioned medium or fine hair and this expert color design. From light taupe roots, the colorist has added a trendy blend of neutral blondes, with touches of gold and a hint of pink at the sides!
Two views of straight or curly blonde ombré bob
Proving, yet again, how versatile medium length hairstyles are – take a look at the different images you get by styling your medium bob stick-straight or in edgy, bendy waves!  The stylist has cut medium or fine hair into a straight edged bob. And then carefully textured the tips for a highly fashionable, blurred bottom line. The straight style suits fancy fashion outfits, whilst a smart, plain outfit can be perfectly complemented by the wavy version in this fabulous golden blonde and oat blonde balayage!
Glam long waves with light-brown roots & neutral blonde
Neutral blonde waves cascade down from a trendy warm-beige root color in this attractive, peek-a-boo long wavy hairstyle. It's a sexy look, with a deep side part creating a long drape of hair covering one eye in a very enticing way! The asymmetry means this highly fashionable hairstyle will suit a narrow face shape, adding 'width' to it from the side volume. And waves draped forwards over the shoulders draw attention away from a strong jaw-line, too.
Beige, blonde & ash on long fine hair
You can achieve this fabulously flirty look on medium or fine hair types. Normally, it isn't a great idea to wear fine hair this long, as it can appear too flat. However, fine hair can also be abundant and with this clever hair color design, you can make it appear a lot denser. This is an exciting hair color design, bringing together light-brown roots, with vertical, gold- and neutral-blonde highlights and edgy ash balayage-ombré!
Edgy 3-D blonde hair color design on long wavy haircut
If you need some show-stopping glamor for a special event, this could be perfect for your long hair! You really need medium or thick hair texture to achieve this multi-blonde, tousled hairstyle with a sophisticated balayage design. The colors range from medium-golden blonde, through oat-blonde with white-blonde tips. And there are even some brunette low-lights adding to a fantastic, 3-D long wavy balayage hairstyle!
We love this new trend for blending and contrasting warm colors with ice-, ash- and neutral blonde balayage. It's another way that the most creative hair colorists are breaking all the rules to give us even more attractive and artistic hairstyles!