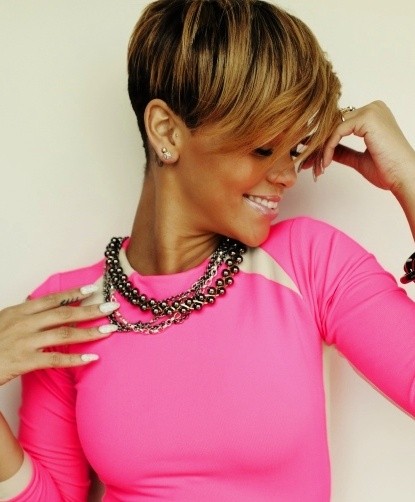 22 Easy Short Hairstyles for African American Women
Do you want to create a new style? If you are fed up with your usual long hair and you do not have much time to create and manage it, you can try out the short styles which can also enhance your charm and is simple to create. There are a great number of short hairstyles for you to choose.
Short Bob Haircuts
Bob style that is quite cool and it works greatly on all kinds of hair, no matter it is curly, straight or wavy one. There are a lot of style choices; you can opt for the curly bobs, layered bobs or choppy bob styles. For the curly hair, the graduated bob style will be ideal. For graduated bob haircut, the hair at the nape of neck is cut shorter and the hair at the sides of the face is kept longer. Wavy bob hairstyle with splendid curls or ringlets can frame your face ideally.
Short Faux Hawk Hairstyles
Faux Hawk looks cool and special. It works greatly on straight hair. To create a faux hawk, get the side hair into short crops, and the middle part slightly longer.
Braided Hairstyles
Braided Afro is also cool to try out. Pair your Afro hairdo with several braids. Add several braids that stretch from the forehead to the sides or to the head centre. Twist the braids or set then into different kinds in order to add more charm and grace to the hairdo.
Short Mohawk Hairstyles
Mohawk hairstyles are bold looking haircuts, and there are many variations of the hairstyles. An easy Mohawk hairstyle can be quite effortless to care and style. But if you desire to increase a few bangs or spikes, you will require spending several minutes to wet hair to style them.
Pixie Haircuts
The pixie cut is quite also chic. If you bear straight hair and you want to find a short style for your round face, the short pixie style can be your ideal option. The wispy layering can crate more volume to your crown. Such style is quite simple to create and manage. To create it, cut the back hair shorter and keep the side hair slightly longer. cut the hair at the back and near the neck short. Pair it with some sweeping short bangs which can make the hairdo more charming.
The above mentioned were some of the trendy short styles for African American women. The short hairdos are quite simple to create and can make you outstanding and attractive. Choose one ……….
Short Hairstyles for African American Women /Getty Images
African American Women Hairstyles: Short Curls /Via
African American Hairstyles: Gorgeous Short Haircut /Via
African American Hairstyles: Shaved Short Hair /Tumblr
African American Women Hairstyles: Pixie with Long Bangs /Via
African American Women Short Hairstyles: Curly Pixie Cut /Via
Stylish Short Hairstyles for African American Women: Rihanna Short Cut /Via
Formal Short Hairstyles for Black Women /Via
Pretty Short Hair /Via
Chic Pixie Cut /Via
Rihanna Short Hairstyles: Short Pink Hair with Side Long Bangs /Via
Blunt Bob /Getty Images
Beautiful Pixie Haircut for Black Women /Via
Very Short Hairstyle with Straight Hair /Via
Cute Short Curls /Via
African American Women Hairstyles: Ombre Bob for Short Hair /Via
Summer Hairstyles for Black Women /Pinterest
Short Hairstyles for African American Women: Protective Style /Via
Pretty Short Curly Hairstyle /Via
Cutie Short Haircut /Via
Short Shaved Hairstyle with Side Bangs /Via
Trendy African American Hairstyles for Short Hair /Tumblr