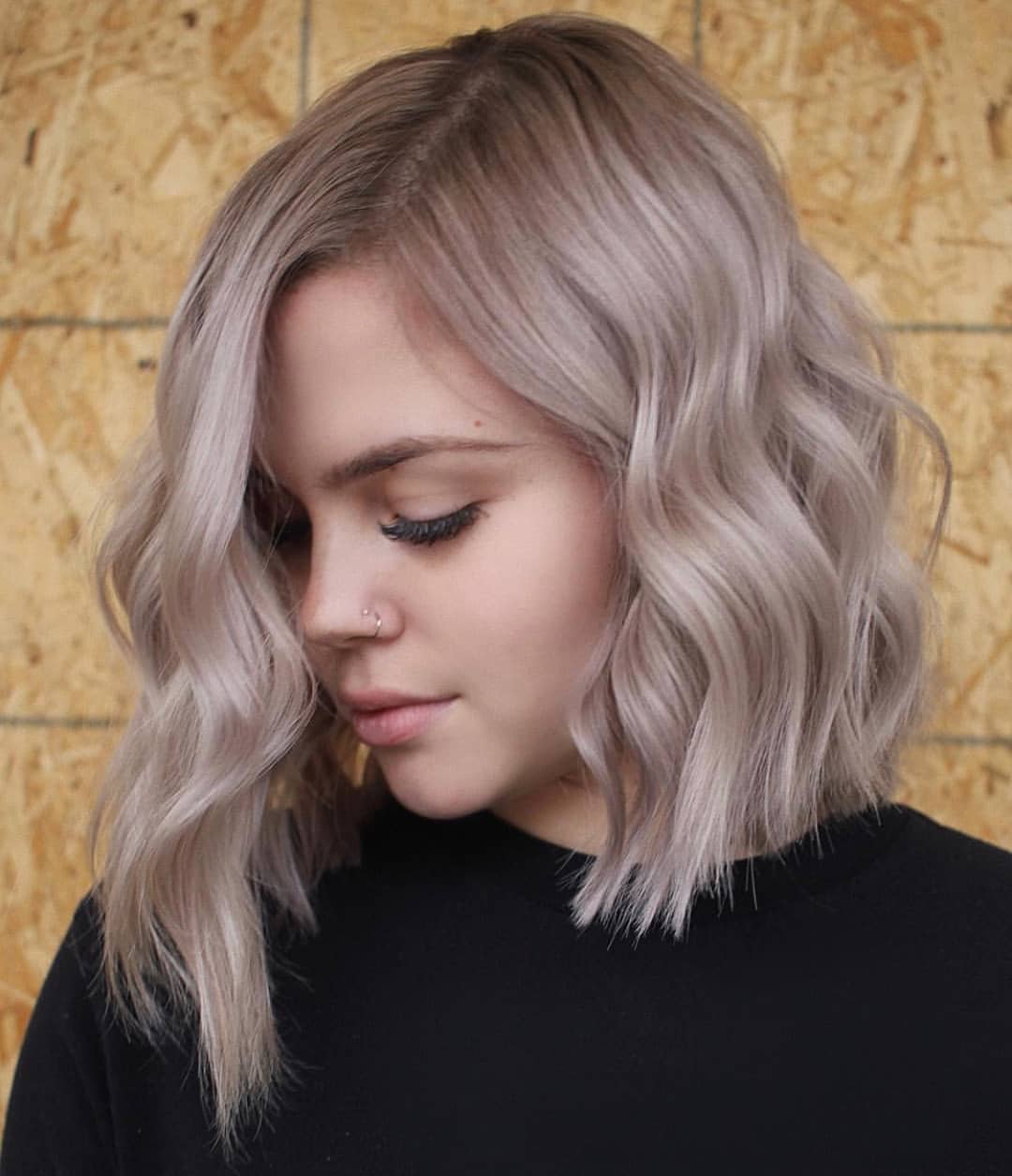 10 Simple Lob Hair Styles – Color Me Fabulous
These are the simple lob hair styles that create chic, edgy, trendy and classy images! They are suitable for fine and medium textured hair types and provide the perfect base for this season's fab, new hair-color designs.
Pearly ash-blonde with hint of pink – simple lob hair styles
An off-centre parting suits faces that are almost oval and adds trendy asymmetry. The longer side can be worn draped over one eye, for a cute, flirty vibe. A slight slope down from the back creates an interesting profile. And soft waves over textured tips shows you're totally up to the minute. In a soft, ash-blonde shade with a touch of pink toner you'll love this sophisticated makeover!
Urban black roots & wheat-blonde – simple lob hairstyles
This centre-part bob is a great way to show off an oval face and a pair of gorgeous brown eyes. It's a new twist on the urban chic platinum blonde with black roots. But this hairstyle is softened with wheat-blonde around the head and oat-blonde ombré. Twisty waves and spiky tips contrast with the model's cute, regular features emphasizing her youth. And the length breaks the line between chin and collar-bone.
Copper-gold balayage on blonde ombré – simple lob hairstyles
There's an attractive touch of metallic-blonde adding gentle glamor to this tousled mid-length bob. The slight dip from back to the front layers keeps the look chunky. And lightly textured tips break-up the bottom line. Brown roots create the backdrop for light-copper balayage on top, and a light-blonde ombré. Light waves add texture and movement to an easy-care high-fashion look!
Mid-length tousled blonde for fine hair – simple lob hairstyles
A blurred side-parting adds asymmetry and flatters a long face shape. Draping hair diagonally over the face, and keeping the top fairly flat reduces the 'length'. Soft waves add volume to fine hair and create pretty texture to make hair appear thicker. The gentle slop down from the back adds trendy movement and triple blonde highlighting completes a feminine, casual everyday hairstyle.
Quirky dog-leg part on chic ash-blonde medium haircut
This medium bob hairstyle shows the versatility of this popular haircut. On fine to medium hair, you can switch between a classic, smooth bob for a professional image and a flirty, wavy look for leisure time. Loose waves add attractive volume and the quirky, dog-leg part creates a cute side-parting to flatter many different face shapes!
Sophisticated silver-blonde asymmetric medium bob
If you have blue or green eyes and naturally fair hair, you can experiment with this gorgeous silver-blonde long bob! Silver-blonde suits skin which has cool or neutral undertones. And if you already have pale-gray or white hair, you can easily get this sophisticated silver look. Tucked back behind one ear, this asymmetric bob is classic and casually attractive!
Edgy blue-steel steep bob haircut with spiky tips
Here's another trend-setting bob hairstyle with lots of edgy features! The slope from back to front is steeply cut and the tips have been carefully textured to create a wispy, spiky line. Defined, surface waves create a softer contrast with the spiky tips. And cool indigo-blue, highlighted with pastel-blue, creates a modern, metallic vibe on this ultra-contemporary bob haircut.
Show-stopping fantasy medium haircut in lavender & burnt orange
This perky, party look is a great way to brighten up your winter or summer image! It's suitable for all hair textures as the bendy waves help create added volume on fine hair. The roots are dark ash-purple, which is shot-through with lavender and oat-blonde highlights. And the tips are burnt-orange for a shocking and edgy finish!
Natural mid-blonde wavy bob for fine hair
But if you prefer something a little more natural-looking, this cool, mid-blonde bob is a perfect everyday hairstyle! The colorist has expertly lightened the mousey-brown base with soft-beige blonde highlights. The highlights are very fine and subtle, except for the flattering, wider, blonde strand framing the face. This is a great length for anyone who loves to wear their hair up and down!
Salmon-pink long bob with defined surface waves
Salmon-pink is a very trendy clothing shade again this season as it's a vintage color popular in the 1940's and 50's. It's a blend of pink and peach that's more sophisticated than bubble-gum shades and has a nice touch of boho chic. With medium vintage rose-pink roots, the defined wavy strands in salmon-pink-blonde add fabulous 3-D depth on a fantasy, messy bob haircut.
So if you're ready for a bob haircut and color makeover to prepare for the new season, you can't do better than select one of these gorgeously flattering new looks!