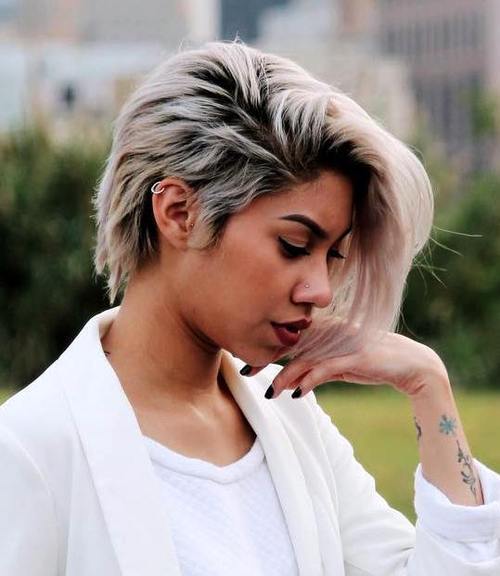 20 Stylish Designs to Have Silver and White Hair
Blonde hair– whether golden or platinum- has always been super popular, so it's no secret that the majority of women go blonde at least once in their lifetime. But what about silver and grey? This is undeniably the hottest (and newest) trend of the season, and it's taking over the hair industry by force.
But how exactly are you supposed to wear grey and silver hair? For most of us, grey hair has been a big no-no in the past, so seeing it become one of the most trendiest colors of 2017 was certainly a shock. Well, we're here to help you indulge in this trend with some really gorgeous and sexy ways to wear not only grey and silver hair, but platinum and white hair too.
Tossed Back with Hints of Grey: Short Haircuts for Women
A look of regalness is profound in this understated style, a swept back lengthy pixie haircut with a touch of silver around the face. Sophistication has no bounds in this prominent hairstyle, a grey haired look that's perfect for older women looking for a classy 'do that shines bright anywhere.
Gun Metal Gray Lob Hair Cuts with Straight Thick Hair
One of the hottest ways to sport the grey trend is GUN METAL GREY. Seriously, it's going to be the look for years to come, with such awesome blends of blues, blondes, browns, and greys. This flawless hue is definitely reserved for ladies with attitude who know exactly what they want.
Smoky Highlights and Lowlights: Pretty Balayage Hair Styles with Wavy Hair
So much dimension, so much contrast! For hair that's oozing with diversity and glow, consider this smoky style with an influx of highlights and lowlights. The icy silver pieces really spruce up this lob in an instant, creating a dramatic effect paired with those darker brown strands.
Icy Lavender Ombre
She's as cold as ice- and we're in love with it. A lady who loves attention and wants to make a bold entrance knows there's one easy way to do it: bold hair. This icy lavender ombre is striking and illuminating, the color taking over the room the seconds she walks through the door. Brilliance? We think YES.
Pearl Blonde Curls
Ladies, you can't go wrong with pearl- a step below platinum, but still light and bright enough to make you dazzle in the sun. She leaves some of her natural color hidden inside her locks so she has enough contrast. Love those curls, giving her look a glamorous touch.
Asymmetrical Contrast Bob: Short Haircut for Thick Hair
Asymmetrical bobs crave unique contrast to really let the cut flourish, and even with the darkest colored roots you can still flash platinum hair coloring. Letting the roots grow out a pinch ensures there is a dazzling dimension going on throughout this haircut, while also lightening her overall complexion.
White Balayage Ombre
The white effect in this hairstyle shows off just how ravishing white locks can truly be. She leaves just a hint of her natural color shining through on the top to add some color, as leaving your hair JUST white can make you appear washed out.
Silver Curls: Shoulder Length Hairstyles for Women
Grandma hair? I don't think so! Grey may have been the sign of old age, but now it's the look of the NEW age! Rockin' this style certainly takes some guts, but if you're feeling daring, try on some sharp silver coloring like this. Toss in a hint of blue steel and subtle dark blonde undertones for a dash of dimension that's calm and cool.
White Lower Hald: Ombre, Straight Long Hairstyle
Long, luscious locks like these can be the talk of the party when you decide to go with a quirky duo like this. Long hair that's heavily and boldly contrasted with two different shades makes for quite an extravagant finish, as clearly shown on these super straight auburn and white strands.
Specks of Grey: Balayage Bob Haircut
Grey hair comes in naturally for many women, starting off sparse and then becoming more prominent. Although many women have seen this is a BAD thing over the years, it's now a hot fashion trend. Whether your sparse grey hairs come in naturally or you decide to toss a few into your mane artificially, you're sure to be looking like a drop dead gorgeous diva who is totally on-trend.
Thick Platinum Streaks: Balayage Short Hairstyle for Thick Hair
All this talk about ombre, sombre, and balayage hair techniques, but what about our beloved streaks? Streaks may have lost their buzz, but that doesn't mean they're gone altogether. Thick platinum streaks against her dark brunette bob creates an intense, look-at-me finish that's bright and delightful.
Hints of Silver: Pastel Hairstyle Ideas for Long Hair
Silver doesn't have to be bold or striking, in fact it can be subtle and subdued; as shown on this lovely lady. She keeps the bulk of her long, curly mane a lovely brunette shade, but hints of silver meddled throughout creates a lavish finish that's very appealing to the eye.
Dramatic Contrast: Pastel Hairstyles, Layered Curly Long Hair Style
Sometimes when you're switching up your look, you want to go BOLD! And the more color the better! Her deep red roots are given a huge contrast with a golden lower half with touches of silver pieced in and out. Such an exciting color that you certainly won't see everywhere.
Platinum Streaks: Balayage Long Hair
Streaks look amazing on all hair types, whether you're rocking a short face-framing bob or have strands dangling well below your shoulders. Her long locks are given some serious contrast with an Oreo cookie idea of black and white. Such a sexy tone!
Platinum Ombre Ringlets: Curly, Shoulder Length Hairstyle
The great thing about ombre is it's super easy to maintain: if your hair grows out a little bit, it's no big deal- that's the whole point of ombre! This tone of blonde looks swell next to her ultra-dark roots, and those ringlets are bouncy and refreshing.
Grey Streak: Easy Short Bob Hair Style
Dousing your hair root to tip in new-and-trendy grey hues may be intimidating, so simply put your toes in the water and get a feel for this style by adding a thick grey streak to your hair. It's unique, fashionable, and looks simply gorgeous against rich dark brunette strands.
Illuminating Summer Highlights: Balayage, Medium Length Wavy Hairstyle with Thick Hair
Make your hair summer-ready by saying goodbye to dark tresses and saying hello to fabulously bright locks! Dousing your mane in some ultra-bright blonde highlights from root to tip ensures your hair is illuminating in the summer sun, while thick bouncy curls move with every step. So sexy!
Lavender-Grey Ends
There's something so magical and illuminating about a lavender-grey hue, a fairy like color that's stunning on any lady. This color works well with any color base- black, brown, blonde- so feel free to add some lavender-grey ends on your mane no matter what color you're sporting on top.
Piecey Silver Strands: Medium Haircuts with Straight Hair
Silver is such a stunning color, isn't it? To indulge in the ultra-popular silver hair trend without going overboard, splash in a few piecey silver strands to your mane. The outcome is a rich, divine blend that's exotic and a little bit icy.
White Ends: Wavy Lob Hair Styles for Thick Hair
When you opt for a unique and funky cut like this- complete with blunt ends and some super-cute baby bangs up front- you need a quirky color combo to match. We love the snowy ends on this quirky cut, adding a bit of bright definition that looks awesome against the mousy brown upper half.