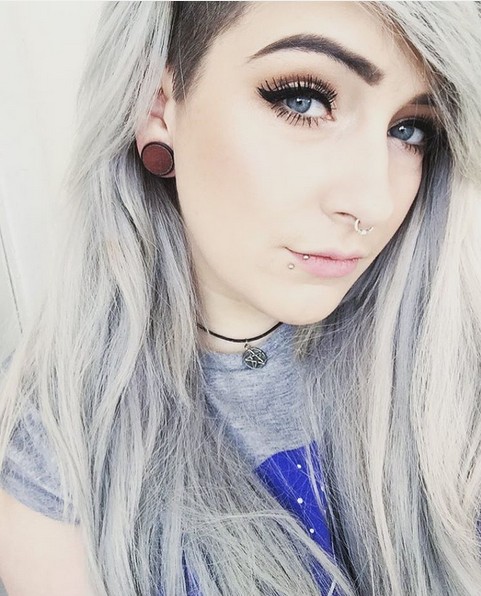 Gorgeous Grey Hair Trend Colors You Should Consider
This year it's all about wild hair colors and unique, vibrant tones. Some of the most popular color hues for 2016 include purples, greens (especially sea foam green), and pinks. But one hair color trend that's really stepping out of our comfort zone is GREY. Grey hair is EXTREMELY popular this year, and we've come up with a collection of gorgeous and trendy grey hair color combos to enlighten and inspire you.
Collection of Trendy Hues
This hair color has it ALL: beautiful and vibrant purples, trendy sea foam greens throughout, and of course a pinch of grey to tie it all together magnificently. If you're considering a hairstyle that combines all the trendiest colors for 2016, THIS is it. Add some wave to make those colors really burst with lovely attitude.
Super Light Grey with Shaved Side
Light, bright, and bursting with trendy attitude, we're adoring this super light take on the grey hair trend. Her locks are beautifully bright, dazzling in the sunlight with ease. It's an awesome choice for summer seasons! She also shaves the side of her head to add a touch of edginess and dimension that simply can't be ignored. Such a fierce, takeover hairstyle for the edgy ladies out there.
Grey Ringlets
If you didn't think grey hair could be delightful and glamorous, think again! This beautiful hairstyle has 'class' and sophistication written ALL over it. It's a rather stunning 'do filled root tot ip with stunning ringlets that are perfect for a fancy night out on the town. Works perfect with a black or navy blue dress.
Grey Pixie
Adoring this pixie haircut! It's funky and cute, loaded up with layers to really give it a full and energetic appearance. She tosses her bangs over to the side for a side swept look that's stylish and cute. Complete with grey coloring, her pixie hair cut is truly as trendy as it can get.
Super Short Grey
For the gals out there who prefer shorter bob haircuts, then consider this sultry and super trendy style! Her super short cut leaves just enough length to be styled off to the side, framing her face beautifully. It's an awesome choice for girls with long faces, and the grey tone of her locks is sexy and cool. Works well with darker makeup tones.
Grey Ombre Asymmetrical Bob
Ombre is undoubtedly one of the HOTTEST hair color trends, and one easy way to take ombre to the next level is to use grey coloring! Her grey ombre is super cool and sultry, with darker roots and ultra-bright grey hues on the lower half of her mane. The contrast is stunning and her sleek straight asymmetrical locks are just simply fabulous.
Half-N-Half Greys
If you're looking for a 'do that's really unique and 'out there', then this is the look for you. The bold contrast between lighter and darker greys is eye-catching and her big, voluminous bangs skim just about her eye for a really enticing and cool finish.
Lengthy Grey with Blue Tint
Luscious and lovely- just two words we would use to describe this flawless hairstyle! Her lengthy locks are colored grey with a blue tint throughout that's wonderfully trendy. She loosely curls her mane for some flirty volume that can easily accompany her to work, school, or date night.
Brown and Grey Curls
A really beautiful combination that's subtle yet stylish? Brown and grey! She leaves her top half a delicious mousy brown color while her ends are boldly light grey. The combo is fabulous and we're loving her loose curls, adding a touch of elegant fullness that bounces gracefully with every step.
Pink, Blue, and Grey Waves
There's a lot going on in this rockin' hairstyle, and we're loving every minute of it! She starts off with grey locks, adding a bit of blue highlights throughout her mane, and finishing with some fascinating pink hues to tie it all together nicely. Her look is fresh and vibrant, sure to turn heads wherever it goes. Adding some simple waves pulls the colors together beautifully for an energetic finish that bounces freely.
Simple Grey Waves
It's the perfect summer 'do! Douse your mane in some trendy grey coloring, and consider an ombre style with darker roots and a light lower half. Throwing some subtle waves adds some cute fullness that would look great at the pool party with your cutest bathing suit.
Voluminous Grey and Blue
SCREAMING with tons of VOLUME, this is undoubtedly one of the most wild and rockin' hairstyles on the list! Her super cool grey and blue locks are tousled up to the max with tight waves and plenty of teasing for a really exciting finish. Those red lips really take this exotic style to the next level!
Subtle Grey Highlights
Grey peek-a-boo highlights are an awesome way to go if you don't want to completely showcase grey locks. We're loving her fabulous ombre hair coloring with dark brown and light blonde, with just a few subtle grey highlights thrown throughout her mane to add some subtle trend and attitude.
Pink with Grey Tips
Another easy way to add a simple touch of grey to your locks is to throw them on the tips! Her rockin' pink locks are given an extra dose of trend with grey tips, contrasting her exotic dark pink roots beautifully and wonderfully. Add some loose waves for some flirty volume!
Trio Colors
Combine three trendy and flavorful colors into one unique hairstyle by adding pink on top, grey in the middle, and a subtle blue on the ends! The trio is fabulous and funky, and will look well with some unique makeup styles as well. Funky fresh!
Subtle Grey Highlights
Leaving your hair dark brown is great, but it CAN get a little boring. Lighten it up for summer or simply brighten it to add some lightness around your face by using TONS of highlights! She adds an interesting combination of blondes, blues, and greys, for a dazzling appearance that plays wonderfully with those extra loose curls. Such a feminine style that's loaded with trendy hues!
Bayalage Grey A-line
The fabulous collection of light and dark highlights create an all-natural finish that's simply stunning. Her a-line bob haircut is trendy and comfortable, and those eye-skimming bangs frame her face gorgeously. This simple hair style is great for all face shapes and women of all ages, and can be worn literally anywhere. Consider darker makeup shades to really make your locks stand out.
Peek-a-boo Pink
A darker shade of grey hair is given a beautiful makeover with some subtle peek-a-boo pink highlights. The end result? A vibrant, look-at-me hairstyle that looks gorgeous with some accenting loose waves.
Grey Voluminous Ringlets
Ringlets are ALWAYS a great idea, whether you're heading to your friends house, to the office, or a night on the town! Ringlets instantly give your look a dose of femininity and daintiness that can't be dismissed. Her grey locks are given some beautiful body with voluminous ringlets that flow gracefully.
Grey Updo
Now THIS is one awesome hairstyle that you'll want to try! Forget boring old ponytails; this look is oozing with style and fabulousness! She leaves a bit of brown roots to contrast her dazzling light grey lower half, and she tosses her locks up into a super high ponytail complete with curls that add some oomph to her mane. Darker makeup shades make this look 'POP' and we couldn't be any more in love with this wild and sexy style.
Violet Highlights
There's something so beautiful about grey and violet; it's simply a standout color combination that's dainty and alluring. Consider sporting grey locks with a subtle touch of violet for a beautiful 'do that's delicate and feminine, and don't forget to add a touch of loose waves to add to that delightful feminine appearance. Keep makeup tones lighter and subtler as well!
Loving grey hair yet? Pophaircuts.com which style will you choose?