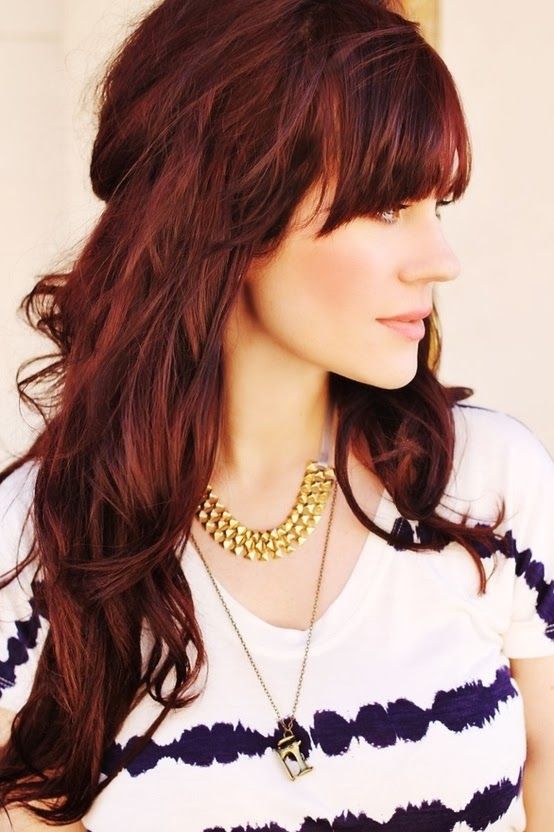 15 Dark Hair Colour Ideas!
Women have never been as adventurous with colour and highlighting as they are today! And instead of there being only two or three colour trends each season, we have scores of different shades and highlighting techniques to choose from!
So this gallery includes trendy dark hair colour ideas, and some radical and contemporary alternative hair colours, in all shades of the rainbow!
Brunette Hair, Red Highlights /Via
Choosing a flattering colour
One thing to bear in mind when selecting the best hair colour for dark hair, is that it needs to be quite a strong colour in order to 'show up' on a dark brown or black base. In addition, it really should be chosen to match your complexion and for this reason, it's a good idea to get some advice from a colourist you trust.
Ombre Hairstyles – Dark Hair to a Crazy Color /Via
The basic rules
You can enhance a very pale complexion with a warmer hair colour.
If you've decided to go blonde, pale skin with cool undertones looks best with a neutral or wheat-blonde colour.
Women with a warm, ruddy complexion should choose from the range of cool hair colour ideas for dark hair.
Black hair can look great with blonde highlights, as long as they complement the cool or warm undertones in your dark skin tones.
Medium-blonde highlights are the best choice for dark hair and will create a softer look than pale blonde, which can look harsh.
And do not forget that if you just try to bleach highlights in dark hair at home, you will end up with orange highlights!
Trendiest hair colour ideas for dark hair
Current trends in hair colour ideas for dark hair are fabulous copper highlights, done with the artistic balayage technique.
If you hair doesn't have any natural copper tones in it, like coffee brown, a dark golden shade may be the best one to liven up your hair. And shades of caramel and honey, mixed throughout dark hair are totally trendy this season, too!
Pretty Purple Hair /Via
If your hair is a dark colour with auburn lights in it, you can enhance the red shades with highlights or a go for a full-head colour.
For black hair, maroon and purple shades are very fashionable at the moment and harmonise well with the trendy clothes and makeup colours of the season.
Breaking the rules!
Hair colour ideas for dark hair are not limited to natural colours either and once you free yourself from that restriction, well, the sky's the limit!
If you're an extrovert who doesn't see why you should be limited by naturalness, these amazing hair colour ideas for dark hair also show how wonderful your hair can look with one of the full range of rainbow colours!
I've included blue, fire-red, purple, lavender, deep pink and a host of other rainbow colours – including green!
So get yourself a cup of coffee and enjoy browsing through some truly amazing hair colour ideas for dark hair!
Dark Hair Colour Ideas! /Via
Dark Hair Colour with Long Hair /Via
Dark Red Hair Color /Via
DIY Hair – Five Gorgeous Pastel Hair Colors /Via
Purple Blue Ombre Hair Color /Via
Dark Chocolate Brown Color /Via
Pink Hairstyles – Rainbow Hair Colour /Via
Plum, wine pink, Ombre Hairstyle /Via
Blue, Purple Hair /Via
Blue, Ombre Hair Styles /Tumblr
Gorgeous Blue Hair – Long Hair with Braid /Via
Dark Hair with Blue Highlights /Via