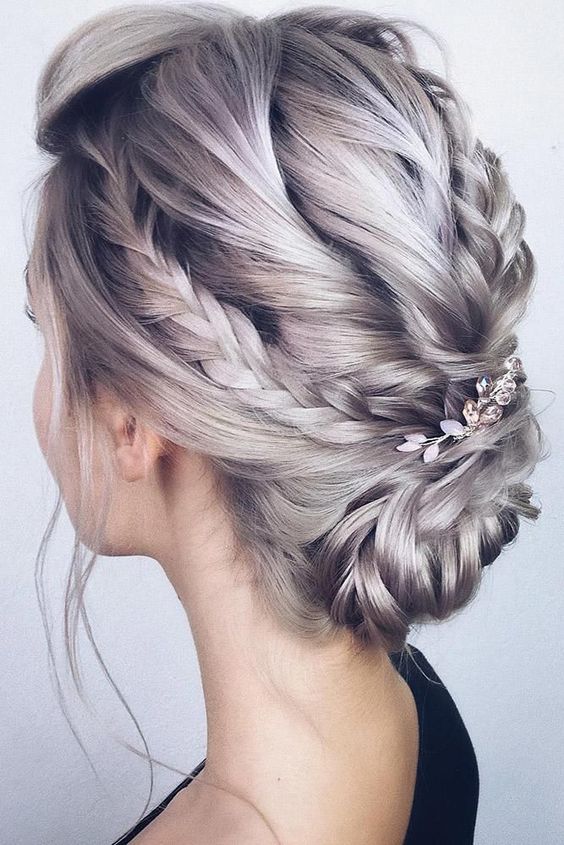 11 Beautiful Braided Updos For Women
Braids add dimension, interest, and on-trend style to classic updos. These beautiful braided updo hairstyles for women combine classy, elegant, and boho chic styles to create incredible braided updos that are truly one-of-a-kind.
These unique, trendy braided styles incorporate many different types of braids. They are as versatile as they are beautiful. These updo hairstyles range from simple and casual enough for a day at work to formal enough to wear to a wedding–whether you're a guest, a bridesmaid, or the bride herself.
1. Messy Low Knot with Fishtail Side Braid
This messy low knot is a more casual updo that you can wear to work, on a lunch date, or to any number of other casual, business casual, or semi-formal outings or events.
A loose fishtail side braid adds intricacy and volume to this hairstyle. A free section of hair in the front and loose hairs within the low bun itself give this casual updo a relaxed finishing touch.
2. Dutch Braided Top Knot
Revolutionize your standard top knot with this gorgeous Dutch braided updo.
While updo looks very intricate and complex, it is actually much more simple than it might seem. All it is at its core is a top knot positioned high on the upper crown of your head. However, a loose, neat Dutch braid at the underside of this top knot adds interest and elegance to this classic updo.
3. Simple Side Braided Low Bun
You might consider your thick hair to be unmanageable when it comes to complex updos, but this simple updo hairstyle might prove you wrong once and for all.
This side braided low bun is ideal for ladies with thicker hair. It expertly captures the entire volume of your hair and pulls it back into a gorgeous, neat knot at the nape of your neck. A simple side braid adds trendy style to this updo. A few loose strands of hair in fronts adds versatility to this style and gives it a more relaxed finish and a carefree vibe.
4. Braided Low Bun with Floral Accents
If you're looking for volume in a formal updo hairstyle, look no further than this beautiful braided low bun hairstyle.
This braided low bun incorporates multiple braids and twists that combine into a voluminous low bun at the nape of your neck. Subtle floral accents tucked into the base of this low bun give this updo a flirty, feminine finishing touch.
5. Double Braided Twisted Low Bun
Double braids–a thin classic braid and a thicker Dutch braid–and a twist add intricacy and on-trend style to this braided twisted low bun hairstyle.
This low updo leaves a section of hair free in the front to frame and flatter your face and give this braided low bun a more casual finishing touch.
6. Twisted French Braided Updo
With a twisted French braid that pulls all of your hair out of your face, this braided updo is unique, practical, and versatile as well as beautiful.
You can wear this twisted updo to a wide variety of events. This French braided hairstyle pairs well with semi-formal, business casual, and formalwear.
7. Twisted Braided Low Bun
This twisted braided low bun is ideal for semi-formal to formal events–think a wedding or a holiday party. It is simple and elegant with a beautiful feminine finish.
Incorporating multiple twisted braids, this intricate updo twists into a beautiful floral-inspired low bun that rests at the nape of your neck.
8. 4-Strand Braided Low Updo with Jeweled Barrette
This braided hairstyle looks much more complex than it really is. In reality, this braided updo is actually pretty simple to style.
A thin 4-strand braid and multiple simple twists weave down the side of this low braided updo. A beautiful jeweled barrette adds a focal point and a touch of sparkle to this semi-formal hairstyle.
9. Simple Braided Knot Updo
You can't go wrong with a simple braided knot updo hairstyle like this one.
This updo features a simple braided knot at the crown of your head. A thin, classic braid encircles the knot to hide hairbands and pins and give this updo a finishing touch of elegance.
10. Fishtail French Braided Low Bun
The fishtail French braid is one of the most gorgeous, intricate types of braids. This low bun updo hairstyle features a fishtail French braid that cascades down one side of your hair and twists into a neat low bun at the nape of your neck.
This ultra-intricate braided low bun is ideal for semi-formal to formal functions. Leave thicker strands of hair free in front to give this updo hairstyle a more carefree style and make it more appropriate for slightly more casual events.
11. Pin-Tucked Braid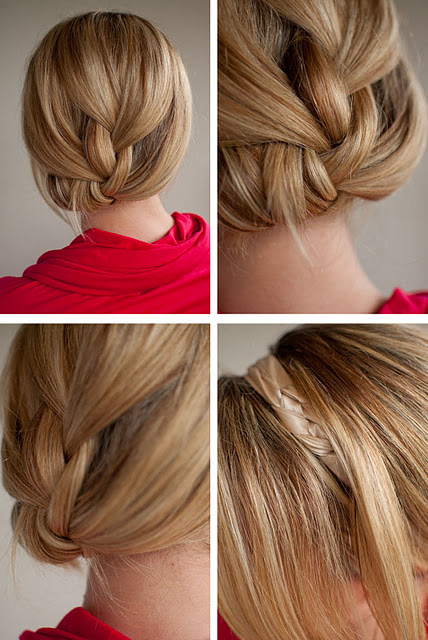 If you like original and stylish up-do's, this wonderful hair design is perfect for you!
The long fringe is separated from the rest of the hair with a cream-coloured, plaited head band and a long strand of hair is left loose behind the band, adding a lovely touch of casual Boho style!
The rest of the hair is brushed back lightly and woven into a super asymmetrical pattern at the back, which is beautifully accentuated by the contemporary multi-toned highlights and edgy lowlights!
The loosely woven braid ends in a trendy off-centre position, where it is twisted into an attractive and unusual roll at the nape. A few spiky ends are pulled out of the smoothly woven hair to emphasise the casual, trendy relaxed styling.
This fantastic trend-setting style is full of contrasting textures, colours and shapes making it a highly fashionable and wonderfully original creation!