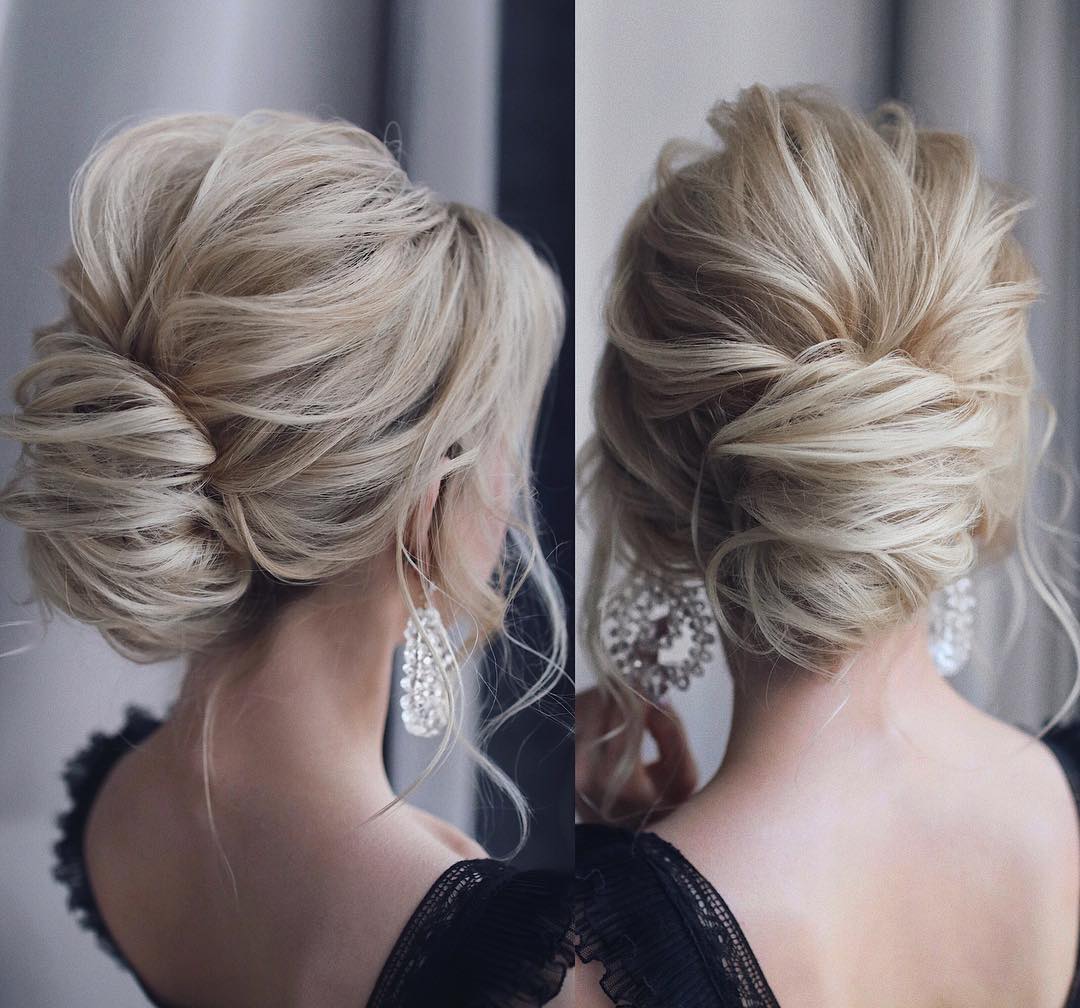 10 Updos for Medium Length Hair – Totally Textured
These sophisticated updos for medium length hair showcase this season's new hairstyles beautifully. The look is still mainly straight, with lots of fabulous, new textures added and a casual finish. But we've also included updos with a smooth finish for formal events. Vertical, neutral-blonde highlights accentuate the movement in these highly fashionable new updo ideas! If you want to look classy, trendy, feminine and flirty – come along in!
Ridged texture & sideways chignon – updos for medium length hair
Beige and wheat-blonde shades highlight the deep ridged texture of this lovely evening updo. Pulling up individual strands creates lots of extra volume and a glamorous, bouffant profile. And styling the back bun with side-swept movement adds a new twist to a popular classic evening updo. Loose strands add a casual vibe for a beautiful semi-formal updo!
Deep texture on sculpted chignon – updos for medium length hair
And this fabulous updo takes the ridged texture even further, with taupe roots contrasting with neutral blonde highlights. This creates the latest 3-D color depth that always makes hair appear thicker. So this updo is suitable for adding volume and density to fine hair. The asymmetrical chignon is spread over half the back and given lovely swirly movement!
Airy volume & texture on brunette knot – updos for medium length hair
This carefully structured mid-length updo shows how to add volume and shape with elevated, defined strands. This creates wonderfully wavy texture on the asymmetric design above a dainty knot chignon at the nape. The look is artistic and sophisticated with carefully placed loose strands softening the face and neck line. And subtle balayage accentuates the texture.
Glam pearl-blonde & beige – updos for medium length hair
Pearl-blonde with beige highlights gives 3-D color depth and lovely texture on sides styled to meet in the center back. The chignon has a thick side-swept section that contrasts with the dainty curved-under section resting on the nape. And those long, loose strands make a fabulous, wavy face-frame that softens the line between chin and shoulder, too!
Elegant everyday casual top bun on brunette hair
This lovely natural look is well-balanced between casual and formal updo's. It will take you anywhere in style, without ever looking too posh or too relaxed. It's a modern take on the classic cottage-loaf puffy updo. So it has a flattering bouffant bump above the forehead and the nape, which gives a great profile. Just add a twisty bun at the crown and you're ready for anything!
Taupe brown knot chignon with iced-brown balayage
Here's a lovely knot-bun that's neat enough for professional wear and still cute enough for evening events.  The surface is decorated with vertical strands that create deep texture, subtly accentuated by ice-beige balayage. The strands converge above a very attractive, curvy woven bun at the nape. And just a couple of short, loose strands soften the line around the face.
Sexy swirly wheat-blonde twisty knot chignon
This gorgeous updo is full of lively movement from carefully sculpted waves snaking across the back. The theme is definitely 'curves' and pretty neutral blonde and ash brown shades really emphasize the amazing textures! The side-swept bun at the nape has fabulous horizontal lowlights and the look is relaxed, elegant and very feminine!
Sophisticated smooth ash-beige blonde shell-chignon
Brown roots create color-depth beneath this ultra-soft, neutral-beige blonde color. The back is styled to create attractive 3-D curved volume from three sections which come together at the low bun. The amazing bun is like a conch-shell and three hair colors create a gently striped effect. This elegant, smooth style is full of texture and trendy style!
Queenly woven nape bun with bouffant top
Plenty of bouffant volume around the top is a flattering way to style an updo if you have a round face. It lengthens your face and creates a sophisticated vibe. And the simple, knotted low-chignon has always been popular with European queens and princesses. This natural blonde shade complements the natural styling of a truly regal updo!
Chic loose head-braid & cute comma-chignon
This stylist has changed the usual shape of a semi-formal updo, to create a lovely new twist! The top has a loosely plaited braid adding flattering height. And there's chunky texture at the back, from another loose braid. Neutral-blonde is a superb, high-fashion shade.  And the final touch is the brunette chignon, like a cute comma at the nape, with blonde 'stripes'!
Whatever style you choose from today's gallery will ensure you look trendy and gorgeous at your special event! Have fun!