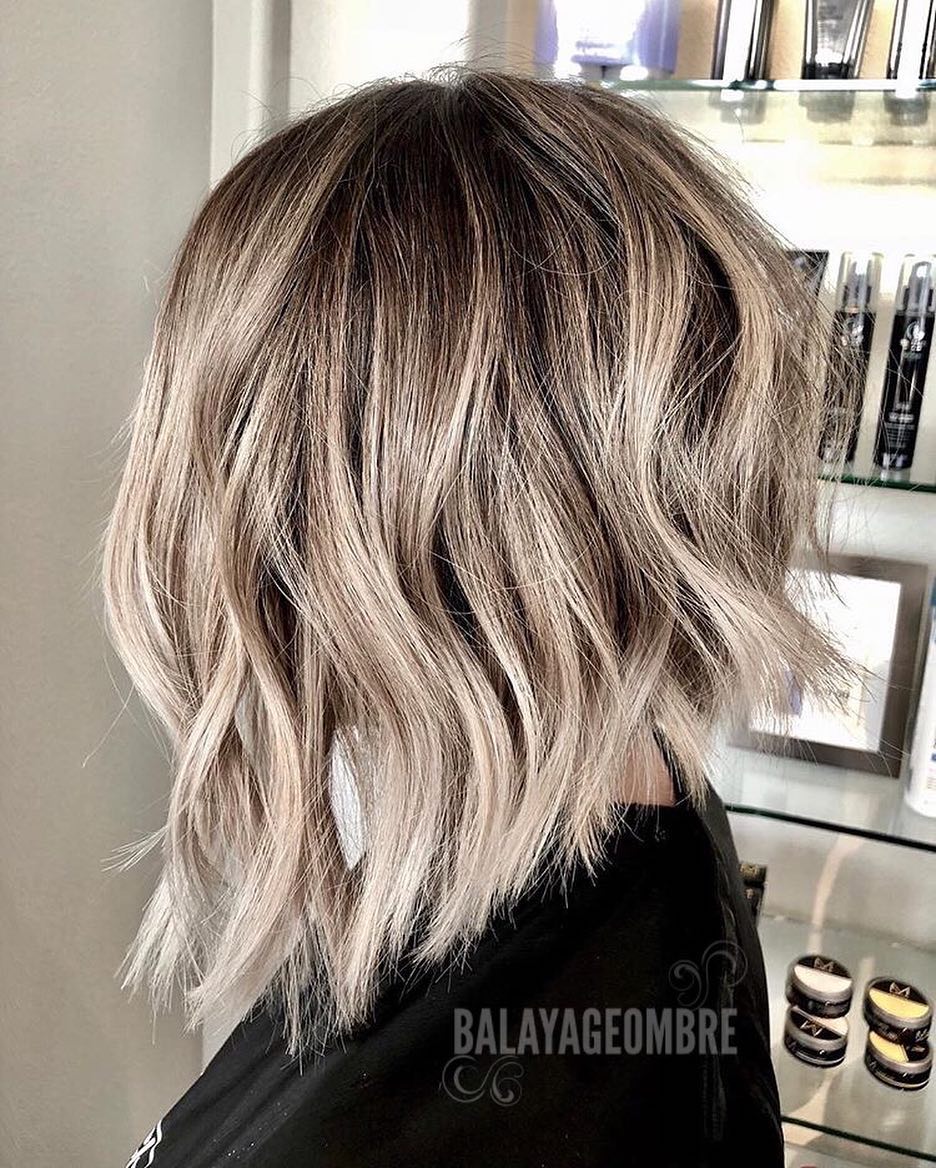 10 Trendy Ombre and Balayage Hairstyles for Shoulder Length Hair
Ombre and balayage hairstyles are trendy and universally flattering for women of any hair type, length, or color. These innovative hair coloring techniques create styles that look less artificial and are easier to manage and maintain than hair dyed with a single- process color all over.
That being said, it can be a challenge to create natural-looking ombre and balayage looks for shoulder length hair. Shorter hair doesn't offer as much length to work with to create a subtle color gradation that fade naturally. When it isn't done right, ombre and balayage looks for short and medium length hair can end up looking choppy, unflatteringly two-toned, and glaringly artificial. These ten creative ombre and balayage styles offer inspiration for well-blended, natural-looking color on shoulder-length haircuts for women of all hair colors and types.
1. Cool-Toned Brown and Blonde Balayage
If you want to rock lighter hair without looking bottle blonde or having to schedule a root touch-up at the salon every other week, this brown and blonde balayage might be perfect for you.
Cool-toned bleach blonde hair is ultra-trendy right now. This style effortlessly blends cool-toned dark brown at the roots with white blonde at the ends to create a more natural look that isn't ruined as soon as your roots start to grow out again.
2. Dirty Blonde and Silver Blonde Balayage
Shades of darker and lighter blonde tend to clash when they're forced together in the same hairstyle, but this dirty blonde and silver blonde balayage is an exception to the rule.
If your natural hair color is dirty blonde or very light brown, you can go even lighter with this balayage while leaving your natural roots alone. This style blends cool silver blonde into dirty blonde roots with amazingly seamless and natural-looking results that don't clash in the slightest.
3. Light Brown to Bleach Blonde Ombre
Light brown transitions smoothly into bleach blonde in this subtle, natural-looking ombre style.
This smooth, well-blended transition between darker and lighter shades allows you to leave your roots natural and let them grow out without unflattering results.
4. Silver Blonde and White Blonde Balayage
This unique balayage features a subtle color gradient that fades from rich, purple-tinted silver blonde roots to bright white blonde ends.
Both shades of blonde are cool-toned to complement each other. Darker silver blonde roots with a very subtle purple tint add dimension to this style and help it look more natural.
5. Black and Medium Brown Balayage
Not all balayage styles have to end in bleach blonde. This subtle balayage is designed for naturally dark-haired women who want to switch up their color without making drastic changes in terms of lightening.
An inch or two of black roots fade gradually into dark and medium brown from the roots to ends of this style. This subtle gradient adds interest and dimension to your hair without dramatically shifting its color.
6. Black to Bleach Blonde Ombre
Black roots and bleach blonde ends doesn't sound like a recipe for a flattering hair color, but this ombre style proves otherwise.
Dark roots fade effortlessly to light bleach blonde with only an inch or two of transition color in between. Both the black and blonde shades in this style are cool-toned. Highlighted top layers also draw lightness all the way up to the roots to make the dramatic transition from black to blonde look more natural.
7. Natural Brown and Bleach Blonde Balayage
If you have light to medium brown hair, you can achieve this blended balayage look without lightening your roots at all. Keeping your roots natural minimizes the damage your hair sustains from bleach and helps ensure continuous healthy growth.
This balayage supports several inches of natural root growth. Its natural brown roots blend into dirty blonde and ultra-light bleach blonde ends with a perfectly seamless finish.
8. Dirty Blonde and Bleach Blonde Balayage
The color gradient in this balayage style is very subtle. It's perfect for women who want bleach blonde hair that doesn't look obviously artificial.
An inch or two of dirty blonde roots blend seamlessly into lighter bleach blonde in this balayage style. Intentional darker roots create a natural finish. Plus, they keep your color looking brand new even when you haven't been to the salon in a month.
9. Cool-Toned Dark Brown to White Blonde Ombre
Dark brown and white blonde are difficult to blend together in a flattering way, but this trendy ombre style makes it look easy.
Several inches of natural cool-toned brown roots fade effortlessly into cool white blonde ends. Expert blending makes this dramatic transition look utterly seamless from roots to ends.
10. Warm-Toned Dark Brown and Honey Blonde Balayage
This warm dark brown and honey blonde balayage is a refreshing departure from the majority of balayage styles with cool undertones that fade to an ultra-light shade of blonde.
The blend of colors in this balayage look completely natural on women with warm-toned brown and auburn hair colors. Rich brown roots fade into warm auburn and honey blonde. Light honey blonde highlights blend from roots to ends throughout this style. These blended highlights help create a smoother transition between dark and light colors.