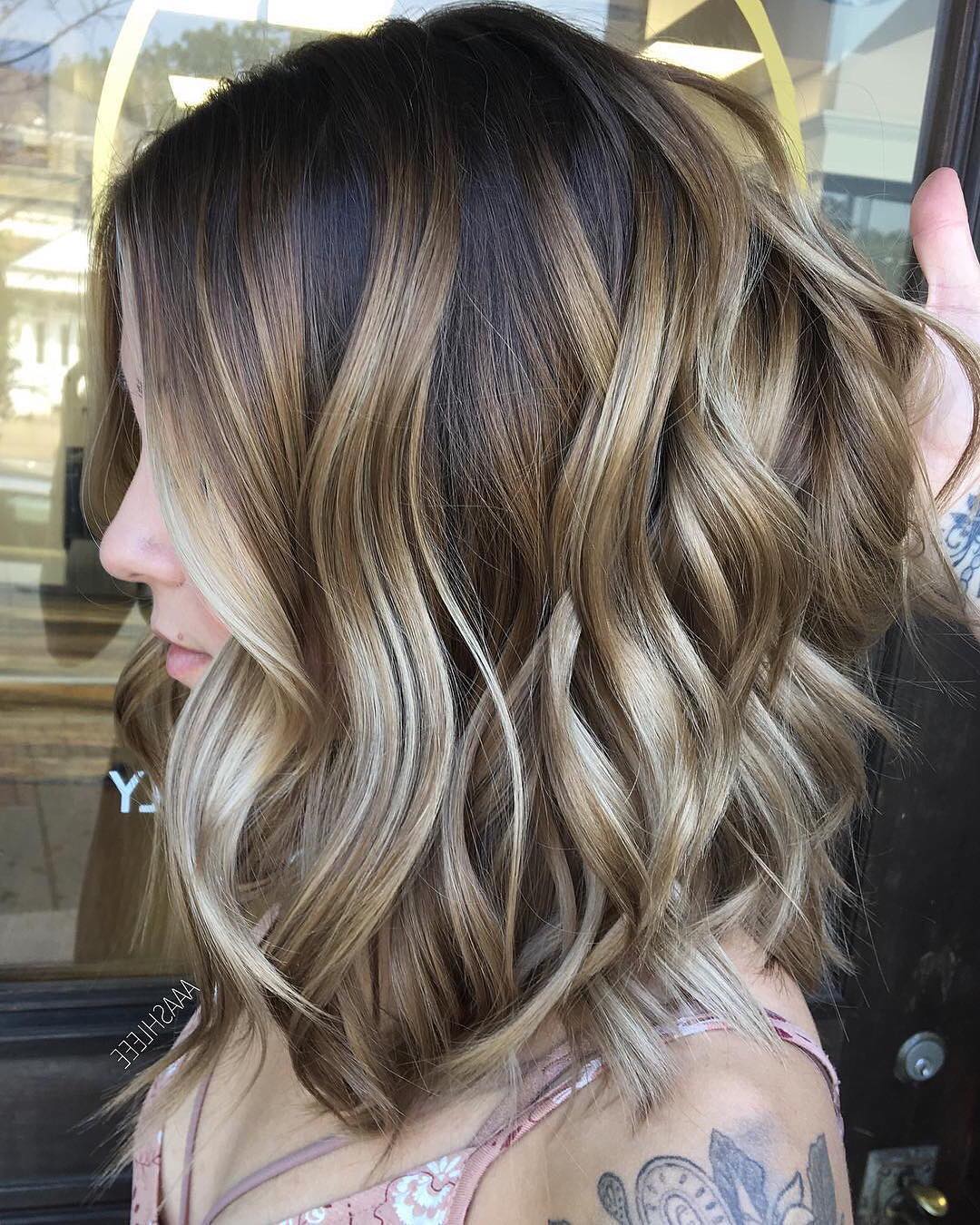 10 Ombre Balayage Hairstyles for Medium Length Hair
From the hippy dip-dye trend, ombré-balayage hairstyles for medium length hair have grown into a very sophisticated look.  And blonde balayage-ombré has become an essential part of almost all of today's trendy hairstyles.  So if you're ready to be gorgeously attractive and sexy, dive into these new ash-, white- and beige-blonde ombré-balayage hairstyles for mid-length hair!
Ash-brown & soft blonde ombré-balayage hairstyles for medium length hair
The profile view of this gorgeous, wavy long bob shows off the attractive angle down from the back.  The roots are a coffee-brown shade that gently changes to mid ash-brown, before the latest medium ash-blonde ombré.  With a centre parting, this style suits oval faces best, but it can be worn with a side parting, too.  On silky, fine hair the color add color depth and the tousled waves are feminine and alluring!
Dark blonde to neutral blonde ombré-balayage hairstyles for medium length hair
Here's a more casual finish, which is also a great way to add volume and density to medium or fine hair.  The hair has an off-centre parting, which helps diminish the length of a long face shape.  And with a flat top, but side volume this is a good style to add width to a long or narrow face.  The natural roots are left 'dirty-blonde' before a few caramel highlights are added for warmth.  Then the waves are lightened to an eye-catching shade of blonde.  With a relaxed finish, with one side half-tucked behind the ear, this is a youthful look.
Pearl blonde ombré-balayage hairstyles for medium length hair
This pearly-white blonde angled bob is suitable for anyone with naturally fair hair.  The hair is a very pale blonde shade, with balayage in ash-blonde and gleaming golden-beige creating a 3-D density.  And adding another touch of color, there are hints of pink toner, too.  The long lengths help fine hair retain its natural thickness, and a windswept finish separates the tresses to display the gorgeous play of light and dark colors.  Pretty waves at the tips frame the face in a very flattering way.
Glam white blonde ombré-balayage hairstyles for medium length hair
This white-blonde, angled bob style has trendy charcoal-gray roots to show it's a totally contemporary look.  The angle is quite sharp, moving down from a short back to reach an inch or two past the shoulders.  The tips are tapered with heavily textured tips, adding another edgy vibe.  And the hair is loosely waved in a fashionable, inter-woven texture.  Shorter layers create face-framing wings on a trendy platinum-blonde bombshell for medium to thick hair.
Mellow beige-blonde long angled bob on brunette base
By contrast, this long bob for medium to fine hair types is full of soft, mellow balayage shades.  The long layers shine with soft, beige blonde highlights creating a more natural look.  These colors are great for brunettes who have warm undertones to their skin and brown, hazel or honey-colored eyes.  The steep angles creates a trendy look, and those gorgeous loose, casual waves do a great job showing off color-depth.  Straight, lightly tapered tips complete a soft and feminine medium length balayage hairstyle.
Sexy long angled bob with warm caramel highlights
Here's a soft and sexy look inspired by the style of 60's French film star, Brigitte Bardot.  Although Bardot's hair was longer and lighter, the bed-head look was her signature style, along with lovely off-the-shoulder, peasant blouses.  This long bob has a side parting, and a flirty, peek-a-boo look from hair falling casually over one side of the face.  The caramel balayage is the perfect shade to complement the model's naturally brunette hair.  And the casual kink-waves complete a sexy and natural look!
Chic ash-blonde on taupe ombré
This chic, straight medium length hairstyle has long layers retaining the hair's thickness.  But the tips are heavily textured to remove any bulk and create an edgy, modern vibe.  And that goes perfectly with the futuristic ash-brown roots, fading to neutral-blonde with white highlights.  The dark roots in taupe contrast with the light-ash ombré creating a lovely 3-D effect.  The sleek, smooth finish is also an easy-care style you can rely on to keep your hair looking chic and modern!
Cute tousled blonde long bob with dark roots
This cute blonde, medium hairstyle is perfectly styled to flatter a heartshape face.  A wide forehead can be easily disguised with an off centre parting and hair styled to cover the corners.  This makes the forehead more symmetrical with the model's narrow chin, so her face is nearer the oval 'ideal'.  Waves at the sides accentuate the eyes and add width in the centre of the face.  And tousled volume on either side of the chin is perfect for balancing the look of a long or narrow chin.
Rich golden beige balayage highlights on brunette lob
This is a lovely hairstyle for anyone who prefers a natural, undone look.  The side parting is suitable to create a diagonal section of hair draped casually across one side of the face, for an asymmetrical vibe.  And the caramel and honey-blonde highlights are beautifully blended to add light and dark texture.  The attractive loose wave pattern frames the face to draw attention to the model's eyes and lips.  And the overall effect is very attractive and relaxed.
Stunning blonde highlights & tips on wavy lob
And my final choice for today is this stunning balayage-ombré showing off the expert technique of a talented colorist!  The darker roots are showing only an inch or two, before being highlighted with fine, beige-blonde balayage.  This dense highlighting creates a lovely, soft medium blonde shade on brown hair, before changing to beige-blonde ombré.  The hair is lightly layered to remove any bulkiness from the tips and finished with a loosely waved, tousled finish!