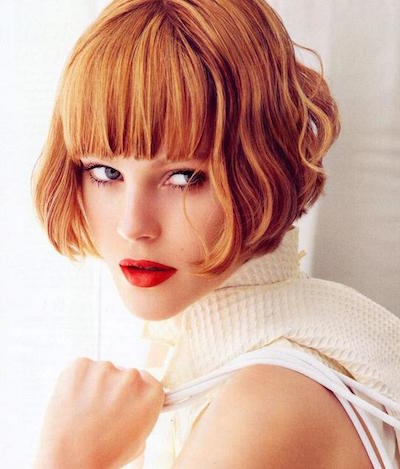 20 Dazzling Red Hairstyles
A few years ago I had a choice to make: cut my long locks short or dye them red. I was ready for a change and I decided I would do one or the other. In the end, I cut my hair short. Now, as my hair has grown out and more and more people are dying their hair red, I'm wondering if it's time to explore my second option. Red hair is vibrant and dazzling. It is the life of the room and a definite style statement. What better time to try something new, than summer? What do you say? Are you thinking about going red?
1. Soft Pixie
This soft red pixie is both elegant and funky.
2. Layered Pixie
Show off the different tones of your red hair with this layered look.
3. Curly Bob
A playful curly bob can be both flattering and sultry, depending on your mood.
4. Sleek Bob
Go sleek if you want all the attention to be on your fabulous new colour.
5. Edgy Undercut
Nothing will spice up your hairstyle like this edgy undercut will!
6. Framed Bob
Classy and impeccably framed, this cut is vibrant and glamorous.
7. Feathered Bob
Get funky with some twists and flips!
8. Layered Bob
Easy and effective, this glamorous bob shows off the wide gradient of colours in this look.
9. Short Shag
Vibrant and a bit on the wild side, this look if perfect for anyone looking to have fun!
10. Precise Pixie
Simple and precise, this look is more subtle but equally stunning.
11. Sweeping Pixie
Modern and edgy, this look retains a softness that enhances it's femininity.
12. Adorable Bob
What's not to love about an adorable bob like this? It's the perfect look!
13. Wavy Bob
Seduce your competition in a wavy bob that simply sings.
14. Twisted Bob
Twisted to achieve a sense of natural beauty, this look is gorgeous.
15. Curled Bob
While similar, this look screams edgy in a way the last one didn't.
16. Elegant Bob
Joanie swept men and women off their feet on Mad Men. It's no surprise the actress who played her has that power off screen as well.
17. Edgy Bob
Cutting edge and undeniably gorgeous, this is a high fashion look.
18. Blunt Fringe
Unique in comparison to most, this chic look remains soft and flattering.
19. Rocking Pixie
Bright and playful, who wouldn't want to rock a pixie like this?
20. Swept Pixie
Rihanna graces us with a insanely red cut that is absolutely stunning.
21, Messy Pixie
It's simple and chic. You really can't go wrong here.