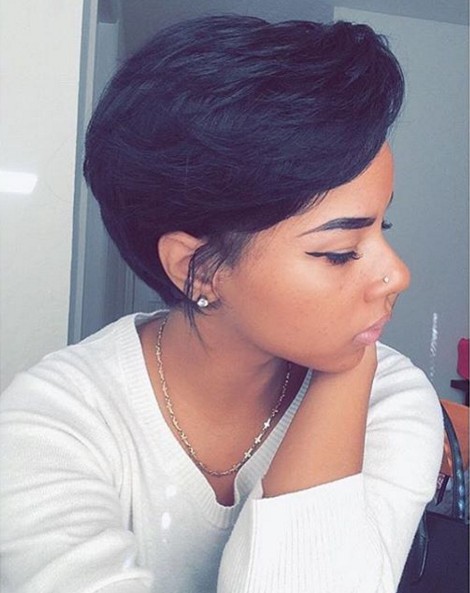 18 Amazing Modern Afro Hairstyles
Natural black hairstyles are totally trendy this year and these all-new Afro hairstyles are a great way to show off your cool, casual summer style!
There are several variations on the modern Afro hairstyles starting from a teeny-weeny 'fro and including all types of curls, waves and stretched out 'big hair' extravaganzas!
Protective Afro hairstyles
If you're one of the millions of women who are currently 'transitioning' from chemically straightened hair to natural hair, you may have decided that the best way is to cut off the damaged ends.
Yes, I know we resist the idea of going short so we can grow strong, healthy hair from scratch. But short styles are really, really hot this year, so getting a trendy pixie cut can be very liberating!
And don't forget that a pixie cut can knock years off your age and will really accentuate your eyes!
Natural Curls with Pixie Hairstyle
Short and curly Afro hairstyles
You only need about 2 inches of hair for a chunky, curly Afro hairstyle and you can style it so easily when it's damp, you'll gain hours of free-time you used to spend straightening your hair!
Just wind one-inch sections in no particular pattern around your finger and the curly texture of your hair will keep each little section in place while it dries naturally. Then you can leave the curls to create a fabulous textured look close to the head or fluff them up a little with your fingers for more volume and a trendy, tousled finish!
Curly Hairstyles for Black Women Short Hair
Creating variety in Afro Hairstyles
Afro hairstyles are some of the most versatile looks you can get! So you can style your natural hair in lots of different looks using braids, braided details and the latest contemporary twists and urban-chicdreadlocks!
Bantu twist-outs are a great Afro hairstyle and one that anyone can do at home! Two-strand twists create a beautiful texture to natural hair and flat twists can be worn throughout your hair, left to hang down or taken back into a cool ponytail or bun hairstyle.
Long Afro hairstyles
If your hair is long, there are lots of styles that use trendy diagonal braids to create a stunning upstyle. For instance, just one thick braid on the top of the head or an elaborate updo created from lots of thin plaits arranged in an eye-catching pattern decorating the back of the head.
Straight Long Hairstyle with Black Hair
Or copy the runway models at this year's Milan fashion shows and pin long Afro hairstyles back to be sleek around the top and sides, but with a fabulous frizzy- textured cloud of soft hair at the back!
So if you're ready to choose a fabulous new look, browse our gallery of amazing Afro hairstyles and love your natural hair!
Stylish Short Pixie Cut
Natural Hairstyle for Short Hair
Straight Pixie Haircut
Undercut for Short Hair
Blonde Short Pixie Haircut
Trendy, Short Straight Haircut
Natural Curly Hairstyle for Short Hair
Cute Everyday Hairstyles for Short Hair
Ombre Long Bob Hair Cut
Amazing Modern Afro Hairstyles
Ombre Medium Bob Hairstyle with Straight Hair
Ombre Hairstyles with Medium Hair
Curly Long Hair
Curly Long Hairstyle
Straight Long Hairstyle with Red Hair