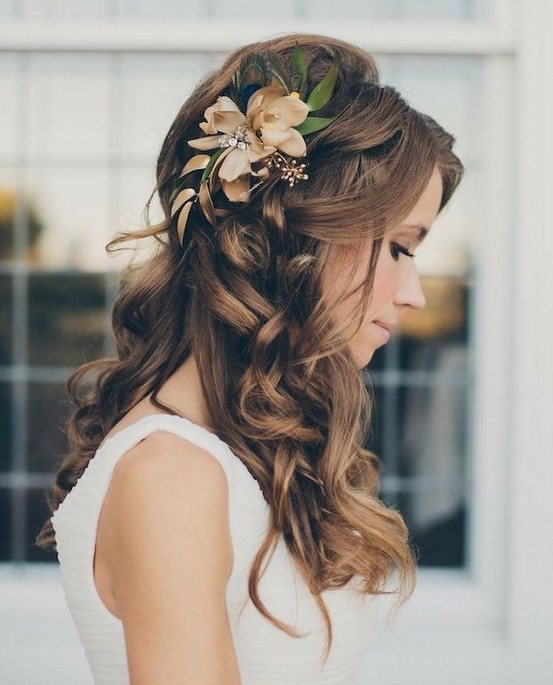 35 Wedding Hairstyles: Discover Next Year's Top Trends for Brides 2020
If you're planning to be married or attend a wedding next year, I expect you're pretty excited to see the styles and hair colours of the best wedding hairstyles!
Highlights and trends to note
If you're planning for next year, don't forget that a lot of the current fashions in hair highlighting will be different. In particular, the new trend in hair colours will be towards cooler shades, which may affect the choice of wedding outfit.
Platinum blonde and cool-blonde will be 'in' and instead of the warm hair colours we are currently wearing, the best wedding hairstyles will have ash-blonde and ash-brown highlights!
French Twist Updo Hairstyle: Wedding Hair Inspiration /Via
Most previewed best wedding hairstyles 
The preview pics are showing brides and guests wearing some fabulous short styles with gorgeous 'fascinators' and floral headpieces.
Each season's wedding hairstyles reflect the changes in mainstream hair fashion and some of the best wedding hairstyles for 2018 for short and medium length hair!
Gorgeous Half Up Half Down Hairstyles for Wedding /Via
Pixies are the best wedding hairstyles 
Elaborate upstyles are slipping out of fashion as contemporary brides are opting for a more chic and natural look.
If you usually wear your hair short, it's easy to fake a flattering up style at the front by styling your hair back to behind the ears and adding a trendy pompadour puff above the forehead. If you're the bride, you can pin your wedding veil behind the pompadour and look as if you have a traditional updo!
Sleek and chic
One of the coming trends in best wedding hairstyles for 2018 that we love is the new range of dainty silk and floral headpieces complete with a romantic retro wide-mesh veil lightly covering the face.
Wedding Updos for Hair Accessories /Via
This is a lovely way to show off a pretty face beneath a sleekly styled, smooth short haircut with a side parting. It's equally suitable for formal or informal weddings as it is a very 'tasteful' classic look.If you're planning to have a simple, well-tailored wedding dress – it's a beautiful way to complete your look!
Wavy retro-bob
Lots of brides and guests have bobs and the best wedding hairstyles for 2018 will certainly be featuring curly bobs.
One of the special wavy bob styles that's will be very popular for special events is the classic, finger-wave style that adds a delightful touch of Old Hollywood glamour. The softly contoured head-waves create a beautifully flattering frame for the face and will stay in place all day, without needing any extra attention!
Why not browse the full range of best wedding hairstyles for 2018 in our Pophaircuts.com new Inspiration Gallery right now and find the perfect look for your happy celebration day!
Wedding Long Hairstyle for Braid /Via
Intricate Wedding Updo Hair Styles /Via
Loose Wavy Hairstyle /Via
Long Waves Hair for Wedding /Via
Side Braided Updo Hairstyles /Via
Romantic Wedding Updo Hairstyles /Via
Side Do Wedding Hairstyles /Via
Beautiful Wedding Updo for Bridal /Via
Easy, Wedding Long Hairstyles /Via
Elegant Wedding Updo Hairstyles for Long Hair /Via
Messy Curly Hairstyle for Long Hair /Via
Half Up Half Down Hairstyles for Wedding Long Hair /Via
Chic Wedding Updos /Via
Classy and Elegant Wedding Hairstyles for Long Wavy Hair /Via
Updo Hairstyle with Braid /Via
Side Updo Hairstyle for Wedding /Via
Latest Wedding Hairstyles for Inspiration /Via
Chic Half Up Half Down Hairstyles for Wedding /Via
Fabulous French Twist Updos /Via
Best Wedding Hairstyles /Via
Half Up Half Down Hairstyles for Curly Hair /Via
Wedding Half Up Half Down Hairstyles with Braid /Via
Jaw Dropping Wedding Updo Hairstyles for Bride /Via
Perfect Braided Updos Hairstyles for Wedding /Via
Bridal Updos for Bangs /Via
Brilliant Loose Curly Wedding Hairstyles /Via
Romantic Vintage Wedding Updo Hairstyles /Via
Flower or Embellishment Updo Hairstyles for Medium Hair /Via
Elegant Flower Updo Hairstyle /Via
Side Hairstyles with Braid /Via
Tousled French Twist Hairstyle /Via
Wedding Hair Style /Via