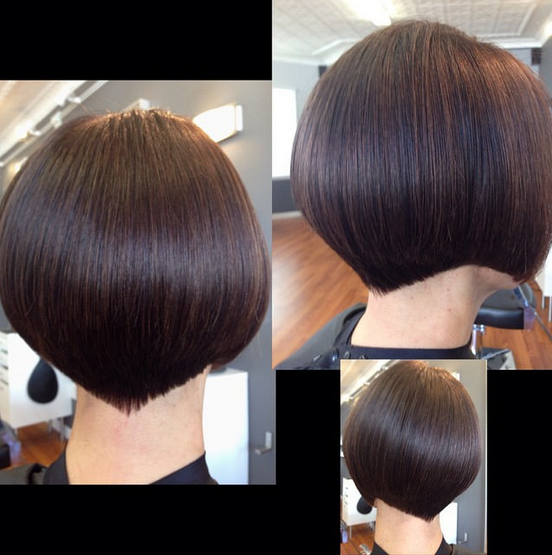 30 Hottest Simple and Easy Short Hairstyles
Now that long extensions have got 'the chop' from fashionable hair designs, you absolutely need to stay up-to-date with the latest trends in simple and easy short hairstyles!
Short haircuts are sweeping through the best, new celebrity looks and that means they are super-hot!
Choppy, shaggy or smooth?
All types of short bobs are top of the pops in trendy salons. So for a round face go for a choppy fringe and sharply angled asymmetrical bobs that will downplay the round symmetry of a full face.
Easy Short Haircut with Side Swept Bangs /Via
If you fancy a pixie cut, ask for lots of layers that can be styled for face lengthening volume on top and around the crown, with the hair tapered down to be close to the head at the sides.
Simple and easy short hairstyles tailored-to-fit
Heart-shaped faces can easily be balanced by a flattering simple and easy short hairstyle, such as a chin-length bob.
If your forehead is too wide, ask for a fringe that curves downwards at the temples, from an arched shape that's shortest in the centre of the forehead.
Stylish Red Color Hair Styles for Short Hair /Via
Or you can have a fringe that's parted in the centre, which will also focus on the middle of your face and help diminish forehead width.
And to downplay a narrow chin, get a chin-length shag or bob cut and just flick-up the hair on either side of the chin to create the illusion of more width.
Long or square faces
Long or squarish faces look great with a chin-length bob styled for round volume at the sides. This can be a smooth, curved line that moves in at chin-level, big round curls or edgy twistywaves adding width at cheekbone level.
Pretty Hair Color: Short Haircut Ideas for Long or Square Faces /Via
Just add a long, asymmetrical fringe and you'll see that one of the latest simple and easy short hairstyles can balance out your face-shape beautifully!
Short shag haircuts
The short shag haircut is back with a 21st century twist that includes fabulous highlighting with the balayage free-hand technique to accentuate the tousled texture of spiky or softly, wispy tips.
Blonde Short Shag Haircuts: Women Hairstyle Ideas /Via
Fine to thick hair looks great in a shaggy style, because it's easier to create more volume with lots of layers in fine hair. And a razor-cut shag will thin out and give lots oflovely shape to dense, coarse hair. Clever stuff!
There's a fabulous, simple and easy short hairstyle just waiting for you in our amazing gallery below, so find the best new style for your face-shape today!
Simple and Easy Short Pixie Hairstyles /Via
Cute Short Haircut with Side Bangs /Via
Stylish Short Haircut with Long Bangs /Via
Shaved Short Haircut for Thick Hair /Via
Chic Short Haircut for Women /Via
Chic Short Haircut Side View /Via
Straight Short Hairstyle /Via
Trendy Straight Haircut for Short Hair /Via
Casual Blonde Short Hair Styles with Blunt Bangs /Via
Shaved Short Haircut /Via
Easy Bob Haircut for Straight Hair /Via
Blonde Pixie Haircut with Bangs: Women Short Hairstyles /Via
Straight Short Bob Haircut Designs /Via
Very Short Haircut for Summer /Via
Boyish Hairstyles /Via
Casual Everyday Hairstyle Designs for Short Hair /Via
Office Hairstyles for Women Short Hair /Via
Sleek Short Hairstyle: Straight Bob Cut /Via
Modern Short Haircut: Versatile Hairstyles /Via
Classic Blunt Short Bob Hairstyle for Women /Via
Spiked Hairstyles for Short Hair: Side, Back View /Via
  Short Haircut for Heart or Round Face Shape /Via
 Easy and Casual Haircuts for Short Hair: Women Everyday Hairstyles /Via
Blonde Short Hair Style Side, Back View /Via
Straight Short Hairstyle Designs /Via
Layered Short Haircut /Via
Cool Short Hairstyles with Curly Hair: Summer Haircuts /Via
Hottest Simple and Easy Short Hairstyles /Via