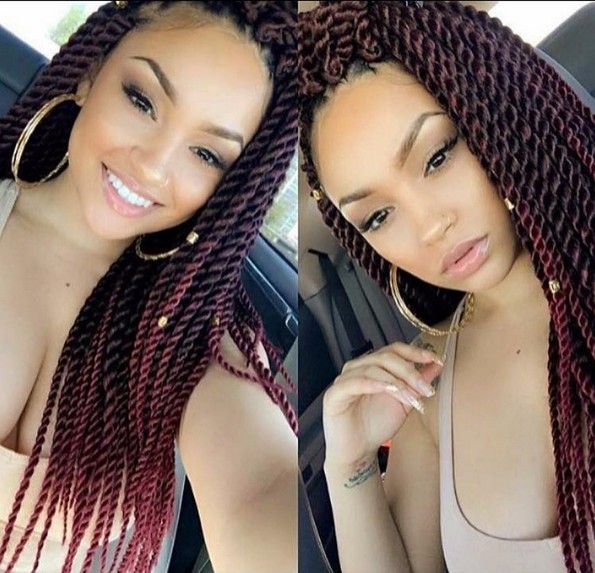 10 Chic African American Braids: The Hot New Look!
Natural hair is totally 'in' again for black women and that means the return of African–American braids and some fabulously imaginative new styles!
So if you haven't worn an African-American braids' before, you must see these gorgeous, 21st century looks!
Variety
African-American braids range from playful, sassy and casual looks to high-fashion and effortlessly elegant hair-designs that can be absolutely breath-taking!
For instance, following the mainstream trend for asymmetrical braids, long hair can be plaited to create one thick, black braid moving diagonally across the top of the head.  It's a really show-stopping updo that also keeps your hair beautifully controlled!
Chic African American Braid
Braid boosters
The plait should be braided loosely to create lots of volume and if your hair isn't thick enough, it's easy to use hair-extensions or a silk scarf to give the 'fat-plait' volume you need for this fabulous African-American braids look.
Half up half down African American braids
If you like to wear your hair loose, there are lots of styles that mix African-American braids with loose lower lengths, too. Lots of the new braided looks have the front braided in straight, zig-zagged or diagonal braids, with the rest of the hair loose. This creates some fabulous volume from the crown for a very contemporary dual-textured look.
Twists Braid Hair Style
Natural looks are hot
During the hot weather, wear your hair in loose, curly styles with braided details and in cold spells, try the more fully braided African-American braids that protect our hair. Box braids are still trendy and if your hair is transitioning from chemically straightened to natural, a few short, loose braids may be just what you need to liven up your look as your hair grows.
Beautiful African American Braid
Contemporary chic
African-American braids are definitely chic and modern again and provide a lasting hairstyle that will free you from expensive and time-consuming hair care sessions that are no longer necessary!
Follow the asymmetrical trend with one side braided and the other side in wavy layers, or get a new twist on the inverted bob with the back in African American braids and the sides smooth or curly!
Braided Long Hair
Updo's
Slender African-American braids can be styled in all sorts of imaginative updo's, including stylish buns, chignons and hair 'knots', for casual or formal activities. It's time we stopped worrying about keeping our hair unnaturally straight and started to enjoy styling our fabulous and unique black hair!
Two Twisted Buns on Senegalese Twists
African American Twists Braid
Flat Twist Natural Hair Updo
Box braids with Long Hair
Extra Cool Short Box Braids
Easy Braid Hair Style
So if you're ready for this year's hottest natural looks, browse our fabulous Pophaircuts.com gallery of the latest African-American braids now – and get yourself an amazing new look today!