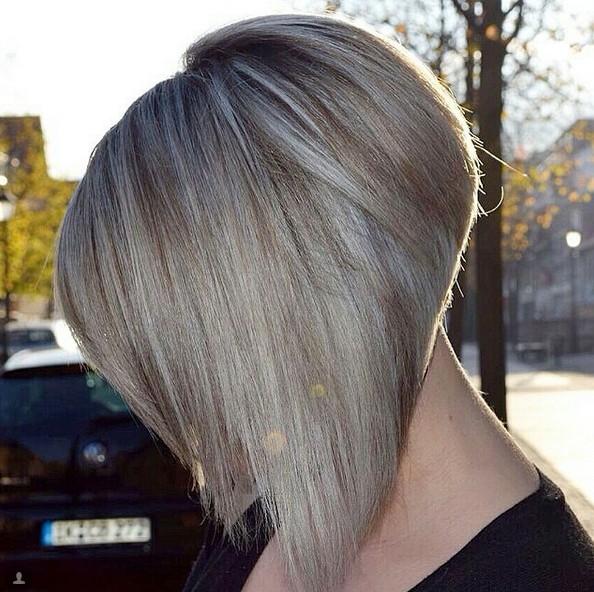 22 Cute Inverted Bob Hairstyles
Inverted bobs are just downright stylish; and that's a fact. Shorter in the back and longer in the front, they offer angles from edgy and sharp to subtle and seductive, so it's easy to find a cut that suits your style. Check out these 22 cute inverted bob hairstyles that will have you craving to chop your locks.
Chocolate Brown Framing Inverted Bob with Full Fringes
This look is super adorable, framing the face beautifully thanks to a cut that flips inward just below the chin and full fringes that skim just below the eyebrow. Loving her soft chocolate brown hue as well!
Silky Inverted Bob with Volumized Back
Screaming with modern fashion and finishing with a contemporary look, this edgy and artsy look is sure to be a hit any time of day. She leaves her brown and black locks stick straight, adding some product for a silky appearance. She teases the back just a tad to really showcase her uniquely angled haircut.
Hot Pink
Take your inverted bob for ordinary to intense and eye-catching simply by indulging in one of the hottest hair colors for 2016, hot pink! Try to keep your makeup minimal with hair like this, so your hair can do the talking!
Super Short Inverted Bob with Side Bangs
A cute, flirty hairstyle that looks wonderful for round faces, her inverted bob is chopped in front by the chin and left extra short in the back. Her side bangs are adorable and they're wispy enough for her eye to peek out from behind in a sultry manner.
A-Line Style with Highlights
With an a-line look that's downright stunning, she gives her hair even more alluring contrast using blonde highlights throughout her brown mane.
Angled and Layered with Swept Back Bangs
Why stop the layers with an extreme angle? Adding layers throughout your inverted bob haircut will add so much dimension and depth, everyone will be wondering where you got your hair done! Leave your bangs lengthy and toss them back and to the side for a youthful, enticing style.
Extra Short Inverted Bob with Layered Back
Wanting to add some stunning body to your locks? It's a cinch when you start with an extra short inverted bob, the back layered to oblivion with tons of different lengths and sizes.
Lengthy Inverted Bob with Wispy Fringes
Her inverted bob hairstyle has that cute, schoolgirl appear that's downright fabulous! The wispy bangs give her face a youthful makeover while an extra lengthy haircut leaves plenty of room for styling.
Asymmetrical with Side Swept Bangs
One easy way to add some enticing contrast to your locks is to opt for an asymmetrical cut. It's hip and stylish, and the extreme side part gives this look a burst of modern trend. Kick it up a notch with some sexy side swept bangs and bright blonde hair coloring for a summery hairdo that rocks.
Simple Angle: Side View
Not too extreme but not too subtle, this simply angled inverted bob hairstyle is perfect for women over 50 or women who simply want a tame style that's still on-trend.
Inward-Flipped Bob: Easy Short Hairstyles for Straight Hair
Flipping the ends of your hair in towards your face is a quick and easy way to add a coquettish bounce to your locks while framing your face perfectly. Loving her sweet, feminine inverted bob hairstyle!
Frizzy Purple Curls
Wow! Talk about some enchanting curls. These vibrant purple locks are given some intense and lively body with some frizzy medium sized curls. An awesome everyday look!
Extreme Angled Inverted Bob with Highlights
The combination of vibrant grayish-white locks with hints of soft browns throughout creates a trendy and stylish contrast that rocks 2016. But what we're really loving is this intense, edgy angle with a super-chopped back and tons of length up front; so sexy!
Extra Short Inverted Bob with Lots of Stacking
'Stacking' the back of an inverted bob is an easy way to create a textured hairstyle that looks full-bodied and fun. Loving her contrasting colors from the top and bottom half of her locks; so gorgeous.
Loads of Layers: Short Haircuts for Thick Hair
This funky and youthful look is loaded with tons of bouncy layers, all chopped to different lengths for a really full-bodied and flirty finish. A great look for students or for younger gals who want a perky style for everyday wear.
Sultry A-line Inspiration
While her look may appear casual and tame, it's certainly got that sex appeal we all crave. Her a-line inspired inverted bob has a subtle angle with plenty of length near the front of her face, skimming her shoulders just barely, creating a full but bouncy look. She tosses her lengthy bangs to one side for some added trend.
Mahogany Middle Part
There's seriously SO much to love about this lively and artsy look, from the beautiful mahogany coloring to the lovely layers from front to back. This textured hairstyle is certainly one that pairs well with your favorite jeans or your little black dress in a flash.
Ombre Inverted Bob: Women Short Hairstyle Ideas
Talk about some INTENSE color! This lengthy bob is brought to life using some vibrant hues, with a shockingly bright purple up top to some unique, look-at-me white ends. A 'fairytale' style that's sure to take over the room!
Super Lengthy Bob Cuts
Everyone thinks that a bob haircut has to be ridiculously short; well, this look proves otherwise! This gorgeous super lengthy bob keeps plenty of length to her man while still being bouncy and fresh. Her angle is perfect and we're loving the light brown highlights, complementing her skin tone perfectly.
Jet Black Side Part: A-line Long Bob Hair Styles
We're loving this edgy look. Her jet black locks are sexy and enticing while bright red lips complement her artsy fashion perfectly. An extreme side part leaves her lengthy side swept bangs dangling majestically over one eye, creating a mysterious and alluring appearance.
Straight Long Bob Hair Cut
This long bob has just a pinch of angle, giving the look some contrast you wouldn't find with just a simple blunt cut. If you're looking for something lengthy and cute, not too extreme, this is it.
Voluminous Curled Bob
These curls are just downright glamorous. Tons of volume thanks to a large-barreled curling iron, it's a great look for prom or any other fancy occasion where looking like a queen is a must.
Inverted bobs are just simply one of the trendiest styles to consider. Pophaircuts.com which style are you considering?