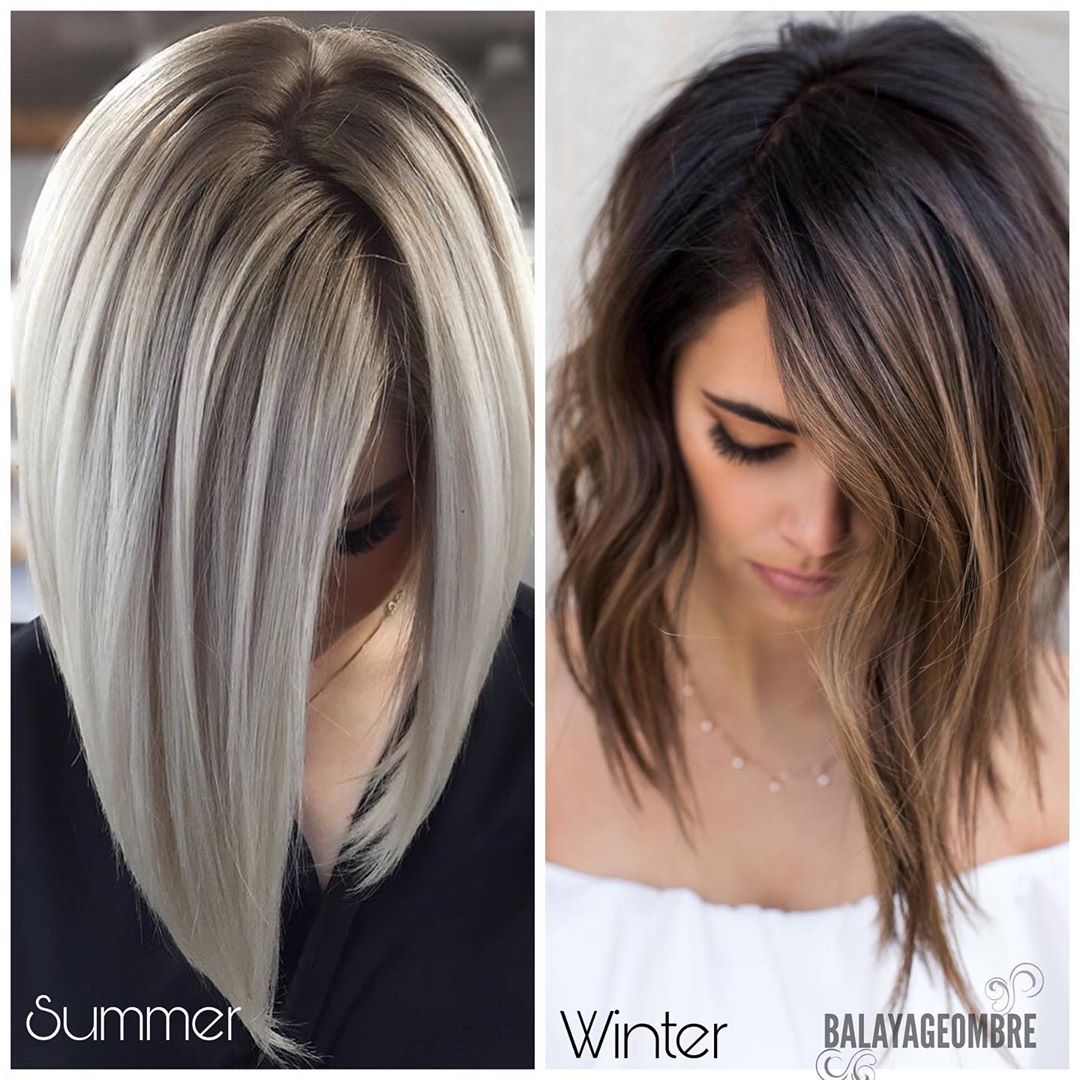 10 Balayage and Ombré Hairstyles for Shoulder-Length Hair
Balayage and ombré are two of the trendiest, most common salon hair-coloring techniques. Although they share some similarities, ombré and balayage are actually not the same–contrary to popular misconceptions–and there are some key differences between these two techniques. Ombré involves applying color to hair in a gradient. It generally starts with the darkest shade at the roots and fading brighter or lighter closer to the ends. Balayage, on the other hand, is a more complicated process that involves hand-painting color onto the surface of the hair to create a natural-looking finish. Both hair-coloring techniques require skill and experience, so it's important to make an appointment with a professional stylist at a salon if you are interested in adding ombré or balayage coloring to your style.
It can be tough to pull off ombré or balayage on shorter haircuts. Both balayage and ombré involve applying multiple colors to the hair rather than just one all-over color, so a seamless transition requires a certain amount of length. These 10 ombré and balayage hairstyles for shoulder-length hair prove that these hair-coloring techniques can work on shorter cuts without looking choppy or unnatural.  If you have hair that is shoulder-length or shorter, check out the 10 hairstyles below to get some ombré and balayage inspiration. You can even use the pictures below as reference for your stylist at your next salon appointment.
1. Summer and Winter Balayage
The pictures above show you how you can switch up your hair color with the seasons in a way that looks totally natural. Both of these pictures show the same shoulder-length, A-line lob with drastically different seasonal coloring for summer and winter.
The summer balayage style features ashy beige at the roots for a more natural look and weaves in brighter blonde highlights for a cheerful, sunlit finish. As for the winter balayage, it starts with dark copper roots and blends in intermittent strands of strawberry blonde that warm up this wintry style.
2. Black to Blue Ombré
If you want to try a fun color in your hair but don't want to commit to an all-over fantasy coloring, try an ombré style that lets you keep your roots natural and experiment with bright colors closer to your ends. When you get bored of your colorful ends, you can just get a haircut once your roots grow out a bit.
This black to blue ombré features natural ebony roots that blend seamlessly into shades of navy and bright, eye-catching electric blue at the ends. It's a super fun and colorful style, but it doesn't look over the top.
3. Ashy Beige Balayage
Ashy beige is one of the current hottest hair colors. It is one of the top trends in women's hair right now. Balayage is often the best way to achieve a natural-looking ashy beige coloring.
This straight shoulder-length cut features ashy beige balayage that starts with cool-toned medium brown at the roots and fades to a lighter ashy beige closer to the ends. A few lighter, cool blonde strands blend into the beige seamlessly but make a big difference in brightening up this style.
4. Dirty Blonde Balayage
This dirty blonde balayage features ashy beige roots that fade into dirty blonde with sandy blonde ends.
This coloring is perfect for women with naturally wavy hair or women who curl their hair on a regular basis. Waves and curls help emphasize the dimension of this style.
5. Light Brunette to Blonde Ombré
The colors in the hairstyle above are blended together so expertly that it almost looks like one all-over color. In reality, the seamless balayage in this style pulls together multiple shades of blonde and light brown.
It starts with ashy beige roots that blend seamlessly into platinum blonde highlights and subtly fade to lighter cool-toned blonde at the ends. The result is perfectly balanced coloring that looks completely natural.
6. Blonde and Rose Gold Balayage
Rose gold is one of the trendiest hair colors for women right now. It's super stylish and almost universally flattering, and it adds fun color to your hair without stealing the spotlight away from the rest of your look.
This shoulder-length lob features multiple shades of platinum and sandy blonde with hand-painted rose gold strands that blend bright, trendy color into this hairstyle.
7. Platinum Blonde Balayage
Platinum blonde is a tough color to pull off with a natural-looking finish. Balayage can come in handy for making bright blondes look more natural.
This wavy, shoulder-length A-line bob features ashy beige roots that fade almost imperceptibly into platinum blonde. Cool-toned, white blonde strands help tone this style and hold brassiness at bay in between salon visits.
8. Ashy Beige to White Blonde Ombré
This straight, shoulder-length hairstyle shows off simple, classic balayage done the right way.
It features ashy beige roots that fade into white blonde ends. The blending between colors is seamless, which gives this style a natural-looking finish.
9. Dark Auburn and Blonde Balayage
Auburn and blonde are tough colors to blend together, but this cropped bob with balayage manages to pull it off without a hitch.
In this style, dark auburn roots blend into sandy blonde strands that take over closer to the ends. The result is bright, warm coloring that looks natural and doesn't show any choppy color changes.
10. White Blonde Balayage
This short A-line bob looks impossibly sleek and shiny, thanks to its perfectly blended white blonde balayage.
The balayage in this style features ashy beige undertones blended with cool-toned white blonde to create a cool blonde color that doesn't look fake.