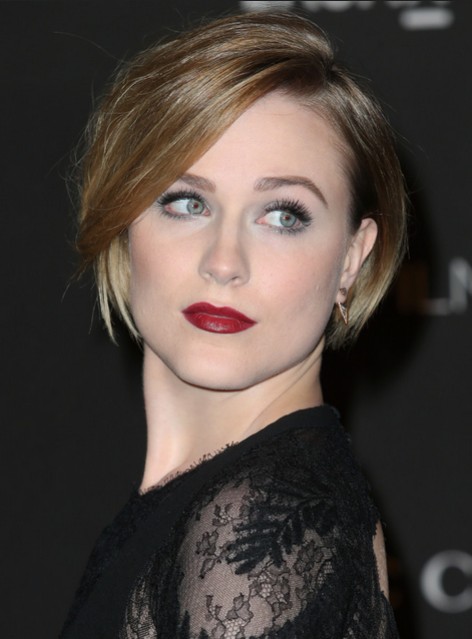 40 Celebrity Short Hairstyles: Short Hair Cut Ideas for 2024
Keep right up to date with approaching trends here and now as we cover the major trends and the celebrity short hairstyles! What is it about some hairstyles that makes them seem sexy, and more attractive than others? Good question. Well, although we know that beauty is in the eye of the beholder and sexiness is all down to personal preferences, there are some hairstyles that definitely seem sexier than others.
So if you'd like to 'sex-up' your hairdo and your love life, read and learn!
Julianne Hough Short Straight Hair Style /Getty Images
Short blunt bobs
And if you're not sure if your rounded face is very sexy or not, jazz it up with a precision-cut short bob with blunt cut outline and a full, straight fringe making a strong line just above your eyes.
This qualifies as a sexy short hairstyle for three very important reasons. First of all, it is a good way to slim down the appearance of full cheeks by adding some angles and secondly, it really emphasises your eyes.
Anne Hathaway Short Hairstyle /Getty Images
Cropped pixies
Pixie cuts that are cropped short at the back and sides look feminine and fabulous with a long sweeping section on the top that falls provocatively over one side of the face, too. You may not have thought about it yourself, but I am reliably informed by the men in my life that the sight of an uncovered nape and neck can be very erotic!
Charming and Alluring Bob Hair with Layered Sides and Awesome Layered Bangs /Getty Images
So forget the stereotype of long hair being the only style that really appeals to men, because it's just another myth. Instead, take a look at our super Inspiration Gallery, packed with the sexiest short hairstyles on offer this season! And then 'go get 'em, tiger'!
Zosia Mamet Short Haircut /Getty Images
Desiree Akhavan Short Hair Style /Getty Images
Mary J. Blige Blonde Short Hairstyle with Side Bangs /Getty Images
Ali Fedotowsky Short Hairstyle: Cute Layered Wavy Haircuts for Short Hair /Getty Images
Molly Ringwald Short Haircut: Celebrity Pixie Hairstyles for Blonde Hair /Getty Images
Sienna Miller Short Hair Style /Getty Images
Taylor Swift Short Haircut: Soft Wavy Hairstyle with Side-Swept Bangs /Getty Images
Kate Nash Short Hair Cut /Getty Images
Kristen Stewart Short Hairstyle: Stylish Haircuts  /Getty Images
Kelly Osbourne Short Fauxhawk Haircuts:Shaved Hairstyles /Getty Images
Kate Mara Short Hair Cut: Cute Short Wavy Hairstyles /Getty Images
Lisa Rinna Haircut: Layered Short Hairstyles for Thick Hair /Getty Images
Emma Stone Blonde Short Hair Style: Blunt A -Line Bob Haircut /Getty Images
Alison Sudol Short Haircut: Straight Short Bob Hairstyle with Side Bangs /Getty Images
Lena Dunham Short Hairstyle: Easy Bob Haircuts /Getty Images
Evan Rachel Wood Short Hairstyle /Getty Images
Julie Bowen Short Haircut: Chic Blonde Curly Hairstyles for Short Hair /Getty Images
Jodie Foster Short Hairstyle /Getty Images
Kaley Cuoco-Sweeting Blonde Pixie Haircut /Getty Images
Tallulah Willis Blonde Short Haircut /Getty Images
Kris Jenner Black Short Pixie Haircut with Side Bangs /Getty Images
Megan Mullally Short Haircut /Getty Images
Felicity Jones Brown Short Hair Style /Getty Images
Audrey Tautou Short Haircut /Getty Images
Charlize Theron Short Hairstyle /Getty Images
Alicia Quarles Short Haircut /Getty Images
Halle Berry Short Hairstyle /Getty Images
Kristen Stewart Ombre Short Haircut /Getty Images
Kate Lanphear Short Pixie Haircut with Long Bangs /Getty Images
Olympia Scarry Short Hair Style /Getty Images
Elsa Pataky Casual Short Hairstyle /Getty Images
Jennifer Lawrence Short Haircut: Ombre Wavy Bob Hairstyles /Getty Images
Sienna Miller Short Haircut: Pixie Hairstyles for Fine Hair /Getty Images
Jamie Lee Curtis Short Hair Cut: Pixie Hairstyles for Women Over 50 /Getty Images
Jennifer Hudson Pixie Haircut: Black Women Short Hairstyle Ideas /Getty Images
Sofia Coppola Brown Short Wavy Hairstyle /Getty Images
Elizabeth Vargas Short Razor Haircut: Short Hairstyles for Women Over 40 /Getty Images