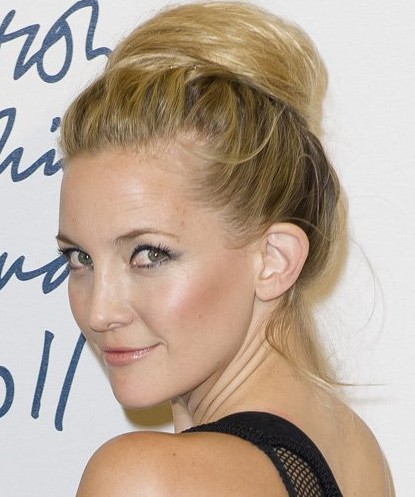 Kate Hudsons Beautiful Bun Hairstyles
A great hairstyle can always attract all people's attention. If you want to find a graceful and trendy hairstyle, the bun can be your ideal option.
Now let us have a look at Kate Hudson's breathtaking bun and then get some inspiration. She got the cameras wild at the 2011 British Fashion Awards with long blonde hair swept up into a luscious ballerina bun.
Kate Hudson's stunning ballerina bun can be quite simple to create and maintain. First, comb all the hair back and then place it at the up-top of the head, fixing it with a rubber band. Make all loose hairs of the ponytail smooth with a comb to get a neater bun. Twist the tail into a tight rope. Wrap hair rope tightly round the tail base, twisting more as needed. Tuck the ends of the hair rope into the tail base. Fix the bun with some hair pins. Some hairspray can help secure the hairstyle greatly.