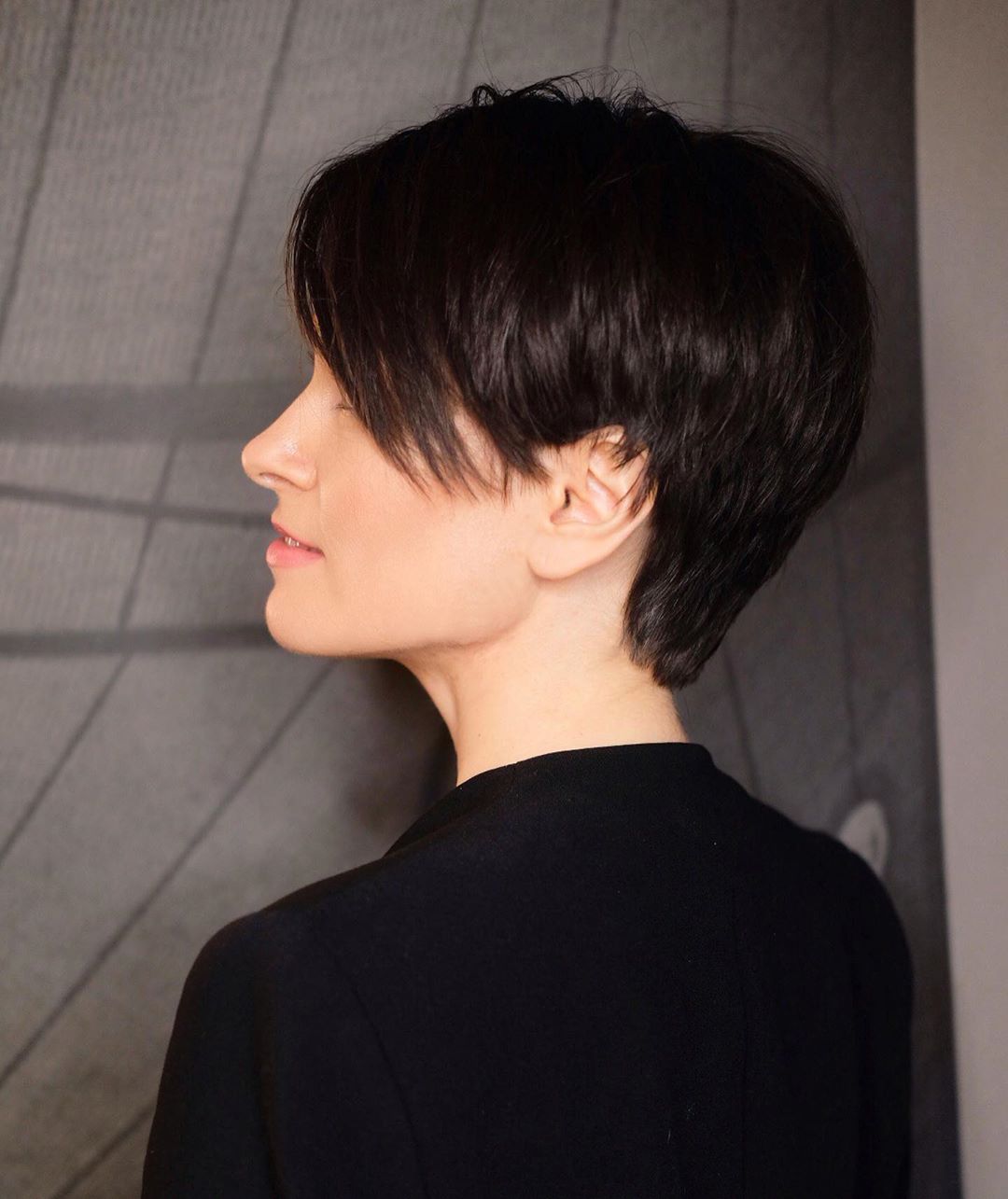 10 Easy Stylish Pixie Haircuts for Women
Pixie cuts are bold, daring, and practical. They are low-maintenance cuts that require very little time and energy to style on a daily basis. Long-haired women who take the plunge to chop their locks into a close-cropped pixie cut are often shocked at how much time they save every day when they are able to style their pixie to polished perfection in just a few minutes.
Not only are they practical and low-maintenance, pixie cuts are also timelessly stylish.  These 10 pixie cuts offer the best of both worlds. They are in line with the current hottest trends in women's hair and will have you looking polished and put-together every day. Plus, these super stylish pixie cuts are also quick and easy to style and help shave a good amount of time off your morning routine without forcing you to compromise on style.
1. Spiky Gray Pixie with Fringe
This gray pixie cut feature spiky styling and flirty fringe. It is an undeniably edgy, bold, and ultra-trendy style that somehow manages to still look natural.
The charcoal gray roots of this pixie cut fade seamlessly into white blonde ends to create a bold but natural-looking style.
2. Rounded Undercut Cool Blonde Pixie
This cool-toned blonde pixie pulls off a one-of-a-kind shape with rounded layers on top that blend into shaved sides and a buzzed undercut in back.
The result is a bold, daring, and totally trendy pixie cut that will put all eyes on you wherever you go–in the best way.
3. Curly Brunette Pixie with a Fade
This natural brunette pixie proves that curly-haired girls can rock pixie cuts, too!
A smooth fade in the back expertly blends the shaved edges of this pixie into its close-cropped layers in back. Longer, curly layers on top add natural-looking volume and make for low-maintenance styling for this practical pixie cut.
4. Straight Piece-y Pixie with Side Bangs
Long, wispy side bangs add flattering length to the front of this pixie cut. Longer layers in front allow this piece-y pixie to frame your face without looking too bulky.
The layers of this pixie cut are smooth and straight, but their tousled styling gives this cut just the right amount of texture and volume without looking messy.
5. Asymmetrical Brunette Pixie with Side Bangs and Blue Highlights
Take a risk that will actually pay off with this asymmetrical pixie cut. With one side shaved and one side sporting long angled layers and side-swept fringe, this pixie cut has a lot going on.
Fortunately, every feature of this cut manages to blend together with a seamless, streamlined finish. As for color, subtle blue highlights add extra fun to this natural brunette pixie cut without overwhelming your entire look.
6. Tousled Gray Blonde Undercut Pixie
This ultra-cool gray pixie cut gives off serious mohawk-chic vibes. It features a sharp undercut with completely shaved back and sides. Longer, tousled layers on top add volume and keep this cut from falling flat.
Perfectly blended all-over gray blonde coloring adds another dimension of edgy, modern, cool style to this pixie cut. Plus, this undercut pixie is super low-maintenance–styling it will hardly add any time at all to your morning routine.
7. White Blonde Pixie with Side-Swept Fringe
This sleek pixie cut successfully pulls off the notoriously tough task of retaining length in the front of a pixie cut without looking too heavy head-on.
Its side-swept fringe brushes the tops of your eyebrows with piece-y ends that frame your face without adding extra bulk. All-over white blonde coloring give this pixie a modern, trendy edge to this pixie, and smooth, straight layers add sleek, streamlined style.
8. Piece-y Platinum Blonde Pixie with Fringe
Texture is very important in pixie cuts. A pixie cut that lacks the textured layers it needs can be tough to pull off. This bright, edgy platinum blonde pixie cut proves just how crucial texture is to any pixie cut.
Piece-y, ultra-texturized layers of varying lengths comprise this bouncy, flirty, and fun pixie cut. Low-maintenance spiky styling and texturized angled fringe in front are the finishing touches that perfect this flattering platinum pixie.
9. Rose Gold Pixie with Long Rounded Layers
This edgy, ultra-modern pixie sets itself apart from the crowds with its multi-dimensional rose gold coloring and long rounded layers.
Pink-y rose gold at the roots of this unique pixie blends seamlessly into warm, bright platinum blonde ends. Piece-y, textured layers rid this cut of excess bulk and a rounded finish adds sleek style to this one-of-a-kind pixie cut.
10. Classic Brunette Pixie with Side Bangs
This natural brunette pixie maintains the familiar shape of a classic pixie cut with a distinctive modern edge that keeps it in line with current top trends.
Textured ends and piece-y layers give this pixie a streamlined style and keep it from looking bulky or boxy. Long, straight side-swept bangs add a smooth, sleek finish to this classic, classy pixie.