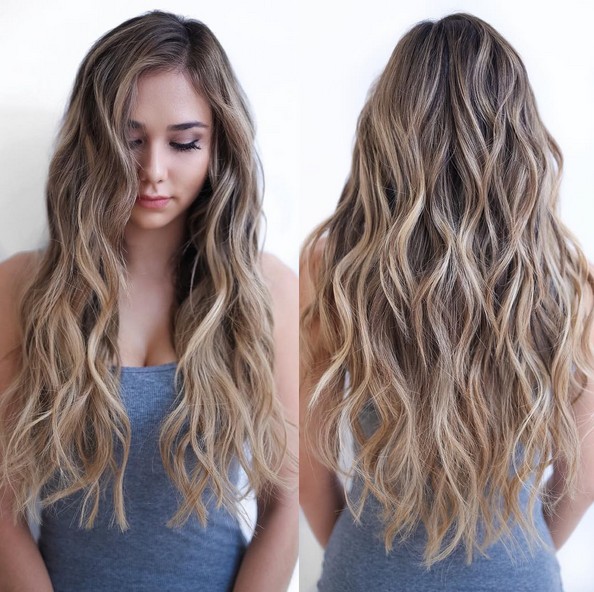 10 Beautiful Balayage Highlight Ideas
Balayage is a hair color technique that produces lovely highlights that look effortless and natural. Fall in love with this new on-trend coloring technique and check out these beautiful Balayage highlight ideas.
Light Ash and Golden Brown Highlights
Dark roots that need a touch of lightening should consider Balayage highlights. This fabulous style intertwines a desirable light ash tone with platinum ends and golden brown up top. The transition is subtle and creates a smooth, exotic finish that's downright lovely- especially when tossed into some charming ringlets.
Caramel Lilac Highlights
Lilac is a very springy, super-trendy hue that's adorning the heads of women across the world for 2016; and it just so happens to be a fabulous pairing with caramely tresses. This golden, flirty mane is given refinement with some polished curls that are left stiff and stunning.
Natural Light Ash Highlights: Ombre, Balayage Hairstyle
If your brunette hair is craving some natural-looking lightness, consider this stunning Balayage option. The ashy shade of blonde is subtle and has a natural appeal that gives you that Sunkissed style we all know and love.
Honey Highlights: Wavy Hairstyle with Shoulder Length Hair
On the other hand, if you're looking for something a little more bold and distinctive, toss in some glowing honey highlights to your dark brunette base. The contrast is highly recognizable and highly enjoyable all at once.
Blonde Highlights and Lowlights
Platinum locks need a little bit of diversity to make them really "pop", so dazzle in the sun this summer with a complex blend of blonde highlights and lowlights to contrast majestically. Leave your long locks straight to showcase the painted Balayage beautifully!
Pink Blend
Ready to let your inner punk rock girl shine bright through your locks? Then get wild and funky with this unique pink Balayage blend. There's some rich purple-pinks thrown in with a soft coral hue for a rich pink shade that's eye-catching and playful. A subtle touch of wave pronunicates the fun attitude of this look!
Honey Blonde Ends
Taking on a more ombré approach, she leaves her sultry brown roots hanging out a few inches, the lower half boasting a delicious honey blonde hue that's bright and spunky. Such an elegant blend that's truly enhanced with some romantic waves.
Light Brunette Balayage
With summer right around the corner, we're all in search of a bright and perky hairstyle that will dazzle in the sunlight. That being said, give your brunette locks some Sunkissed appeal with a few charming blonde highlights.
Brunette Balayage
If you want to keep the Balayage a bit more subtle and showcase your brunette hair exquisitely, toss in a few lighter brown highlights to create a sultry, alluring blend that's soft and smooth.
Bronde Balayage
Achieving that trendy Bronde look is a cinch with Balayage! Mix in some ashy blonde tones with your deep brown base for a Bronde style that's sure to take over the room. Pophaircuts.com what's your favorite Balayage styles?