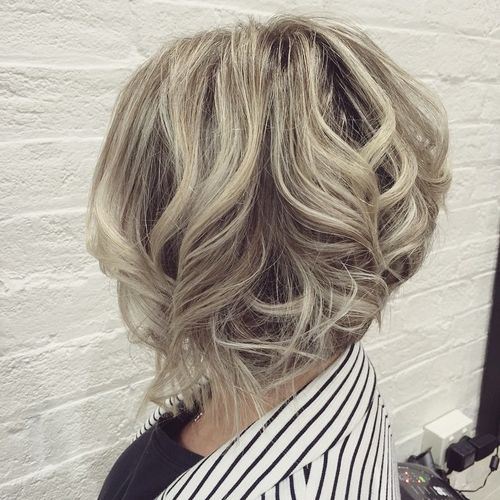 22 Stylish Styles for Inverted Bobs
Inverted bobs are all the rage right now, but how can you take your polished look to an all-new, sassy level? If you're ready to shake things up a bit and add some attitude to your style, consider one of these sassy styles for stacked bobs.
Bouncy Voluminous Curls
You will need a large-barreled curling iron to recreate this 'do, and if you don't have one already we highly recommend adding one to your styling collection. These flirty loose curls have heaps of volume, and hairsprayed in place they're able to bounce with every step.
Elegant Curls
The great thing about lengthier bobs is their ability to be easily styled! This fashionista combines the perfect amount of elegance and sass for a sophisticated style that can easily be dressed up for fancy occasions.
Chic Teased Layers
Edgy layers define this rockin 'do! There's a choppy, lively blend of short and long layers, which can be both delicate if left alone, or made fierce and chic with a rich dark brown coloring and a bit of teasing for messy volume.
Asymmetrical Flipped Balayage
Balayage is a HUGE trend right now, so obviously these dirty blonde Balayage locks are a knockout on their own. But paired with a quirky asymmetrical cut and a sassy flip away from the face, this majestic style is given tons of fierce attitude. Keep makeup low key with this look.
Wavy Stacked Blonde Bob
Her lovey stacked Bob starts at jaw level and gently angles upward in the back. Leaving this Bob straight may showcase those long layers eloquently, but back combing the crown and adding some tousled loose waves gives this look an edgy, sassy makeover.
Highlighted Big Curls
Sassy? OH, yes! This flirty little number has some of the most bold and voluptuous curls we've ever laid eyes on, and they become the main attraction with golden blonde highlights atop a dark brown mane. FLAWLESS.
Extreme Shaved Undercut
So you're a gal who loves to live life on the edge, eh? This hairstyle is the best choice to suit your personality. So edgy, there's a trendy shaved undercut that lets those layers be the star of the show.
Extreme Angle
One easy way to be SASSY is to be EXTREME; and this look is JUST that! If you want to make a bold statement with your mane, try on this number. It's an eye-catching angle that's fierce and prominent, with subtle highlights near the back to tame down this wild style.
Long in Front
This is a wonderful take on the classic stacked bob hairstyle. The back is cut extra short to load up on volume, while the front is left a bit lengthier than normal to frame the face gorgeously. To make it go from casual to sassy, consider this charming balayage blonde coloring.
Sassy Piecy Fringes
We're in love with this gorgeous lengthy bob haircut, a great option for ladies with thin hair that want their fine strands to stick out. She lightly curls the ends inward for that sassy bounce, and this style cut wouldn't be complete with some piecy fringes right at eyebrow level.
Cropped Bob with Blunt Bangs
Her offbeat, edgy style is as fierce and powerful as it gets. A cropped bob style leaves loads of volume from front to back while a set of baby bangs add to the distinct style of this 'do. Finish off this fiery look with some red-hot lips and white makeup.
Polished Stacked Bob
A little bit tame, a little bit graceful, and just a touch of sass- this is the choice for ladies who want to be sassy but maintain their ultra-feminine style. Her slick stacked bob has a gentle angle and some dainty side bangs that dangle gracefully off to the side of her face. A polished, refined style that can suit any woman.
Sleek Stacked A-Line
This traditionally cut stacked a-line is a great option for older women who want a sassy stacked hairstyle that's youthful and trendy. She gently curls in the ends and adds a touch of teasing near the crown for extra body. Sassy, but still tame enough for the office or PTA meeting.
Tousled Asymmetrical Bob
Asymmetry by itself is sassy and cool, but when you add in an extreme side part and tousle your mane up a tad, you get a sassy look that's bursting with edgy attitude and volume.
Contrasting Lengths
Take the typical stacked bob haircut to the next level with some contrasting lengths! She shaves the back down super-short while the front is left extra-long. The end result? A contrast that KILLS!
Ombre!
Without going overboard on crazy cuts or angles, you can still add some spicy attitude to your look by indulging in a rich ombre color combo. Here we see a deep chocolate brown upper half, with a lovely golden brown shade on the lower half.
Saucy Waves
Her hair color is dazzling and warm, with a lovely brown shade that's lightened on the ends by use of highlights. But what makes this look SAUCY and sexy is the tight waves, adding tons of attitude and sultry body.
Flipped Back
Giving your look a touch of sass is as easy as flipping your bangs back; I bet you didn't think it was as simple as that, right? Pair your sassy flipped back bangs with some fierce makeup!
Spicy Red Angles
A sultry mahogany red shade is what makes THIS stacked bob standout. Paired with a rigid angle, it's a spicy hot look that's sure to turn heads.
Red Hot: Bob Haircut for Thick Hair
If brown ombre was a little too tame for you, don't be afraid to be BOLD with your coloring! Black and red is a FIERCE combination and a powerful mood to include with your thick stacked bob.
Cute Backcomb
Left alone, this stacked bob hairstyle is cute and adorable, a polished and refined style that can be worn to a job interview easily. But with a subtle backcomb? This cutesy look gets a bit of sassy flare that can work with the nightlife!
Chunky Highlights
Chunky highlights are an easy way to add distinct colors to your mane. The contrast is sassy and cool, and is a great choice for the younger girls.Pophaircuts.com which one is your favorite?