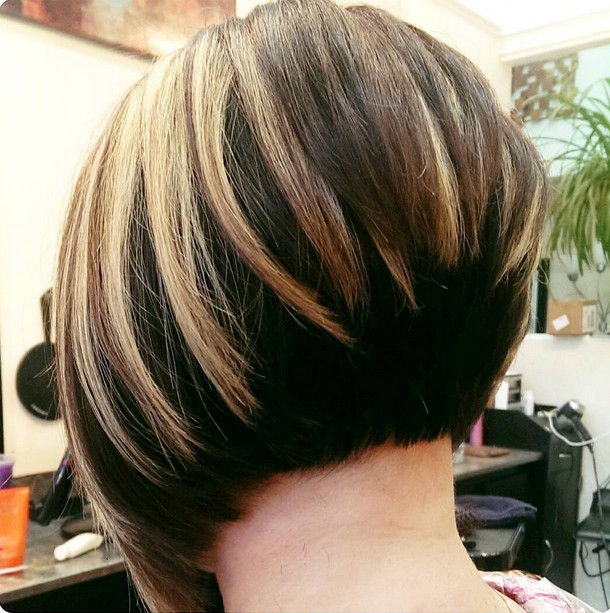 21 Gorgeous Stacked Bob Hairstyles
Stacked bob, graduated bob– whatever you call it, this haircut is totally hip and stylish. The layered back instantly adds tons of flirty volume to the mane, making it a great idea for girls with thin hair or fine hair that need some extra 'oomph'; but don't let that discourage you if you have thick hair. Bountiful locks still look lovely with this classic cut! Switch it up with one of these 21 gorgeous stacked bob hairstyles.
Shaved Back
A graduated bob doesn't tend to have a completely shaved back; but that doesn't mean you shouldn't do it! Super cute and stylish, the shaved back lets the rest of the loose locks dangle delicately and free, a bouncy hairstyle that's cute and casual.
Vibrant Purple Messy Tresses
Wow. There's no mistaking it: this hair color is super intense. But forget how vivid and edgy it is, it's ridiculously trendy. Purple is the on-trend color for 2016, and leaving your vibrant purple tresses a mess is an easy way to create a seductive style.
A Little Messy
Achieving that youthful bounce we all know and adore is a cinch when you simply mess up your tresses! This lightly tousled hairstyle is super cute and bouncy, making it the ideal hairstyle for students or for women over 50.
Lovely Waves
You can't go wrong with a little bit of texture in your mane, especially when you dazzle it up with some simple lovely waves like you see here. Casual enough for a trip out shopping with your blue jeans, yet romantic enough for date night with your favorite dress and heels.
Lengthy Curls
It really doesn't get any more charming and elegant as this. Her gorgeous bayalage blonde tresses are dazzled up with loose, romantic curls, creating an incredibly drop-dead look that is sure to turn heads. Keep makeup simple or go outrageous with colors- both work with this flawless look.
Extreme Angle with Middle Part
An extreme angle paired with an enticing jet black hue creates a polished and refined hairstyle that looks like it's right off the runway. And forget cute and flirty side swept bangs; this hairstyle is all about being edgy and daring, which means lengthy bangs and a solid middle part.
Tossed Back Contrast
Seductive attitude meets trendy tresses in this gorgeous tossed back bob hairstyle! It's rather simple: leave the bangs long enough to toss back and let the loose strands fall forward for a dainty finish around the face. Perfect look for women of all ages and the contrasting bright blonde and jet black undertone is a HIT.
Wild Layers
Her natural blonde hair coloring does wonders for creating a bright, youthful complexion that is vibrant in the summer sunlight. She adds some serious bounce and volume to her tresses by adding tons of flavorful layers of all different lengths, ensuring the bangs are kept extra lengthy for a very flirty finish.
Rounded Volume
This is a wonderful style for mature women and girls who have oval or long faces. Why? Because the rounded back with plenty of volume creates a bouncy, fun style that adds youthfulness and overall roundness to the face.
Glamorous Curls
Nothing says glamorous quite like a set of beautiful curls from root to tip. Loving everything about these stunning curls, the perfect hairstyle for black tie events where looking your BEST is an absolute MUST.
Layers and Ombre
Tons of fabulous layers really take this stacked bob from dull and boring to bouncy and FAB! The lengthy layers add some serious bounce to her overall look and the simple, natural-looking ombre is certainly appealing.
Unique Flips and Peek-A-Boo Blue
Definitely not a hairstyle you see on an everyday basis, but we are in LOVE. These flips are totally unique and wild, really setting her hair apart from the rest. And with the addition of peek-a-boo blue highlights into her jet black mane, this look-at-me 'do gets an extra dose of trendy attitude.
Very Subtle Angle
A graduated bob is all about hair being shorter in the back leading to a lengthier front, with tons of 'stacked' layers in the back. However, some women prefer a less extreme jolt of lengths and want something a little softer. This very subtle angled bob is perfect for mature women or women who desire a delicate, less intense bob.
Contrasting Colors
Stacked bobs add some serious body and lift to your mane; but if you REALLY want that voluminous, textured look, consider adding some contrasting colors like you see here.
Swept Back Bob
Adding just a touch of subtle sweeping gives your locks an elegant flare that's rich and fabulous. It's a wonderful idea for parties or homecoming or whatever fancy occasion that's headed your way. Pair with seductive red lips and silver jewelry.
Platinum Blonde Volume
There's one hair color that's so intense and vibrant it always steals the show: PLATINUM BLONDE. Perfect for spring and for summer, platinum locks glisten against the sunlight and create a very intriguing finish. Amp up the whole look with volume all over.
Natural Stacked Bob
For the lady who craves a natural look, this one's for you. Start off with natural lowlights and highlights for a beautiful look that has plenty of delightful dimension. Leave the stacked hairstyle simple, with no extreme angles or crazy layers. Leave your makeup minimal with pink lips, lip gloss, and a bit of mascara.
Peek-A-Boo Purple and Underswing
This isn't a look for everyone. No, this particular hairstyle is reserved for the adventurous lady who wants ALL eyes on HER. Platinum blonde is played up with a bit of peek-a-boo purple highlights near the front of the face, ridiculously hot and trendy. The graduated bob is flipped underneath for some spunky volume we adore.
Voluminous Back with Blunt Bangs
Whether you're 12, 22, 52, or 92, this is a cute hairstyle that can work for you. The back is filled with plenty of blunt layers to give the hair some serious volume while the front is kept rigid with blunt bangs above the eye. Gorgeous!
Stick Straight Dark Locks
Just a bit of dark blonde streaks make these beautiful rich brown locks come to life. She keeps her mane stick straight for an enticing style that can be worn virtually anywhere.
Super Short Back with Contrast
Bolder streaks really make this look 'pop' and the blonde/purple combo is outrageously trendy. We're loving her unique take on the classic graduated bob haircut, shaving the bottom half of her mane and keeping the rest of her locks incredibly short. A lovely style that's incredibly easy to manage.
Graduated bobs are always in style, but that doesn't mean the styling doesn't get switched up. Will you keep things casual with subtle angles and a bit of wave or will you switch it up with some funky colors and layers? Pophaircuts.com which one bob will you choose?