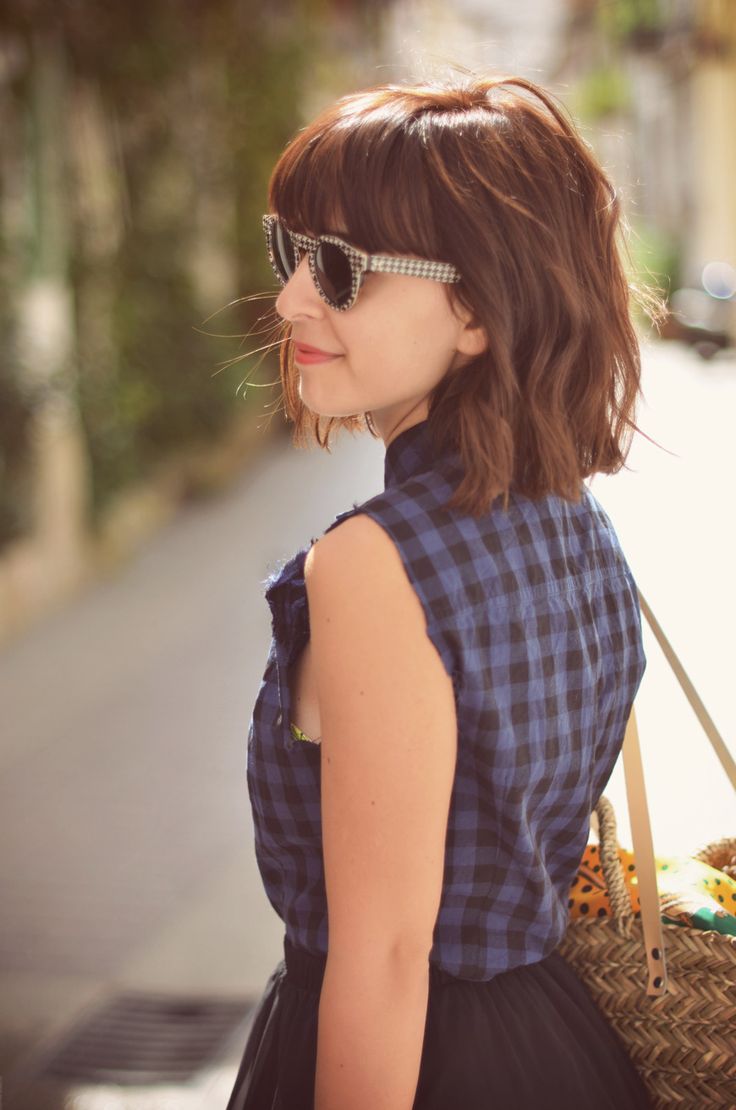 30 Must-Try Medium Bob Hairstyles
Bob hairstyles are always cute, but there's SO many options. If you're looking to switch up your short style or want to completely transform your mane, we've got a list of 30 must-try medium bob hairstyles that will drive you WILD.
Soft A-Line Cut with Natural Highlights
This super sot a-line cut is great for the gal that craves a bit of overall dimension while still keeping length. The soft a-line frames and softens the safe, creating a youthful and perky finish that's fresh- not too rigid or extreme. A bouncy look with lovely natural coloring that's perfect for spring and summer.
Loosely Curled Long Bob with Highlights
Everything about this look is beautiful, from the casual yet lovely loose curls to the stunning light brown highlights that accent her gorgeous dark brown roots magnificently. If you're looking a style that's coy and elegant all at once, consider this look. It's easy with a curling iron and a bit of product!
Asymmetrical Natural Blonde with Texture
Any hairstylist will tell you that an asymmetrical bob can be done 'wrong', and one of those ways to do it wrong is to leave the bob completely straight with an 'unfinished' or 'botched' appearance. Make sure your asymmetrical bob is looking fabulous and a little edgy with a touch of wavy texture and a rockin' leather jacket to match.
Platinum Blonde Beach Waves
Yup, you guessed it: this is the "IT" look for summer. Why? Because those glamorous beach curls are brought to life in the sunlight thanks to that tantalizing platinum blonde color. Pair it with your bikini and pair of cute jean shorts for a really alluring, summery appearance.
Simple Blonde Graduated Bob
Okay, the graduated bob is anything but 'simple'. It's trendy and bouncy and just overall fun, and there's no reason NOT to love it. Even so, this is the graduated bob in its simplest form: with the back stacked ever so slightly and the front left long around the face. Perfect style for ALL women!
Extreme A-line with Loose Waves
It's the perfect look for that party Friday night. It's the exact style you needed for prom. It's undoubtedly one of the most sophisticated and downright sexy short bob hairstyles you've ever seen. It's the extreme a-line haircut brought to utter perfection by use of loose, luxurious waves. Seriously, can't get enough of this luscious style!
Blunt Graduated Bob with Streaks
Okay, so bolder streaks like these tend to be a little bit early 2000's; but that doesn't mean they can't STILL be rocked today! This lovely and bouncy style features a blunt graduated bob with just a TAD of stacking in the back for added volume. The blunt cut surrounds the face and gives it a glamorous look! Great for students.
Platinum Blonde Graduated Bob with Teased Volume
When you tease your mane, you likely spend another 5 minutes trying to make it look neat and natural; but sometimes it's best to just leave your teased hair exposed! This teased, platinum blonde graduated bob is funky and trendy and would do wonders at a party.
Sleek Black and White A-line with Middle Part
Polished and clearly refined, this particular hairstyle is reserved for women who crave a modern and rigid look that's downright sexy. Her locks are left black and white for a very modernized and sleek finish and the middle part works wonders on those with round faces and heart shape faces.
Black and White A-line with Wave
Similar to the last hairstyle, this particular look features a platinum white upper half and accenting black underneath the chop. The a-line has just a hint of wave, which softens the overall appearance, making it a wonderful choice for older women.
Natural Graduated Bob
If casualness is in your criteria, we highly recommend this natural graduated bob. The layers aren't crazy or extreme and they hang beautifully just below the jaw for a look that's very flattering. We love the natural hair coloring as well. A wonderful everyday style.
A-line with Hint of Purple
We've said it once, we'll say it again: purple is one of the hottest hair colors . But if you're not looking to dye your locks to the extreme with vibrant purple coloring, consider this tantalizing and trendy idea of adding hints of purple to platinum roots. The end result? A very enticing a-line that turns heads.
"LOB" with Curls and Hints of Red
Everything about this look is downright stunning and romantic. From the dark roots leading to hints of seductive deep red, to the lovely and simple curls that add a touch of elegance. This "LOB" (long bob) lets you keep your length while still rocking a short hairstyle. Pair this look with your finest attire for weddings or date night.
Graduated Bob with a Trendy Flip
Talk about a super trendy makeover! She takes her lifeless, dull long locks and transforms them into bouncy and cute locks that look FAB! We love the bit of trendy flip she adds to her graduated bob, giving it a boost of bounce that's great for mature women.
Graduated Bob with Funky Layers
You can't go wrong with a funky layered graduated bob- especially if you've got a cute and funky personality to match! We love all the quirky layers, adding tons of texture and youthful bounce to her face. A great option for square faces and oval faces that need to soften up.
Lightly Curled Bob
So ladylike, we are certainly in love with this simple yet lovely and classic style. Instead of leaving her basic bob sleek straight, she takes a curling iron to it and adds some wonderful delicate curls. The end result? A flawless finish that can be worn anywhere. Keep makeup to a minimum to let your natural beauty do the talking.
Super Choppy Black and White Bob
Blunt layers are the BEST for girls in their teens and early twenties. The choppiness of this hairstyle adds a significant amount of edge, and paired with black and white coloring you're in for an original and intense finish that takes the show.
Graduated Bob with Super Short Top Layers
First of all, the color. Wow. We're in love. Gray hair is a top style trend! Secondly, the cut. Again, wow. Our mouths drop to the floor with this super polished and chic look! She starts with a sleek graduated bob and amps up her top half with some super short layers that add height and volume. LOVE it.
Classic Asymmetrical Bob
Looking for a cute hairstyle that's edgy yet fab? Then you need to go with the classic asymmetrical bob! Longer on one side and shorter on the other, the asymmetry creates a playful finish that's great for younger women.
Graduated Bob with Messy Waves
The easiest way to add some oomph to your locks is to add some messy waves! This look is great for spring and summer, featuring light blonde coloring and tons of bouncy and messy waves. LOVING this springtime favorite!
Short Asymmetrical Cut with Loose Waves
For prom, for school, for a trip out with your gal pals- for ANYWHERE! This lovely haircut is brought to life with loose waves, of which are both classy AND adorable; the perfect combination! Start with a short asymmetrical cut and add loose waves throughout. Dress up or down. Done!
Long Bob with Flipped Back Bangs
If your need for length has halted you from sporting a bob, then this is a look to consider! This haircut barely skims by on the length chart to be considered a bob, but that doesn't mean it isn't- and that doesn't mean we don't adore it! She keeps
Angled Bob
Loving this makeover! Here we see a lovely lady transforming her medium-length haircut into a GORGEOUS angled bob. It's absolutely fabulous and a great idea for girls with oval faces that need some softness.
Volumized Bob with Red Ombre
Ombre is a hot, hot, HOT hair trend right now, and this look only makes it HOTTER thanks to the intense red hair coloring. A tantalizing bright red cascades down to jet black tips, creating quite a shocking finish. She volumizes her bob with plenty of teasing for a seriously trendy, look-at-me 'do.
Volumized Graduated Bob
Don't leave your bob hanging- give it some extra volume with teasing (especially around the face) for an awesome finish. It's casual enough for work yet can easily be dazzled up for a night on the town with the ladies.
Stacked Bob with Tons of Short Layers
Take your stacked bob haircut to the next level with TONS of crazy short layers in the back. Gives the hair some wild texture and a unique, edgy finish.
Straight Super-Voluminous Bob
So you want to make a sexy statement, hmm? Well we've got the look for you! This intense, look-at-me hairstyle is the one to use for the nightclub. With TONS of volume and a sleek straight finish, these locks quickly take the show.
Messy Long Bob with Side Swept Bangs
Casual and fun, this messy long bob is an awesome choice for everyday use. It can seen on the schoolyard as well as poolside! The messy look gives this hairstyle just a touch of girly attitude while side swept bangs keep things soft and innocent.
Textured Long Bob with Fringe
This lovely little bob is cut right above the shoulders to give it some bounce while straight-across fringe gives the look an adorable lift. We're loving the added bit of texture for a stylish and cute look that's perfect as an 'everyday' style!
Sultry Wavy Bob
A gorgeous balayage blonde color and sultry waves makes THIS an alluring hairstyle you can easily wear anywhere (and still get attention from anyone in the room). Wear it to the beach with your cutest capris and sandals or rock this at the formal party with a glamorous dress and jewels to match.
From intense volume and crazy colors to natural blondes and lovely textured locks, there's really so many beauteous hairstyles to choose from. Pophaircuts.com which medium bob hairstyle suits your style?