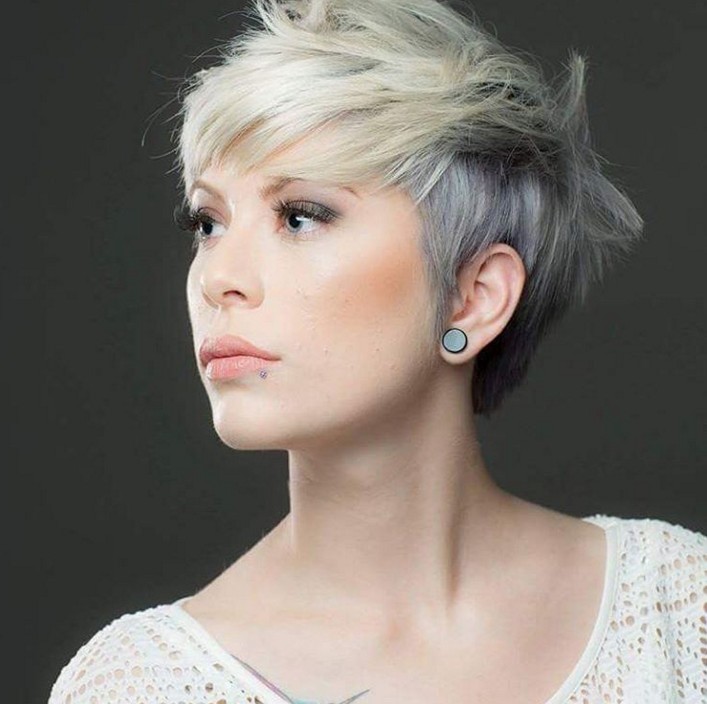 15 Ways to Rock a Pixie Cut with Fine Hair: Easy Short Hairstyles
Women with fine hair tend to stay away from pixie haircuts, in fear there hair may appear even finer than it truly is. But the truth of the matter is this: pixie cuts are incredibly trendy- one of the trendiest styles– and even if you're struggling with fine hair, there's plenty of pixie styles that can suit your mane. These 15 gorgeous hairstyles are the perfect way to rock a pixie cut that's lively and fun, anything but fine and dull!
Shaved Sides/Back with Layered Top
Shaving the sides and back of the head draws attention to the lengthy strands up top, which means creating a bulkier and full-bodied style that's anything but 'fine'. This thick, edgy 'do is fashion-forward and the contrasting layers add some funky volume.
Subtle Layers
This cool and casual hairstyle is the perfect 'everyday' look, with tresses left a bit lengthy and a few layers on top to spice it up.
Side Swept with Contrasting Colors
Fine hair can be given some depth and dimension simply by choosing two (or more!) contrasting colors like you see here. The blonde and auburn create vibrant and vivid depth, while the lovely side swept look adds a hefty dose of stylish attitude. Don't forget some lovable layers for extra body!
Long Layers and Side Swept Bangs
Side swept bangs skimming just above the eye is such a delicate and dainty look that frames the face gorgeously, and the long layers up top ensure this hair is free-spirited and blows with the wind. The shorter, side swept 'do is a great choice for women with round faces.
Chic Teased Layers
Layers, layers, everywhere! Her fine hair looks anything but lifeless with her gorgeous assortment of layers in all different lengths. It's extra choppy around the face, adding some beautiful eye-catching texture. She teases the top and sides for an extra burst of body!
Choppy Layers and Tousled Back
Sport a funky style that is anything but fine and boring by adding some choppy layers! Shorter on one side, longer on the other, it's an asymmetrical pixie that's dreamy and fun. Tousle the back up a bit for a little sexy attitude.
Asymmetrical White Pixie
This bright, look-at-me white pixie is enchanting and delightful. The asymmetrical haircut gives the hair some texture and the extra long strands surrounding the face ensure a trendy and well-framing finish. Looks great with pink lips!
Extra Short Sides/Back and Contrasting Colors
If you're not ready to take the plunge and shave your sides and back, then consider a tamer (yet still amazingly edgy) style of extra short sides and back. Create some dashing contrast by keeping your short strands one color (consider trendy gray) and your lengthy top half another color (platinum blonde is always a great and fashionable option).
Funky Chopped Bangs
When it comes to hiding fine hair and creating a full-bodied look, funky layers are your best option; and this pixie cut is DEFINITELY funky and free-spirited! Her entire mane is chopped with cool layers, but what really catches our eye is the cascading angle at the front. Certainly an 'out-there' look that will draw attention in a crowd. Love it!
Pink Extra Short Bangs
We've seen a lot of hairstyles featuring lengthy bangs, but what about for the gals who aren't fond of bangs? This is an excellent choice for you! Her extra short bangs are perky and youthful, really opening up her face. Plus we LOVE the super stylish shade of pink! Good choice for long faces.
Pastel Pink Pixie
This darling pixie is rather subtle and simple, but the cute pastel pink coloring revs it up a tad. An awesome choice for younger girls or for students who want an 'everyday' style with just a touch of funky attitude.
Extra Long Layers
Funky layers not your thing? No problem! I promise you, you won't be disappointed with a set of long layers in your pixie cut like you see in this picture. Her style is fashionable and hot, with bright white locks that glisten in the sunlight and long layers that are flirty and fun.
Highlights!
Textured hairstyles are easily made with some gorgeous highlights like these! She leaves the majority of her darker locks in the back for dimension, the brighter hues surrounding her face developing a lighter and more youthful appearance. So cute, especially with the addition of lovely layers.
Shaved Sides with Top Sweep
This is one of those versatile hairstyles you can really wear anywhere. It's sophisticated enough for a day at work, but doubles up as a trendy and quirky 'do that can be seen at the nightclub. Her sides are shaved and the top half is swept off to the side. The end result? A cool style with plenty of sexy height.
Shaved Sides, Short Back, Lengthy Top
There's seriously TONS of different lengths going on in this hairstyle, creating a rather fascinating and polished finish. For a beautiful hairstyle like this, you'll need shaved sides, shorter cut in the back, and a lengthy top that will dangle effortlessly over the shorter strands and face.
Ladies with fine hair, you should clearly not be afraid to take the plunge and rock a pixie haircut! Pophaircuts.com's plenty of different styles to choose from, from short and funky to lengthy and seductive.