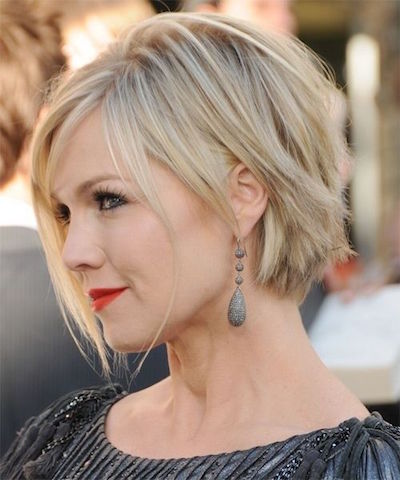 20 Super Easy Layered Cuts for Short Hair
We all want that effortless wind-in-our-hair look. You know, the kind that has been seen on the face of Jennifer Anniston and just about every other A-list celebrity out there. It makes thick hair feel lighter. It adds volume to thin hair. Most important it looks great. Most seem to think this is a hairstyle reserved for those with long hair. I'm here to tell you that is incorrect. Whether you are rocking a Bob or a Pixie, layered looks come in shapes an sizes. Here are some layered styles for those of you with shorter hair.
1. Choppy Layers
Completely casual, this look receives full marks for looking naturally messy.
2. Sleek and Stylish Hairstyle for Short Hair
A perfect example of a short, thin hair, that is layered. You can't say it doesn't look great!
3. The Grunge Appeal: Shaggy Short Haircut
Layers are fun because you have more flexibility. Mess them up to receive this hip grungy look.
4. Wavy Layers Hair Styles for Women Short Hair
You really can't go wrong with sultry waves like this.
5. Chic Hairstyles with Fringe
These waves and thick blunt bangs are a definite style statement.
6. Blunt and Ruffled: Layered, Blunt Short Bob Cut
Bluntly chopped layers is a perfect wave to add some texture to your hair.
7. Classy and Soft
Layers don't need to always be rough and messy. This shows us their softer and more elegant side.
8. Jagged Layers
Here we see that roughly cut layers can be styled in a chic and timeless fashion as well.
9. Shaggy and Playful
Or, they can be seen as a youthful symbol, as seen here on a young Reese Witherspoon.
10. Uneven Layers
Don't go by the book if you are looking to be edgy. Get wild and let your hair show it.
11. Thick Bangs
A stunning mix of orderly and disorderly, blunt even bangs and wavy layered hair is a great combination.
12. Short Layers
Stay short and stay chic. No need to have long hair in order to get layers.
13. Pointed Layers
A definite look for those living life on the edge. These pointed layers are risky and stunning.
14. Layered Long Pixie Haircut
Of course Pixie's are layered. It gives them volume and texture.
15. The Thick Bob
Perfect for those with thick hair, this layered bob is gorgeous.
16. Finger Curled Waves
Alternatively, these layered waves look amazing on those with thin hair by adding volume and texture.
17. Gorgeous Big Curls
These awe inspiring curls are extremely flattering and wouldn't be nearly as stunning if they weren't layered.
18. Long Layers
Long layers on short hair? It's a thing and it looks fantastic.
19. Twisted Layers
Sometimes a simple twist is all it takes. This look proves it.
20. Messed Pixie
Again, we see the benefit of layers on this stunning pixie.