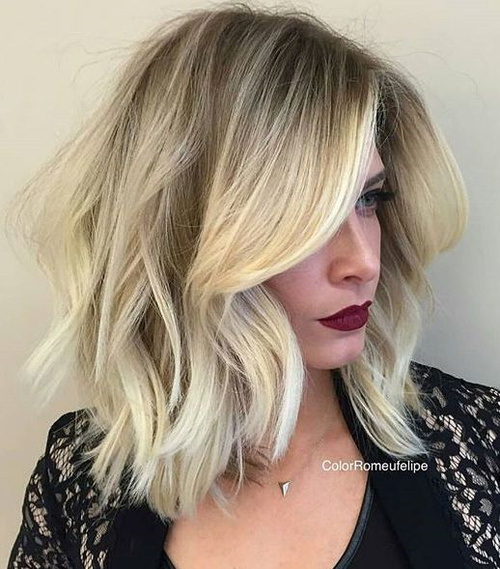 20 Lovely Hair Ideas for Fall
Ah, fall. The time where the leaves are changing into some of the most beautiful warm tones we've ever seen, the cold weather starts to peek its way back through the sunshine, and of course we're switching out our summer short-shorts for cute leggings; but what about our HAIR? Fall requires warm, ravishing shades, and this list is exactly what you need to see in order to be fall-ready.
Chocolate with Red Undertones and Waves
Warm tones are a must for fall, and what better way to add some fire to your mane than to ignite with some red undertones? A deep chocolate brown hue is the perfect base for fierce red undertones, so light up your tresses and enjoy the show. Waves add some lovely femininity, perfect to pair with those long sweaters and adorable boots.
Balayage Blonde Lob:  Blunt, Shoulder Length Haircut for Thick Hair
Get messy, get funky, get wild! Balayage blonde creates plenty of depth, but what really makes this a knockout number is that intense volume she adds to the lob. A little 80s inspiration never hurt anyone, and throwing on some dark red lips ties up the fall style to a tee.
Light Brown Curls: Balayage Curly Long Hair Styles
Your blonde hair may have been a hit during summer, but if you want to calm them down with a bit of warmth for the fall, then opt for a subtle balayage like this. The colors blend beautifully together and curls ensure you're looking like a lovely lady all fall long.
Dimensional Golden Blonde: Balayage Curly Long Hairstyle
When you have long, lustrous, and ultimately thick locks like these, there's only one way to turn: dimensions! Loaded with highlights and lowlights, this golden blonde hair is playful and bouncy, especially when given some flirty loose curls like these. Everyday style never looked so cute.
Mahogany with Orange Highlights: Women Long Hair Ideas
Matching the beauty of fall is a cinch with this stunning hairstyle. The rich mahogany hue is brightened and enhanced by a striking orange hue intertwined throughout the mane. Tousling it up a bit ensures you achieve that glamorous look that will carry you through the fall season.
Mahogany/Ash Blonde Ombre
Easing out of those summer colors and transitioning to fall hairstyles is a cinch with this lovely 'do. The ash blonde shade is kept at the ends of her mane, the bulk of her style showcasing a warm and ravishing deep mahogany hue. The two pair nicely and creates an easy transition to darker locks.
Dark Purple Balayage; Straight Lob Hair Cuts
During the summer it may be all about pastel and bright, funky colors, but that doesn't mean you have to skip the funk during fall. Take on a darker shade of unicorn ombre with something like this. It's still plenty fun and the cool colors really rock this dark chocolate brown base.
Kinky Brown Curls
This queen knows her beauty- and she wants the world to see! Her lovely shade of brown includes hints of red for a ravishing finish, but what really catches our attention are those striking kinky curls! Oh-so-fabulous and bursting with volume, she lets her natural beauty shine- enhancing with some super sexy dark wine colored lips, of course. Love this!
Chocolate Wavy: Ombre, Balayage Hairstyles for Long Hair
Warm, desirable shades that complement each other are the ideal choice to pair with your leggings and sweaters for fall! Her black base is lightened subtly through chocolate brown ends, a chocolate balayage that's sure to kill.
Red!: Balayage Long Hairstyle with Straight Hair
No matter the season, you can't go wrong with red; but it's certainly more popular during the fall season! This lovely, glowing red hair color is the perfect combination of highlights and lowlights for a dimensional, fiery finish that pairs well with the reds we see during fall.
Curled with Hints of Red
Jet black locks are undoubtedly one of the most ravishing hair colors, but one easy way to intensify your style and rev it up with even more sex appeal is to pile on some sultry, deep red highlights. Curl it up for a very glamorous touch.
Fiery Red Ombre: Straight Medium Length Hairstyles
With a shorter haircut like this, big bursts of color can really make a huge impact! This look really brings the color of fall to an all new, intense level, with a fiery red up top leading down to striking platinum ends. Meeting at the middle, the two shades combine for a cool orange effect- love it.
Curled Deep Lavender Peek-a-Boo Highlights
There's no better time til showcase rich, fun colors then in winter; and these fascinating deep lavender peek-a-boo highlights proves it! Hiding beneath a jet black base, this hair color is certainly an enticing one. Curl your locks away from the face to show off those charming colors perfectly.
Tousled Redhead: Casual, Everyday Hairstyle
Red is always a sexy color, but it just so happens to be one of the hottest looks for fall as well. Choosing a deep, sensuous red like this will appeal to the eye while blending with the classic fall colors around you. Tousle it up a bit for a very enticing style that's certain to turn heads.
White/Platinum Ombre Curls
Short hair cut right at shoulder-length are always cute and bouncy, but you can give your look even more life by indulging in a bright and intensely illuminating shade. This white and platinum ombre may not be the typical fall hair color, but it's certainly one that's sure to stand out. If you're not ready to let go of summertime fun, carry it into fall with this lively, bright 'do.
Deep Mahogany Wavy Ends: Long Hair Color Designs
Her dark brown hair may be luscious and sultry on its own, but to add a pinch of fall flavor she throws in some deep mahogany highlights on the ends. The colors blend for a very intoxicating look that's as warm as those sweaters you're pulling out for fall.
Balayage Silver Ash Blonde
Ringlet Chocolate Brown with Highlights
A divine, rich shade of chocolate brown may be the ideal hue for winter, but fall needs a slightly Perrier tint. Tossing in some highlights creates a glamorous balance that's warm yet frisky, enhanced with voluminous ringlets for a sexy style.
Warm Blonde Curled Ombre: Layered, Curly Medium Hairstyle
With a fascinating combination like ultra-dark brown roots and warm blonde ends, this ombre NEEDS some loose curls to bring the look to life. Curls will ensure all of these lovely hues whisk together in a glamorous and lovely way.
Copper Brown Balayage Ringlets
Enhancing brown hair without losing the luxurious appeal is a cinch when you opt for copper balayage. The hues meddle together beautifully for a sophisticated and lovely finish that matches the beauty of fall leafs. Toss in some precise ringlets for a very striking look that can fit the fanciest occasions.