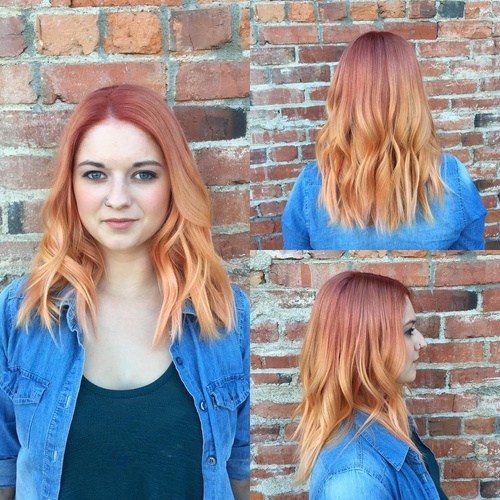 20 Pretty Spring Ombré Hair Ideas
Warmer seasons may have you in a cast of deep, rich shades like black, brown, or mahogany, but spring is all about colors bursting every which way and the summer peeking it's head through the clouds. Style and lighten your looks with one of these beauteous spring ombré hair color ideas.
Sombre Brown: Balayage Hairstyles with Straight Long Hair
With spring, the sun starts peeking out and giving us a bit of warmth through the day; but that doesn't mean you have to say goodbye to warm brown hair. Lighten and refreshing your hair with a few light brown baby lights to add depth and brightness without going overboard. It's a natural 'sombre' (subtle ombré) that's awesome for brunettes.
Butterscotch Blonde: Ombre Hairstyles for Long Hair
This hairstyle is downright breathtaking. The subtle blonde shade is almost as good enough to eat, with an indulging hue of butterscotch that's slightly darker near the roots. Give your hair some luscious volume with loose waves that will bounce with every step.
Dirty Blonde Sombre: Ombre Hairstyle with Medium, Long Hair
Dirty blonde is fine when left alone during the cold seasons, but giving your natural blonde tresses some brightness and glow is an excellent choice for spring! Add a light dimension while still allowing your dirty blonde locks to be the main events by choosing subtle blonde baby lights for a gorgeous natural Sombre finish.
Smokey Sombre: Balayage Lob Hairstyle
Another beautiful take on sombre! Her naturally dark brown mane is uplifted and given a smokey hue with hints of ashy blonde towards the end of her locks.
Classic Blonde Ombré
This look is truly as classic as it gets! All natural dirty blonde roots are given a significant lightness and brightness with a dazzling light blonde shade below. To give her bright blonde new some flirty attitude, she simply adds a hint of wave and tousles them up a bit for a casual depth.
Retro Wave Balayage
Balayage is known as the ombre that's delicate, subtle, and very natural-looking; and that's clearly shown in this flashy style. Her lengthy tresses are given a retro makeover with some flashback waves, just like the ones you'd see on the Red Carpet. Lovely dirty blonde roots are charmed and lightened with hints of lighter blonde beneath and throughout for a very sunkissed feel that dazzles.
Auburn Brown Ringlets
For some, ringlets may be a bit too sharp and elegant for a trip down to the beach; if that's the case, start off with some sexy ringlets then run a comb or simply your fingers through your tresses to instantly tousle. The end look is casual and has a fun, freestyle feel that pairs well with this auburn brown hair color combo.
All Natural Dirty Blonde: Balayage Hairstyles for Long Hair
This look appears SO natural, it's as if you've never stepped foot inside of the salon! Some simple honey blonde babylights are filtered throughout her dirty blonde locks for a very natural appeal. The subtle wave enhances this natural beauty, a perfect choice to go along with that maxi dress or lacy, flirty summer skirt.
Wavy Brunette Ombré
Deep brown/black locks may be sultry and mysterious enough for winter, but when spring rolls around it's time to brighten up those tresses! This lovely hot toffee shade blends well with the super rich, dark roots for a creamy blend that's enhances with lustrous waves.
Curly Caramel Ombré
For the ladies that want to brighten their manes for spring but don't want to go too light, this caramel ombré is the ideal candidate. It's a rich, warmer hue of blonde that can stand up next to brown roots with ease. Leaving the curls precise and clean offers glamorous volume that's suited for high-end events.
Long Natural Blonde: Ombre, Balayage Hairstyles
There's nothing that compares to beautiful, glowing sun kissed blonde-especially during the warmer seasons! Her lengthy mane is given definition that's bright and spunky, with an all natural appeal that will pair well with lighter makeup shades like light pinks and lavenders.
Bronde Ombré: Curly Long Hair
Bronde: the perfect blend of brown and blond. While most Bronde hairstyles will feature these shades playing beautifully together side-by-side, this ombré take on Bronde allows the combo to stand out in a very delightful manner.
Highlighted Dark Brown Waves
Spring may be all about bright colors and blooming flowers, but that doesn't mean you have to ditch your lovely brunette tresses. Simply give them a pop of brightness with some charming light brown highlights. With sexy waves through her lengthy tressss, it's a desirable image that any brunette would love to enjoy during spring.
Light Brown Waves: Women Hairstyle Ideas for Long Hair
It's the blending of the light browns! Up top you see a sultry medium shade of brown, followed by a light ashy blonde below with hints of brown throughout. This lightened up brown ombre is a great way to showcase your fab brunette tresses without losing your roots.
Champagne Soft Ombré: Medium Curly Hairstyle
Nothing like some champagne with brunch on a warm, sunny spring day, right? Bring that springtime favorite activity to your roots with a charming champagne ombré. For extra feminine glow, apply some loose curls that are left intact to emphasize the beautiful folds.
Voluminous Wavy Blonde Ombré
There is something oh so sexy about goin there is something oh so sexy about voluminous waves. They add an enticing, sultry bounce to your appearance, and it's the perfect way to emphasize this classic brown on blonde ombré color combo.
Auburn Red with Golden Ringlets
Auburn red is already one of the most seductive and enthralling hair colors in the hair world, but adding some golden hues to an auburn red base is one surefire way to steal the eyes (and hearts) of all around you. If you really want to turn heads, add in some glossing product and throw in some sexy ringlets to top it off.
Light Brown Ombre Ringlets
A classic light brown omore hairstyle like this is exactly what your spring style needs. Her lone locks are brought to romantic ringlets, showcasing the color contrast in a beautiful and subtle manner. A great choice for date night!
Platinum Blonde Waves
If the beautiful Marilyn Monroe was around today, she would probably indulge in an ombre like this one. This lovely platinum blonde ombre is oozing with light, look-at-me hues that are enticing as ever. Instead of settling for one-noted platinum locks, create some dazzling depth with hints of darker blonde tones throughout. Wave it up for a highly sexy finish.
Rose Gold Melt: Ombre Hairstyle for Medium Hair
Rose gold is one of the trendiest shades of red for 2017, and what better way to showcase your love of spring and the blooming outdoors than with a color that signifies JUST that? This lovely shade of feminine and downright beautiful, a light wavy tousle adding a pop of daintiness that matches well to the color melt.