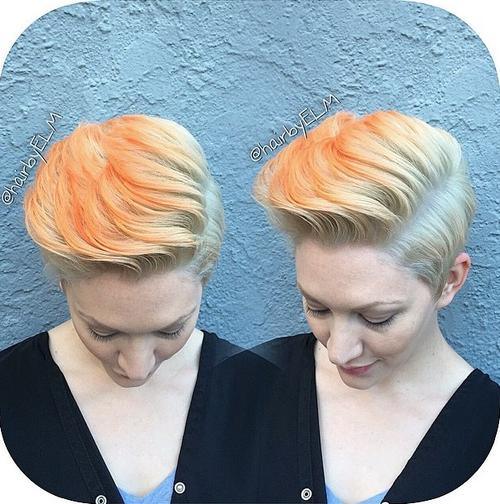 22 Best Colorful Ways to Enhance Your Pixie Hairstyles
Pixies give us ease of styling, a perky and youthful look, and of course a pinch of chic attitude. But don't leave your locks alone with regular color- brighten, lighten, or even WOW with these colorful ways to enhance your pixie haircut.
Edgy Platinum: Shaved Short Haircut
Platinum locks are already edgy and bright, but painting a chic pixie with this fab shade is a avant-garde duo that's both eye-catching and artsy. Her one-noted pixie is given some refreshing color thanks to her colorful, yet very professional makeup choices.
Carrot Top: Stylish Balayage Hairstyle Ideas
A carrot top? Why not! If you're seeking that cheery, bright look for summertime, then throw on some orangey highlights on top of your platinum blonde base. The colors are unique and eye-catching, a dazzling look that will glimmer in the sunlight.
Deep Pink Layers: Cute Pixie Haircut
Pink may be the epitome of girly colors, but this deep shade of pink is anything but dainty! A fierce, fiery shade of pink is sure to take over the crowd, whether you're heading to a concert or simply relaxing with your girlfriends by the pool.
Spicy Honey Ginger Pixie: Stylish Short Haircut
Women with darker skin tones like this lovely lady shown here can get away with a deep honey ginger blonde shade with orangey undertones. The spicy, warm shade of her hair pairs beautifully with her skin and makeup choices while emphasizing her overall chic and edgy razor cut piecey pixie.
Vivid Colorful Pixie: Balayage Short Haircut
Screaming with vibrant colors, oozing with luscious hues, this is a knockout pixie 'do that's sure to turn heads. Her lengthy styled pixie allows plenty of room for color blending, and the white-on-neon-purple combo is a fierce blend that is enhanced with dark smoky eyes and a leather jacket.
Tossed in Purple: Wavy Short Pixie Hairstyles
With purple being one of the hottest hair trends for 2017, everyone's finding new ways to color their manes. This color choice is perfect for the ladies that want to indulge in a warm tone of purple without losing their natural brown beauty. Toss in some purple towards the middle of your mane to contrast beautifully.
Gray Layered Pixie: Short Hairstyle Ideas for Women
Forget long hair don't care, it's all about GRAY hair don't care! Women of all ages can rock a pixie with ease, but why cover up those naturally beautiful gray roots? Lucky for the mature women who've grayed early, gray manes are all the rage so ditch the coloring and pay more attention to the actual cut- like these charming layers!
Hints of Blue\Purple: Undercut, Pixie Cut
Quirky gals crave quirky locks, and this hairstyle promotes just that. Her undercut is unique and edgy, not the typical undercut you'd see in the fashion industry. But aside from an asymmetrical choppy pixie, her look is given a wild flare of color thanks to peekaboo blues and purples near the face. The pop of color is the perfect placement to match your eye makeup for one very lively finish.
Light Blonde Mohawk
Mohawks may be a bit wild, but it's tamed down with this subtle shade of light blonde. It has a natural appeal that pairs well with soft makeup tones.
Black and White Blend: Pastel Short Hairstyles for Thick Hair
Delightful just like an Oreo cookie, this short, layered pixie haircut is the perfect platform to sport a black and white color blend. So much dimension in this style, you don't even need to bother with styling to look your absolute best.
Bronzey Front Highlights: Short Hairstyle with Bangs
You simply can't go wrong with some sultry side swept bangs, by to create more depth and add brightness around the face, sweep in some bronzey highlights to your dark chocolate brown locks. A soft wave flowing back also creates a soft, feminine feel that's great for everyday wear.
Dark Ash Blonde Undercut: Asymmetrical Pixie Hairstyles
Live the best of both worlds with a dark ash blonde hue: it's the perfect combination of Browns and blondes for an in-between color that looks lovely with this rather extreme undercut.
Hot Pink Pixie
It's easy to be the talk of the party with this wild style! Hot pink is popping and catchy, and it's the perfect girly hue with plenty of attitude to match that rockin' pixie haircut. Tousle and tease the top for extra volume to really spark up those ultra-hot pink tresses.
Emerald Green Peekaboo Accents
The great thing about silky black locks is they pair well with virtually any color. If sea foam green is a little too light and enchanting for you, consider an emerald hue instead. It's a sophisticated, luxurious tone that blends beautifully with a choppy layered pixie.
Choppy Mahogany Red Pixie: Short Hairstyles for Women Thick Hair
One-toned mahogany hair installed, but a single color may lack depth. Make your gorgeous mahogany red pixie make a statement by throwing in a multitude of choppy layers of small and long statures.
Dark Gray Lengthy Cut: Pastel Short Hairstyle Designs
Uniquely cut with loads of long layers, this is an excellent choice for regale with thick hair that want to lose some weight without losing my too much length. Her bulky pixie is doused in a femininely dark shade of gray, a super hot hair trend for 2017!
Purple It Up!: Pastel Short Hair Style Ideas
With the lavender trend so hot right now, there's no better time to take the plunge and go for something edgy like this lavender pixie. A lengthy pixie cut is the perfect choice for this exotic color, and a few natural dark browns left in the back offers some depth to this lovely style.
Icy White Undercut: Short Haircuts with Fine Hair
You may think there's no way to make an undercut like this edgier than it already is, but you were wrong! If you're a lady that loves to live life on the edge, consider dousing your mane in some icy white hues. Spike the back up a bit for that extra pinch of funk that's got that punk rock feel.
Gray and Black
Black and white may be the perfect contrast, but if you want to tame down that shocking combo, then consider opting for a trendy gray-blonde shade. The black underneath creates the illusion of dimension, a great way to spark up this lengthy pixie 'do.
Subtle Light Brown Accents
Dark chocolate manes are so sexy and intriguing, but they can be a bit mundane after awhile. By simply adding a few light brown babylights up front, she creates a light accent that looks refreshing and youthful. Of course, this look isn't complete without a red or orangey pout!
Sea Foam Green Peekaboo Accents: Pastel Short Hair Style
A jet black pixie may be posh, but some may find it a little too harsh. Adding a few simple sea foam accents near the front refresher and brightens this rather fierce look, while piecey layers of differing lengths provides some delightful depth that's very pleasing to the eye.
Gray with Hint of Purple: Pastel Pixie Haircuts
A flawless design for the gal who loves a bit of mystery in her hair! A dashing gray hue is painted on top, full of purple undertones that really enhance her hair beautifully. It's a great contrast that looks nice against her tanner skin tone, and deep hues of makeup set the stage for a fierce finish.