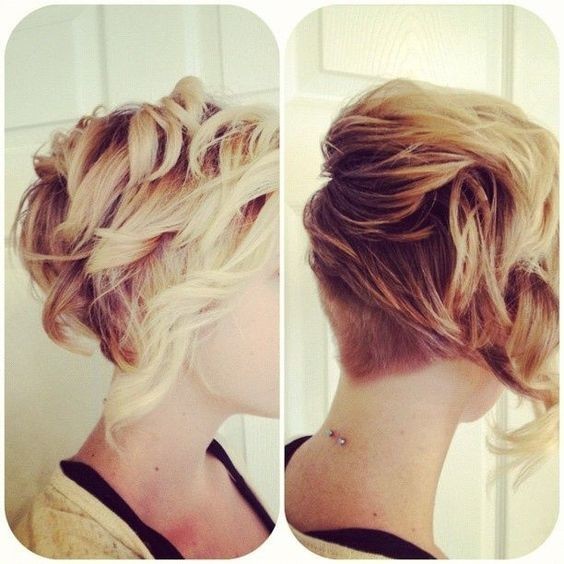 18 Textured Styles for Your Pixie Cut
The best thing about a pixie haircut is it's super simple to style and easy to maintain. Spice up your pixie haircut in a flash with one of these textured styles for pixies, from messy curls to dreamy ringlets, textured waves and more!
Colorful Messy Curls – Balayage Short Hairstyle
As if her undercut pixie wasn't edgy enough, she spices things up with a collection of vibrant and enchanting colors like sultry deep red and electric blues. To instantly soften this hardcore pixie, she styles in some delicate curls, curled away from the face and messed up a tad for a sweet finish.
Super Short Ringlets
A super short Pixie haircut like this is full of sass, but if you need to tame the attitude and achieve a more sophisticated and businesslike approach, toss those locks into some lovely loose ringlets.
Natural Waves – Easy Short Haircut
Feeling a little daring and want to shake things up a bit? Ditch those troublesome long locks and indulge in am adorable pixie haircut. And forget spending hours in front of the mirror trying to style your tresses just right- go all natural and let those beautiful waves be the star of your look.
Delicate Curls – Short Hairstyles with Side Swept Bangs
An asymmetrical pixie haircut quickly gets a feminine makeover with these delicate curls. Looks extra stunning with this natural brown balayage color, with just enough golden blonde shades to bring this look to life.
Pastel Waves
Beautiful pastels are a huge hit for 2016, so get on bored and take a style tip from this lovely lady and color up your lengthy pixie with lavenders and subtle greens with a gray cast. Create a sultry finish with voluminous waves you can wear for date night.
Up Top Ringlets
The best part about curling your pixie is you can add loads of volume on top, which will in turn frame your face beautifully. Let a few ringlets dangle by your face for some feminine edge that kills.
Tight Curls
This seductive style takes on a Marilyn Monroe appeal with striking platinum locks on the upper half, glamorized with super tight Curls that are bouncy and sexy. The honey blonde undercut is a great way to contrast the platinum hues without going overboard.
Ringlets
Fancy party coming up? Want to look your absolute best and steal the hearts of everyone around you? Don't fret- just ringlet! These ringlets are made with a larger-sized barrel curling iron to create those big, bouncy curls, and she finishes them off with a bit of hairspray to keep them high-up and in place. Pair with your favorite dress and your biggest, fanciest hoops for a flawless appearance.
Textured Waves
Left alone, her spicy pixie is super trendy and fun. But when given some seriously textured waves, it's a quirky and exciting look that can be worn literally anywhere.
Elegant Waves
Even when your pixie is cut extra short in the back, it doesn't mean you have to leave them stick straight. Let those elegant waves roll from front to back, even in the shortest parts of your pixie for a stylish and very sophisticated look. These are the perfect waves to go with your little black dress and deep red pouts.
Wild Curls
Tight ringlets and curls may be fine for fancy occasions, but when you're ready to head out on the town with your gal pals, you want to be anything but uptight! Loosen up those ringlets and indulge in some drastically messy curls that are unkempt, casual, and oh-so-cool.
Saucy Copper Curls
Could copper hair color GET any more sexy? Of course it can! These saucy curls are seriously textured for a voluminous, coy finish that looks dazzling with her light pink lipstick and caramely skin tone.
Wavy Bowl Cut
Leaving a bowl cut straight-and-narrow can be cool and all, but adding some delicate loose waves like these really shakes things up a bit. The calm blue/white tone looks delightful with these waves, and the up-top volume is refreshing and fun.
Tousled White Waves
If you're looking for that saucy look you can wear to the office, then this professional yet very stylish 'do is it. Her white locks are trendy and unique, the cut framing her face beautifully and providing a youthful glow. The tousled waves add some businesslike volume that's fresh and delightful, especially when paired with purple lips and classy makeup styles.
Pink Waves
Those lovely waves may remind us of the beauty of the beach, but that darling pink shade reminds us of dainty little fairies. Put the two together and you create a highly feminine style that's the epitome of girly beauty.
Sassy Ringlets
With an asymmetrical pixie like this one, sass is a given; but when you throw in some ringlets on top, you get a dropdead gorgeous style that's loaded with sex appeal. She starts off with some ringlets, running her fingers through them a bit to texture them for ultimate style. To enhance that sexy appearance throw on some deep red lips and some glamorous dangling earrings.
Kinky Top Curls
If you've indulged in an edgy 'do with tons of length on top but shaved down on the back and sides, that doesn't mean you have to shy away from curls. In fact, this edgy 'do should inspire you to do something showstopping and magnificent! These kinked up curls add loads of sassy volume that pair perfectly with the dull, short undercut.
Side Swept Curls
A side swept hairstyle– whether short on long- instantly equates to a sexy hairstyle. These curls are textured up a bit for a natural feel that looks gorgeous when swept to the side. The curls contrast awesomely against a short, straight undercut, for a hairstyle loaded with classy volume. Pophaircuts.com what's your favorite pixie cut Styles?