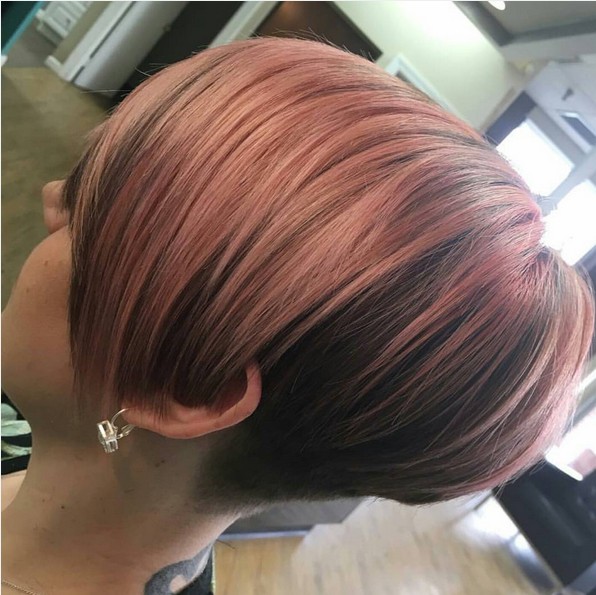 25 Cute Balayage Styles for Short Hair
Balayage is a word that's been buzzing around the hair world recently, but what exactly is it? In short, it's a type of highlighting that's free handed for a perfectly sunkissed finish. Think about a perfectly blended ombre hair color. Sound good? Of course it does- and these cute balayage styles will seal the deal on your love for this new and trendy styling.
Wavy, Tousled Brown and Blonde Balayage Style with Short Hair
This hairstyle is ridiculously bouncy and cute, from the voluminous waves from root to tip to the lovely combination of dark brown and golden blonde. There's just enough blonde to add some lightness and dimension to the mane, and tossed to the side with tons of waves it's a bouncy finish that looks stunning.
Edgy Pixie with Subtle Red Highlights
An edgy haircut can only be amplified with the use of balayage! She adds some subtle washed out red highlights to her dark brown mane, adding some funky lightness to her artsy style. A great choice for the edgy gal who indulges in her creativity often.
Crazy Colors and Short Hairstyle
This blend of colors- it's magnificent! Certainly an eye-catching hairdo, this glamorous style features a bold blend of exotic and vibrant pastels from pink to purple, blonde to mint green. It's quite a funky 'do that gets a dose of flirty fun with some extra loose waves and a messy finish.
Orangey Blonde with Pink: A-line Short Bob Cut
There's no denying this interesting hair color shade, but we also can't deny the fact that we love it! Her short and choppy haircut is given some brightness with an orangey washed out blonde hair color hue, made vibrant and quirky with some subtle dingy pink strands throughout. A very unique 'do!
Brown and Blonde Boy Cut
Remember when we talked about a sunkissed look earlier in this piece? This is EXACTLY what we were talking about! Her brown hair is given plenty of blonde highlights for an all natural finish that looks perfect with this tossed back boy cut.
Light Ends and Voluminous Waves
Verging on ombre, this glamorous hairstyle features darker roots and a very light blonde lower half that's light and refreshing. The lightness adds some perk to her overall style, while also adding some brightness to her face to make her face glow. The voluminous waves add a flirty bounce we can't ignore. Love everything about this sophisticated and feminine style!
Balayage Faux Hawk: Shaved Hairstyle for Short Hair
Offbeat and innovative, this is a rockin' choice for the edgy ladies out there! Her wild style features a beautiful bayalage hair coloring, amplified with a faux hawk that's dazzling with curls and waves. Plenty of height and action, this is a hair idea that's sure to take over the room instantly.
Balayage Bowl Cut
Who said bowl cuts couldn't be trendy and fabulous? This hairstyle puts an end to anyone who's ever said they didn't want a bowl cut! Her lovely haircut skims above the eyes for a sultry appearance while the trendy balayage white-on-black coloring adds some pop and lightness.
Curled Graduated Bob
A graduated bob is an excellent option for gals who want to leave some extra length around the face to frame their features beautifully, but to make your bob stand out from the crowd, consider adding some funky bayalage coloring! She douses her tresses in browns, blondes, and even purples for a stylish 'do that comes together with some fab loose curls.
Chic, Sleek Straight Short Bob Haircut
Sleek, straight, and undeniably sophisticated- this is a hairstyle that can be worn virtually anywhere. Glam it up with some dazzling earrings and sexy makeup or keep things simple for the office. Love how the washed out red lightens up her chocolate brown mane; simply gorgeous.
Ice Cold Asymmetrical Hair Style with Short Hair
Ice cold? More like icy HOT. This vibrant hairstyle features dark blue roots with a divine shade of platinum blonde throughout, with a subtle hue of blue coloring highlighted throughout. The asymmetrical cut only adds to the uniqueness and exotic attitude of this hairstyle, and it works well with her bold blue eye makeup.
Natural Grey and Blue Hued Pixie
Her lengthy pixie haircut sweeps delicately off to the side, swimming just above her left eye for an enticing finish. Her 'natural' combination of grey and blue hues is both eye-catching and trendy, but blends beautifully together.
Platinum and Green Messy Pixie – Short Haircut for Fine Hair
Her shorter length pixie haircut leaves plenty of lengthy layers, tousled lightly for an effortlessly chic finish. With a dazzling and bright contrast of platinum blonde locks and subtle green tints, her hair coloring is bold yet sultry! Looks awesome with some super dark lips.
Black and Blue Long Pixie
This rockin' do includes a vibrant yet bayalage combination of black and electric blue. This combo, of course, looks awesome next to some bright pink sunglasses. Talk about a hip hairstyle and awesome look!
Darker Brown Bayalage Curls
So classy, so sophisticated- absolutely in love with this brown bayalage! It's a glamorous shade, with darker brown roots leading to lovely mousy brown locks that are loosely curled to perfection. Add some shining serum or gloss serum to really make those brown delights gloss up brilliantly.
Greys, Blues, Greens
This is a 2016 hairstyle trend WONDER hairstyle! It combines three of the top colors for 2016, including grey on top with hints of blue and green on the lower half. It's a rather unique finish that looks beautiful with some messy waves. Definitely a casual, cool look that can be worn all summer long.
Subtle Grey – Cute Short Hairstyle with Fine Hair
Grey, being one of the top hair trends of the year, looks absolutely stunning in this bayalage pixie haircut. Her mane is lengthy but cut bluntly on the bottom for some fullness and body, and the mixture of greys create some dazzling dimension that's refreshing and subtle. Works well with simple makeup hues but can also combine well with your darker, more mysterious shades.
Brown Volumized Bob, Short Straight Hair Style
This hairstyle looks about as natural as it could get! A lovely blend of dark brown and light brown hues come together beautifully for a sunkissed finish. Adding some volume on top of her graduated bob hairstyle ensures loads of bouncy and flirty fullness, pairing perfectly with her perfectly tinted mane.
Grey and Silver
There's only one way to describe this hairstyle: striking! Taking those deep grey roots to the next level, she adds some sparkling silver to her lower half for a hair color that takes the show. It's simply stunning and the addition of curls makes it a glamorous style that can be worn to prom or any other fancy event.
Blonde and Brown Undercut
An undercut is funky and fresh in itself, but add a cool two-tone shade to your locks and see this style really come to life! She leaves the top half lengthy and blonde, with her shorter/buzzed undercut doused with light brown for a perfectly contrasting look.
Grey and Purple – Short, Shaggy Hair Styles
We saw grey with blue and green earlier- and that was oh-so-stylish. But another incredibly trendy color for 2016? PURPLE! This purple and grey combination is fab and chic, cut to perfection and loaded with volume thanks to plenty of teasing and hairspray.
Darker  Blonde,  Asymmetrical Short Pixie Haircut
Seriously- this is one of the coolest hair colors we've EVER seen. It's a beautiful look with tons of highlights and lowlights, finishing with a dirty blonde look that is loaded with lengthy layers. Works perfectly with dark eye makeup and some super dark lips.
Platinum and Purple Choppy Pixie
She leaves her platinum locks around her face to brighten her complection beautifully while the back is deep purple and super fabulous. Her choppy pixie works well with some hot pink lips and look-at-me earrings!
Grey Bayalage A-line Bob Hair Style
Oh, so sophisticated and SO chic. Hey grey bayalage is loaded with highlights and lowlights for a natural-looking touch, blending beautifully in her sophisticated a-line haircut. We love how she leaves plenty of length around her face, making it the ideal choice for round face shapes.
Lighter Brown Shoulder Length Bob
Chopped right at the shoulders, this cut has plenty of perk and flirty bounce. But what REALLY makes this hair POP is the combination of lowlights and highlights in all shades of light brown for a highly dimensional style that's loaded with natural hues.
Pophaircuts.com which one of these bayalage hues do you adore?