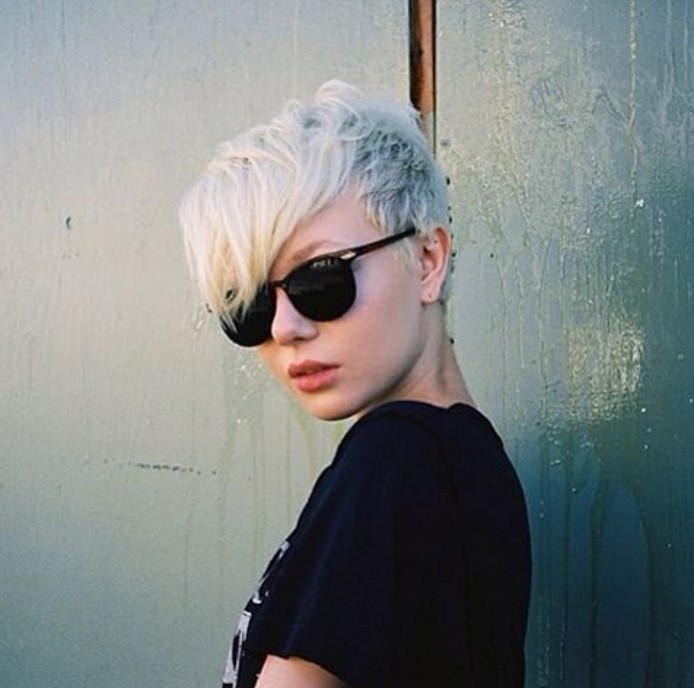 21 Lovely Pixie Cuts with Bangs
Pixie hairstyles are extremely versatile, totally chic, and best of all: easy to maintain! If you're in the market for a new, adorable short haircut, we highly recommend the pixie haircut. Not only is it an extremely popular cut for 2016, but it's a lovely look on almost any face shape, whether you're dealing with an oval face, square face, or round face. These lovely pixie cuts with bangs range from remarkably hot to lovely and elegant and everything in between.
Wispy Layered Bangs
This haircut is downright seductive and classy. Her platinum blonde top half is cut into some coy wispy bangs, while the rest of her locks are shaved extra short.
Extra Long Side Sweep
This is one of the lengthiest fringes we've seen, but they are certainly adorable! Great for students or younger gals who love tons of body up front, she adds a collection of lengthy layers and leaves them off to the side, hugging the side of her face lovely.
Flipped Bangs
Of course you could leave your side swept fringes straight to the side, but why, when you can amplify them with a cute flip at the tip? The subtle flip gives the hair some flirty volume that's perfect for date night.
Shaved Back and Tousled Bangs
Shaved hair is a huge style hit for 2016, and we love how she's created a pixie haircut including this trend. The back of the head is left shaved while the rest of the mane is tousled into a set of messy, bedhead bangs.
Contrasting Layered Bangs
Looking for a flirty and flattering look that you can wear anywhere? Consider this fun and airy hairstyle, featuring a collection of lovely layers ranging from super short to extra long.
Short Curly Pixie Haircut with Bangs
Talk about a hairstyle with some seriously CHIC attitude! Her mane is covered in glamorous, romantic curls, and she doesn't leave out her bangs, which really opens up her face and gives her a stunning finish.
Choppy Side Bangs and Lengthy Side Sweep
One side is left short and choppy, and the other side is lengthy and fun, swept to the side. A flirty, cute style that can easily go from day to night with ease.
Vibrant Blue Thick Bangs
The classic pixie haircut, with extra short back and lengthy side swept bangs, is brought to life with intense blue hues. Blue is a style trend for 2016, and if you're feeling a little daring, consider a blue style like this.
Flattering Cut with Side Swept Bangs: Easy Everyday Hairstyles for Short Hair
Skimmed just above the eyebrow and tossed to the side, these side swept bangs are graceful and elegant. They're perfect for ladies who prefer softer look that frames their face beautifully and makes their eyes really pop.
Bowl Cut with Layered Bangs
Believe it or not, the bowl haircut is making a huge comeback; and we're loving it! No longer are the days of bowl cuts being a fashion don't. This lovely bowl pixie haircut is given a trendy makeover with a set of layered bangs featuring a few lengthy wispy pieces for a bit of sexy texture.
Super Side Swept Bangs
Side swept bangs are always hot and stylish, but a super side sweep takes trendy style to an all new level. Here we see an extreme side part, brought to life with tons of lovely layers, and a set of fringes that go from shorter to longer for a contrast that's seriously stylin'.
Lengthy Front Bangs
Hip and cool, these lengthy front bangs are perfect for girls who crave style. Her platinum blonde locks are brushed from back to front, creating a seriously hot style.
Sleek Extreme Side Sweep
Looking for a haircut that's polished and refined? Then this is the look for you. Mousy brown tresses are left stick straight and tossed to the extreme side for a very sophisticated finish.
Tousled Lengthy Bangs
She looks like she's stepped right off the runway with these tousled, lengthy bangs. Super fabulous and we love how she keeps the rest of her mane tamed, letting her bangs take all the glory.
Bowl Cut with Extreme Side Sweep
Another take on the (new) and incredibly trendy bowl cut, this wonderful lady parts her hair to the extreme side and tosses the rest of her mane forward into a set of bold, thick fringes that are cut just below eyebrow level.
Layered, Highlighted Bangs
We are absolutely loving this textured hairstyle, with tons of gorgeous light brown highlights bringing her darker hued mane to life. She amplifies her hip 'do with layers throughout her locks, especially around the face.
Bright Red Short Layered Bangs
Red hot? Absolutely! This bright red and vibrant style features tons of lengthy layers for a full-bodied head of hair while the bangs are cut an inch above the eyebrow, opening up her face and letting her beautiful eyes brighten up.
Lengthy Side Sweep
Perfect for women over 50, this textured hairstyle is simple yet fun. Her lengthy layered bangs are tossed to the side creating a very classic pixie look.
Shaved Back with Layered Front
Shaved in the back, layered in the front; it doesn't get any trendier than that! We're loving her highlighted areas, brightening up her whole mane while side swept bangs keeps things cool and casual. Definitely a hassle-free cut!
Shaved Side/Back with Layered Fringes
The shaved style doesn't have to stop at the back. Instead, bring it over to the sides for an extra funky 'do. Add tons of life and body with layers throughout the rest of the hair, and toss it forward for a very trendy and fun finish.
Chunky Layers
We have to start off by mentioning how much we LOVE this intense hair color, with gray and purple hues throughout. Incredibly trendy and very dazzling. Her layers are kept chunky and bold, creating a daring finish that is sure to turn heads.
After seeing these gorgeous haircuts, there's no denying your love for the pixie haircut! Pophaircuts.com which type of bangs will you choose? Will you opt for short and layered, or extra lengthy and swept to the side?