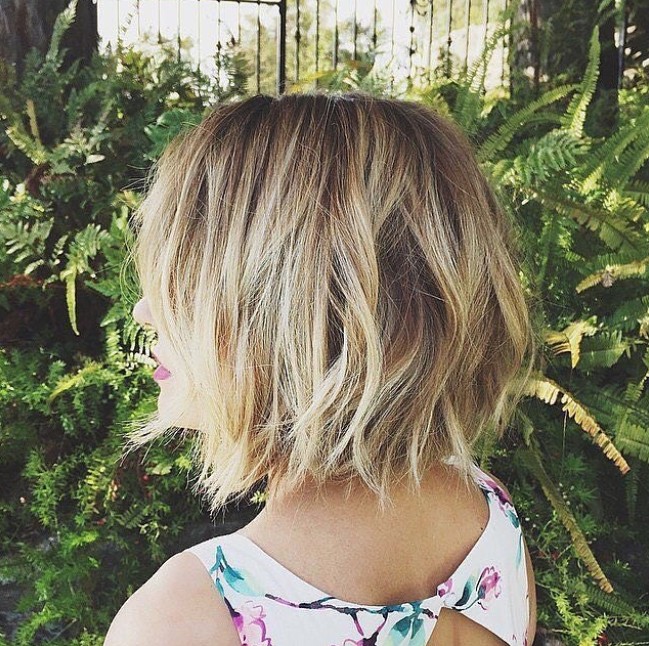 21 Textured Choppy Bob Hairstyles: Short, Shoulder Length Hair
Choppy bob hairstyles are definitely a favorite among women of all ages, creating a delightful look that frames the face beautifully every time. But if you're new to the choppy bob hairstyle world or simply want to switch it up with new colors or styles, we've got you covered. Here you'll find everything from extra long choppy bobs with delightfully bright blonde hues to gorgeous brown bobs layered with glamorous ringlets.
Choppy Light Brown Bob with Light Waves
This adorable look is casual and cute, perfect for days off when you just want to go out and have some fun! The light brown shade is classy and subtle, with just a few accenting blonde highlights to add some depth to the overall appearance. Fabulous choppy bob hairstyle!
Super Light Blonde Choppy Bob With Elegant Waves
If you think platinum blonde locks may be too overwhelming but dark blonde doesn't quite suit your style, consider this absolutely stunning and chic super light blonde hair color. Not only is this illuminating hair color perfect for spring and for summer, but the elegant waves add some serious flirty elegance that can be taken to the office or the beach. Keep your makeup subtle and let your hair do the talking!
Extra Long Choppy Bob with Highlights
Thinking about chopping your locks but don't want to lose too much length? You can still indulge in the choppy bob experience by trying out a lengthy bob like the one you see here. She adds some messy waves to her style, creating a funky textured look that's great for any casual occasion. We're also in love with the colorful blend of dark browns, light browns, and even blondes for a dazzling finish!
Blonde Choppy Bob with Light Texture
Dark blonde locks are amplified with stunning light blonde highlights, creating a very glamorous effect that brightens her overall complexion. She adds a bit of wave for some flirty and fun texture, giving her choppy bob haircut some style and pizzazz. This look matches perfectly with a set of pink lips and light eye makeup and has 'summer style' written all over it.
Super Short Choppy Bob with Layers
Who said lengthy hair is the only hair that can sport gorgeous layers? Think again! This extra choppy short bob haircut is textured with TONS of layers ranging in all different sizes and lengths to create a very wild and bouncy finish. We're adoring the subtle red shade and think this is a flawless look for ladies who enjoy a quick and easy 'do.
Long Blonde Choppy Bob with Waves
You simply can't go wrong with waves like these! They're messy, youthful, and perfect for casual days when you're out spending hours in the shops downtown. And we're absolutely adoring her bright blonde locks- not too light so they're overbearing, but just light enough to glisten against the sunlight. A great hairstyle choice to consider for summer !
Extra Long Balayage Choppy Bob
That gorgeous sunkissed, all-natural look is achieved with ease with a beautiful balayage choppy bob like this. The length is kept elegant and long, sweeping just below the shoulder while a glamorous blonde balayage coloring keeps hair looking fresh, natural and glowing. To keep up with the natural look of this hair, keep your makeup to a minimum with subtle pink lips and light eye makeup.
Above the Shoulder Dark Blonde Choppy Bob
A cut right above the shoulder leaves hair looking fresh and bouncy, a great idea for girls of all ages. The look is rather simple: just a bit of wave, a bit of volume, and a middle part to keep things funky.
Dark Brown Choppy Bob
Brown hair is always a hit for fall and winter, creating a warm and inviting tone that's nothing short of flawless. Here we see an elegant and sophisticated dark brown choppy bob that's amplified with a few subtle waves. Great for parties, for weddings, and even for prom when you pair this hair up with your finest attire.
Super Messy Choppy Ombre Bob
CURLS. Love them. Adore them. ROCK THEM! You can't go wrong with some big sloppy curls like the ones we see here. They add a certain coquettish flavor to the entire hairstyle, with plenty of flirty bounce and stylish volume. We're absolutely in love with her subtle ombre hair coloring, a major fashion WIN for 2016.
Choppy Bob with Short Bangs
Now this definitely isn't a hairstyle you see too often, but WOW we love it (and wouldn't mind seeing more of it!). For this look, the majority of hair is kept at the same length- which is great for adding instant volume to fine hair or thin hair. However, the bangs surrounding the face are chopped short, which is actually incredibly cute!
Golden Blonde Choppy Bob
If you want to go blonde but you're worried about going 'too light', consider a golden blonde like the one shown here. Her darker roots are given a light and refreshing finish with touches of bright golden blonde, really enhancing her complexion and bringing some light to her face. Side swept bangs and plenty of waves makes for a stunning finish that can easily be worn by girls or women age over 50!
Multi-Color Choppy Bob
Not afraid to rock an assortment of colors that blend beautifully? Then you've come to the right place. This hairstyle has a pretty mixture of light blondes, platinum blondes, dark blondes, and even browns of all shades for a very stunning, look-at-me finish.
Wild Colored Short Choppy Bob
If there's one thing that's on the top of the charts, it's this: wild colors! And this particular choppy bob hairstyle showcases the art of wild style perfectly. If you're in the mood to step out of the box and try on a crazy, look-at-me style, consider adding splashes of blue, purple, and blonde to your mane, and finish with a trendy side part.
Messy Choppy Bob with Highlighted Tips
This unique yet trendy look has 'casual' written all over it. The dark brown hair coloring matches wonderfully with her lightly tanned skin while light brown highlighted tips give this look a bit of spunk and edge. We're loving the subtle side part, which is a great option for girls with oval faces.
Simple Blonde Choppy Bob
Simple doesn't have to mean boring! This lovely simple blonde choppy bob is cute enough to wear on a picnic date with your boyfriend, yet can easily be paired up with a fine dress for a fancy occasion. The short length means it's incredibly easy to style. Just a few squirts of gel and hairspray and you can be walking out the door with flawless texture like this.
Two Tone Messy Choppy Bob
Untamed yet unbelievably fashionable, this messy bob hairstyle is definitely one to consider on rushed mornings when you're tight on time but don't want to slack on style! She adds plenty of unkempt volume to her short choppy bob, achieving that sexy 'bedhead' look we all know and love. Darker roots on top lead to a light brown lower half, giving her overall look a bit of brightness.
Subtle A-Line Choppy Bob
An a-line bob doesn't always have to mean a super short back and extra long front, and this bob hairstyle proves it! The steady cut from longer to shorter frames the face beautiful and is an excellent choice for ladies with square faces as it takes off some of the harsh edges and creates a softer appearance.
Blunt Choppy Bob with Texture
Forget thin, lifeless hair. Adding volume to your mane is a cinch with a blunt choppy bob haircut that keeps the same length throughout. Right before your eyes, body-less locks are brought to life simply with a haircut and with the addition of light waves and a bit of hairspray, lifeless locks get a huge makeover.
Highlighted Side Swept Choppy Bob
Side swept bangs never go out of style, and it's always a great option for any face shape! This adorable 'do has a bit of wavy texture throughout, and the subtle hints of blonde highlights bring the look to life with ease.
Blonde Tipped Choppy Bob with Curls
Fancier occasions require curls, red lipstick, and our favorite little black dress; and for these regal occasions, this is definitely a hairstyle that fits. The dark chocolate brown shade of hair is accented beautifully with light blonde tips, creating some dimension to the overall style while glamorous and romantic curls make this the go-to look for high class events.
Whether you're dealing with fine hair that needs a quick pick-me-up or thick hair that needs to be short and tamed down, a choppy bob hairstyle is always an excellent choice. Pophaircuts.com which choppy bob will work wonders for YOU?