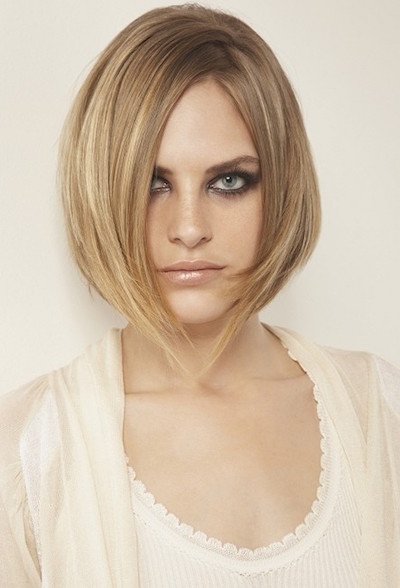 20 Gorgeous Inverted Bob Hairstyles
The bob is an age old haircut. It is one of the few that has survived through eras of varying styles. With each passing decade, a new twist is added of removed, keeping this look fresh and exciting every year. Even after all this time, there is nothing more freeing that cutting off your long hair into a classic bob. Recently, it's the inverted bob that is taking the world by storm. This angled bob can be seen anywhere and on anyone, from red carpets to the grocery store, from teens to mom. It is trending, and it's obvious why.
1. Long and Sleek: Long Bob Haircut
Bobs don't have to be short to be cute. This longer version is equally chic.
2. The Uneven Bob: Asymmetrical Short Haircut
Play around with lengths! You can still have a wicked angle with varying lengths.
3. Casual Waves Bob
For a more subtle take on this look, add some waves. You'll still have that angle, but the waves will add a softer look to it.
4. The Poof
A popular one for all the moms out there, this intense angle is chic and super easy to maintain!
5. Classic Inverted Bob
Or, go classic! Not too intense, but still visible.
6. The Posh Bob: Classic Short Bob Haircut for Women
Victoria Beckham is queen of this cut, and it's no wonder why. She nails it.
7. Short and Subtle: Cute Short Hair Style
Another subtle take on this bob, this look is sweeter and softer than most.
8. Hollywood Classic
Keira Knightleys' bob is red carpet worthy, and it's no wonder why. Framed and flattering this soft look works perfectly on her face shape.
9. Adorable and Feminine: Bob Haircut with Bangs
Those two words sum it up. This soft and sleek bob is stunning in it's simplicity.
10. Spiky Bob
Nothing says that your angle has to be even. Go spiky to add some extra edge to your look.
11. Modern A-line Bob Haircut
Long in the front and close in the back, this modern look is daring and stunning.
12. Cute and Framed
A personal favourite on this list, this framed bob is stunning and highly flattering.
13. Dark and Edgy: Asymmetrical Long Bob
Dark and edgy only begin to describe this look! Rihanna once again displays a sense of style that is on point.
14. Classically Sleek
For a look that has less volume and more angle, this may be the cut for you!
15. Blunt Chops
Gorgeous solely due to it's pure originality, this cut is daring and bold.
16. Half Pixie, Half Bob
Another classic take on the inverted bob, this rounder look is definitely one to try.
17. Understated and Stunning
It's not always bold statements that make a great cut. This subtle cut is equally effective and stylish.
18. The McCarthy Bob for Short Hair
Another bob queen, this lovely lady shows us how to pull off a this flattering look.
19. Radical Angles
There is no such thing as too much angle. This cut proves it.
20. Vintage Inspired
Or, go vintage with this sleek and elegant cut.