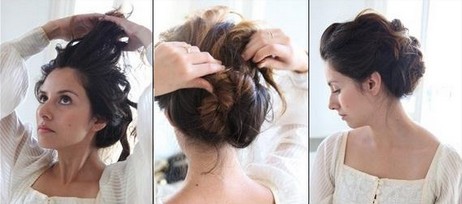 Loose Curled Chignon Hairstyle Tutorial: Women Hairstyles
This loosely curled chignon looks chic and elegant. You can wear it as an everyday hairstyles for school or work and it is perfect for fancy formal occasions, such as prom, wedding, bridal parties. Besides, you can add some creative hair accessories, such as a feather, fresh flower or a shining pin.
Divide a section of hair at the top of your head and clip it out of the way.
Curl all of the rest of your hair.
Divide the curled hair into left and right sections equally and twist them until you reach your ends.
Overlap the two parts over to form a loose bun. Fix the bun in place with strong bobby pins.
Pull the curled hair at the top of your head back towards the bun and twist the ends.
Loosely pin the top section towards the back with hair pins.